Creature: Paintings, Drawings, and Reflections (Hardcover)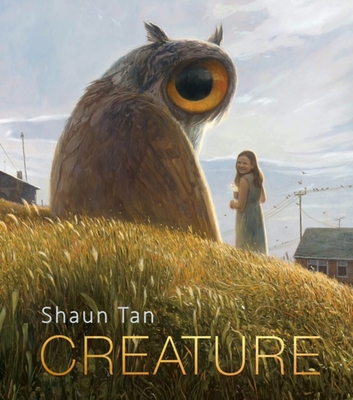 $35.00

Not in the store. We can order it and should have it in store in 3-5 business days.
Description
---
BEST OF THE YEAR
The Guardian · SLJ Teen Librarian Toolbox

From the creator of The Arrival, a collection of essays illuminating his thoughts and advice for writers and artists, young and old.

Shaun Tan is one of the world's most highly acclaimed narrative artists—his stories and images are loved by countless young and not-so-young readers around the world. Drawing upon 25 years as a picture book and comics creator, painter, and film-maker, Creature explores the central obsession of this visionary artist, from casual doodles to studied oil-paintings.

Beyond sketches for acclaimed works such as The Arrival, The Lost Thing, and Tales From Outer Suburbia, this volume collects together for the first time unseen and stand-alone illustrations, each resonant with unwritten tales of their own. Detailed commentary by the artist offers an entertaining insight into the endless allure of imaginary, non-human beings and what they might tell us about our so-called "normal" human selves.

Artists, writers, students, dreamers, and anyone interested in the deeper undercurrents of creativity, myth, and visual metaphor will find inspiration in these pages.

P R A I S E

"Weird and wonderful. Tan often explores the junction between adult experience and childhood memory."
—The Sydney Morning Herald

"A strange beast: dark, whimsical and deeply moving."
—The Guardian

"Like Miyazaki, Tan engages audiences across a wide range of age and sophistication."
—The New York Times

★ "Tan acts as artist, curator, interpretive essayist, and catalog editor for a gallery of over two hundred pieces of his own works that highlight a dominant theme of animate beings—some real, most invented, but all fellow travelers through our world and through our psyches."
—BCCB (starred)

★ "This gorgeously designed coffee-table survey of his picture book, comics, exhibition and sketchbook work exposes readers to a 26-year panoply of off-kilter conceptions, in all their disquieting delight. Wondrous."
—Booklist (starred)
About the Author
---
Shaun Tan is an artist, writer, and filmmaker from Perth, Australia. Known for his dream-like imagery and fantastical creatures, Shaun's work is enjoyed world-wide by children and adults alike. Shaun is the recipient of an Academy Award for the short, animated film The Lost Thing, the Astrid Lindgren Memorial Award in Sweden, and the Kate Greenaway Medal in the UK. He currently resides in Melbourne. Visit him online at www.shauntan.net.
Praise For…
---
[STAR] "In this affecting retrospective, author/illustrator Tan acts as artist, curator, interpretive essayist, and catalog editor for a gallery of over two hundred pieces of his own works that highlight a dominant theme of animate beings—some real, most invented, but all fellow travelers through our world and through our psyches." — Bulletin of the Center for Children's Books (starred)
"[Creature] is a visually exhilarating and hallucinatory book. It represents everything about creatureliness that is vulnerable, untameable, frightening, rule-breaking and free."— Orion Magazine
"This much-anticipated volume is an engaging collection of essays illuminating Tan's methods, and includes advice for writers and artists. Drawing upon 25 years as a picture book and comic creator, painter and filmmaker, Creature explores the central obsession of Tan's vision, from casual doodles to oil paintings." — Print Magazine
"Whimsical, cerebral, socially aware, grotesque and cuddly, Tan's artistic universe runs the emotional gamut."—NPR
"Both instantly recognizable and perfectly unique. Extraordinary."—GeekDad
2022 Recommended Reading - Locus Magazine
Top Ten Finalist, Locus Award for Illustrated and Art Books