Coffee Roaster's Handbook: A How-To Guide for Home and Professional Roasters (Paperback)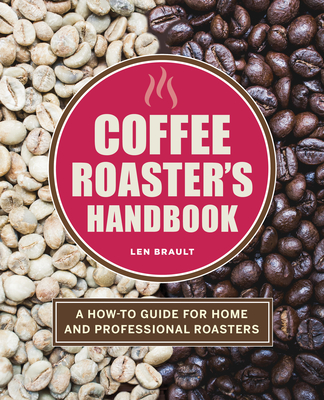 $16.99

Not in the store. We can order it and should have it in store in 3-5 business days.
Description
---
From bean to brew—a complete guide to coffee roasting for beginners and professionals alike
Now you can master the art of coffee roasting—with its heavenly aromas and full-bodied flavors—all on your own.
The Coffee Roaster's Handbook
is packed with practical information for roasters of any level, whether you're just getting started or you're already a coffee-roasting connoisseur.
From selecting and purchasing green coffee beans to storing and cupping your roasts, this colorfully illustrated handbook has all the comprehensive, roasting-related knowledge you'll need to create and enjoy your own delicious coffee. You'll find a deep dive on the science of coffee roasting, tips on how to spot bean defects, a how-to guide to evaluating your roasts, and so much more. Now, go forth and roast!
The Coffee Roaster's Handbook
includes:
A brief history of coffee—Learn all about the origins of coffee, including primitive roasting methods, its introduction to worldwide trade markets, and its evolution to today.
Essential roasting equipment—Explore helpful info about at-home and commercial equipment, from air-popper-style roasters to large drum roasters, and other important tools like thermometers, afterburners, and beyond.
Quick reference guide—Discover an illustrated guide to roasting with a small or large drum roaster, from start to finish.
Master the art of coffee roasting with
The Coffee Roaster's Handbook
!
About the Author
---
Len Brault believes coffee has a tremendous capacity to create improvement in millions of lives worldwide. Since 2005, he has run an online coffee website (LensCoffee.com) and held many seminars on coffee brewing and roasting. Currently, his company supports projects to help prevent the extinction of Liberica in the Philippines and initiatives to expand the practice of direct trade in the coffee industry.
Praise For…
---
"Len has an amazing amount of coffee and roasting knowledge, and I was excited to see him put so much of this into book form. It ties together coffee history and genes with practical tips on roasting and blending. A fun and informative read!" —Tam Le, Reign Drink Lab, Dorchester, MA

"We have worked extensively with Len over the years to unlock the secrets of green coffees and optimize roast profiles. Coffee Roaster's Handbook is a treasure trove of practical tips and coffee hacks that until now, one could only have learned through a career's worth of trial and error. Len's handbook is a kickstart for roasters everywhere." —Justin Will, Inspired Coffee Merchants, inspiredcoffee.com

"Most individuals who enter the world of coffee roasting 'fall' into it through a passion and love for coffee in itself. The danger of this approach, of course, is that one risks becoming a romantic or an idealist in their craft and never pursues it with the proper knowledge, training, and skills to take that passion to that next level until much later than they should (trust me, I know!). But the key to proper knowledge is having the proper tools in your toolbelt. Whether you're just stepping into the world of home roasting or have been roasting at a commercial level for years, this book will become one of your most important and frequently used tools. This is not a book that regurgitates a lot of the same basic coffee wisdom you'll find in other books. Our understanding of both the product and the craft should continue to break new ground, provide new wisdom, and grow new passions. Len Brault's Coffee Roaster's Handbook does just that. This will be a book I will return to time and time again." —Randy Hardman, Owner, Drinklings Coffee and Mugs