The Story of Frida Kahlo: A Biography Book for New Readers (The Story Of: A Biography Series for New Readers) (Paperback)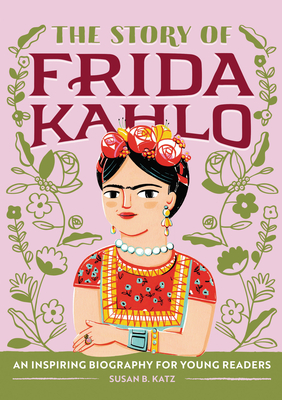 $6.99

Should be on our shelves now -- but wait for confirmation from us before coming to pick up. We'll respond to your order shortly.
Description
---
Discover the life of Frida Kahlo—a story about strength, creativity, and never giving up for kids ages 6 to 9

Frida Kahlo is one of the most famous and celebrated artists who has ever lived. Before she made history with her beautiful paintings and brave spirit, she went through a life-changing accident that would have made many people want to give up. Instead, Frida fought to overcome her setbacks and follow her passions. In this Frida Kahlo children's book, you'll explore how Frida went from being a young girl from a small Mexican town to an artist who is beloved all around the world.

The Story of Frida Kahlo includes:

A fun quiz—Test your knowledge of Frida's life with a short quiz that covers the Who, What, Where, When, Why, and How of her story.

Word definitions—Discover easy-to-understand explanations of some of the more advanced words and ideas inside the book.

Her lasting legacy—Learn about how Frida inspired the world with her unique and colorful paintings, as well as her strength of character.

How will Frida's creativity and can-do attitude inspire you?
About the Author
---
Susan B. Katz is an author, National Board-Certified Teacher, and educational consultant. She has taught for more than 25 years and has five published books, including My Mama Earth and All Year Round. Visit her online at SusanKatzBooks.com.
Praise For…
---
"A perfect path to know, appreciate, and love the art and life of this superb Mexican artist. Readers will become fascinated with the many facts and consequences of Frida's life and the world she travelled. ¡Viva su vida!" —F. Isabel Campoy, award-winning author (isabelcampoy.com)

"Susan does a beautiful job of distilling and explaining the extraordinary life and art of Frida Kahlo in a way that young readers can understand and easily engage with. Vibrant illustrations and thoughtful questions draw the reader in even more fully to Frida's fascinating life and keep them thinking long after the book is finished." —Brandi Dougherty, New York Times best-selling children's book author

"A wonderful, comprehensive view of the life of an extraordinary artist, written masterfully with well-paced, engaging prose. Well researched and right on target for its audience. A fun to read book!" —Alma Flor Ada, award-winning author, speaker, and educator (almaflorada.com)

"Katz's breezy-but-informative text works seamlessly with Sanfelippo's bright, warm illustrations, while thoughtful prompts throughout help connect Frida's experiences to the reader's life. Every young reader will be inspired and uplifted by Frida's passion, persistence and indefatigable spirit." —Dave Keane, author of Who Wants A Tortoise?, Sloppy Joe, and the Joe Sherlock: Kid Detective series