The Ooni Pizza Project: The Unofficial Guide to Making Next-Level Neapolitan, New York, Detroit and Tonda Romana Style Pizzas at Home (Paperback)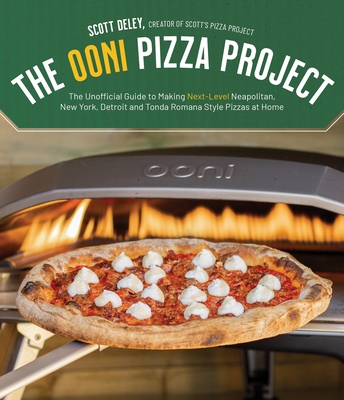 $22.99

Coming Soon - Available for Pre-Order Now
Description
---
The revolutionary Ooni oven ensures pizza with crisp crust, perfectly cooked toppings and flame-baked flavor, but knowing where to start can be a challenge. Thankfully, Ooni Ambassador Scott Deley is here to break everything down—from cooking techniques and troubleshooting to mastering classic pizzas, unique creations and more. The highly sought-after appliance can produce next-level pies in 60 seconds, and with this all-in-one guide, readers will discover how to make the most of that minute!

Learn the secrets to superb Neapolitan, New York, Detroit and Tonda Romana style doughs; enjoy countless recipes for next-level toppings; and find special techniques and detailed instructions for baking each pizza to perfection. Scott's foolproof recipes are designed to work flawlessly in the Ooni, so readers can craft exceptional pies every time they fire up the oven. Whether you're hankering for an authentic Italian staple, such as Tre Formaggi, or out-of-the-box eats—think Cheesy Garlic Bread or Lamb Kofta with Mint Drizzle pizzas—this all-in-one resource has you covered.

With Scott's flavor-packed recipes and user-friendly tutorials, readers can confidently embrace the endless pizza potential of their Ooni oven!
About the Author
---
Scott Deley is an Ooni ambassador and the creator of Scott's Pizza Project—an Instagram page dedicated to teaching people how to make perfect pizzas in their Ooni ovens. He lives in Derby, England.
Praise For…
---
"Let Scott hold your hand as he teaches you how to make incredible pizza at home."
— Edd Kimber, author of Small Batch Bakes and winner of The Great British Bake Off

"It is easy to fall in love with the Ooni, but Scott took it to a whole new level with this mouthwatering collection of recipes that you can make in your own backyard."
— Bryan Ford, author of New World Sourdough

"If you love pizza, you'll love this book. There is nothing Scott can't do with a pizza!"
— Elaine Boddy, author of The Sourdough Whisperer and Whole Grain Sourdough at Home

"Scott's love, passion, and meticulous attention to detail know no bounds when it comes to pizza making. This book will be a huge source of help and inspiration to so many."
— Rich Payne, founder of Dough and Behold

"Scott delivers valuable information and insights that will benefit anyone, no matter where they are on their pizza journey. He delivers dough knowledge and pizza oven best practices that will up your pizza knowledge in no time!"
— Mike Vaona, founder of Rosehill Sourdough

"This book finds the perfect balance between highly technical descriptions of the pizza making process and simple step-by-step explanations for how to do it yourself. It is just as useful to the seasoned pizza maker as it is to the beginner."
— Scott Wiener, founder of Scott's Pizza Tours

"Scott's meticulousness and creativeness make him the ideal pizza teacher. Now sit back, relax and enjoy the journey."
— Eidref Laxa, host of the What's Good Dough podcast

"Scott is a true inspiration to pizza lovers everywhere. This new book demystifies the art of real pizza making for bakers at home."
— Bertie Matthews, managing director of Matthews Cotswold Flour

"This fantastic book will undoubtably inspire so many."
— Lewis Pope, founder of Unholy Pizza
Thank you for shopping local!