Homie: Poems (Paperback)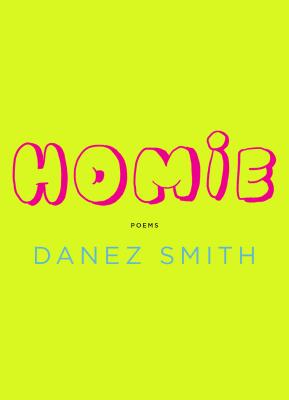 $16.00

Should be on our shelves now -- but wait for confirmation from us before coming to pick up. We'll respond to your order shortly.
February 2020 Indie Next List
---
"In their third collection, Danez Smith shakes to life the parts of people that have gone to sleep waiting for this time in the world to be over. Those emotions that raise up too much anger or grief — all of them are alive again and seen and spoken for with utmost care and a tremendously welcome sense of humor. Pick this book up and carry it with you everywhere. It can be like a video game heart for you, and who doesn't need an extra heart?"
— Luis Lopez, Moon Palace Books, Minneapolis, MN
Summer 2020 Reading Group Indie Next List
---
"It takes a certain grace to hold inconceivable amounts of pain and the fiercest kinds of joy in your heart at once, and to write about it with the elegance, clarity, humor that Danez Smith does is something else entirely. Homie carries a kind of weight no one collection should have to, yet each poem is a reminder that there are infinite ways to love through ache and cut through anguish. These poems are a gift."
— Sophia Kaufman, Book Culture, New York, NY
Description
---
FINALIST FOR THE 2020 NATIONAL BOOK CRITICS CIRCLE AWARD FOR POETRY
FINALIST FOR THE 2021 NAACP IMAGE AWARD FOR POETRY

Danez Smith is our president

Homie is Danez Smith's magnificent anthem about the saving grace of friendship. Rooted in the loss of one of Smith's close friends, this book comes out of the search for joy and intimacy within a nation where both can seem scarce and getting scarcer. In poems of rare power and generosity, Smith acknowledges that in a country overrun by violence, xenophobia, and disparity, and in a body defined by race, queerness, and diagnosis, it can be hard to survive, even harder to remember reasons for living. But then the phone lights up, or a shout comes up to the window, and family—blood and chosen—arrives with just the right food and some redemption. Part friendship diary, part bright elegy, part war cry, Homie is the exuberant new book written for Danez and for Danez's friends and for you and for yours.
About the Author
---
Danez Smith is the author of Don't Call Us Dead, winner of the Forward Prize for Best Collection and a finalist for the National Book Award, and [insert boy], winner of the Kate Tufts Discovery Award. They live in Minneapolis.
Praise For…
---
"The radiance of Homie arrives like a shock, like found money, like a flower fighting through concrete. . . . This is a book full of the turbulence of thought and desire, piloted by a writer who never loses their way."—The New York Times

"In these abundant, bighearted poems, Smith examines the psychic trauma of existing in a world of racism and xenophobia, as well as the ability of intimate friendships to deliver salvation."—Esquire

"[Homie] is a collection that confirms Smith's great talent."—BuzzFeed

"[Homie] offers the opportunity to witness 'the miracle of other people's lives' and will challenge you to consider how and why that miracle is dismissed in countless daily acts of racial aggression."—Star Tribune (Minneapolis)

"Danez Smith is a powerhouse of poetry. . . . Their language is always electric, and Homie is no exception. The ways in which Smith combines syntax, humor, reverence and irreverence are stunning, and this collection of odes is bound to be a widespread poetry favorite."—Literary Hub

"Homie is expansive, big enough to hold a vast mosaic of emotion and style, of life and death, of survival and resilience, of pain and joy."—Lambda Literary

"Homie does not just meet expectations. It shatters them. Smith is at their absolute best, technically and narratively, throughout their third collection, experimenting with form and turning convention on its head."—The Poetry Question

"Smith is a poet of profound abundance and empathy."—4Columns

"Profoundly moving. . . . Smith writes with both power and precision, and their poetic forms are as diverse as their topics. . . . Their personal style mixes modern slang with gorgeous imagery, resulting in verse as colorful and fanciful as Pablo Neruda but also savvy, down-to-earth, close to the heart. . . . [Homie] is filled with passion and humanity and demonstrates why Smith has been called one of the best poets of their generation."—Shelf Awareness

"An electrifying, unabashedly queer ode to friendship and community. . . . Smith is a visionary polyglot with a fearless voice."—Publishers Weekly, starred review

"A collection as dazzling as it is bighearted. . . . Dynamic, breathtaking, and utterly brilliant, these poems are not only most magnificent weapons but also salves to share and songs to shout at the top of one's lungs. A transcendent collection sure to bolster Smith's status as a poetry icon."—Booklist, starred review

"This book reads as gospel, as righteous text that carves a religion out of friendship. . . . Blessed be Danez Smith, for allowing us that closeness. . . . Smith holds genius in them, and we are lucky that they choose to share it with us so abundantly."—Fatimah Asghar

"Oh, Nezzy. The world doesn't deserve this book—this fierce abundance, this indomitable tender—but we need it, desperately. Danez Smith has always been the most talented voice of our generation, but it's here, in their third collection, that their virtuosic abilities are matched by the ambitiousness of their heart. Here, they've built a table big enough to hold all of it: the small shames that accompany grief, the ecstasy of chosen kinship, 'your people, my people, all that has happened / to us.' Homie is a book that takes to heart what Che Guevara said, 'At the risk of sounding ridiculous, let me say that the true revolutionary is guided by a great feeling of love.' That Danez is willing to take this risk is one of the great fortunes of my life."—Franny Choi

"Homie is how we survive—in verse. . . . For Danez, friendship is a forest ripe with foliage and possibility. . . . They offer us poems of seed and breath, charging us to reimagine the world as inhabitable and safe in this skin and these bodies beckoning us back to dirt."—Tish Jones