Summer Brother (Paperback)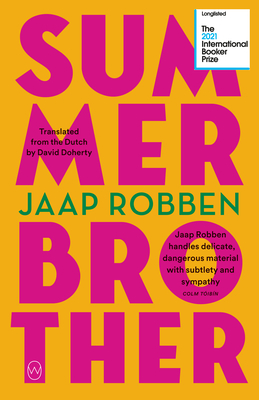 $16.99

Likely on our shelves now
Description
---
LONGLISTED FOR THE INTERNATIONAL BOOKER PRIZE 2021
Summer Brother is an honest, tender account of brotherly love between a disabled boy and his abled brother, which will resonate with readers of Rain Man.
"Dutch author Jaap Robben's second novel shows us the shedding of innocence. Summer Brother, translated by David Doherty, shakes out over a hot summer, during that potent lull when characters so splendidly boil, burst and bloom...Summer Brother grapples with the consequences of carelessness and the abuse of power and trust, even if the violation is unintentional...Robben is wonderful at drawing characters with just a few deliberate strokes...Like a photographer shooting a portrait, Robben captures his subjects in Summer Brother in a focused close-up." --New York Times
Thirteen-year-old Brian lives in a trailer on a forgotten patch of land with his divorced and uncaring father. His older brother Lucien, physically and mentally disabled, has been institutionalized for years. While Lucien's home is undergoing renovations, he is sent to live with his father and younger brother for the summer. Their detached father leaves Brian to care for Lucien's special needs. But how do you look after someone when you don't know what they need? How do you make the right choices when you still have so much to discover? Summer Brother is an honest, tender account of brotherly love, which will resonate with readers of Rain Man.
About the Author
---
JAAP ROBBEN is a poet, playwright, performer, and acclaimed children's author. You Have Me to Love, his first novel for adults, won the 2014 Dutch Booksellers Award, the Dioraphte Prize, and the ANV Award for best Dutch debut. Robben was chosen as one of the featured debut authors at the 2018 Brooklyn Book Festival. Summer Brother, a bestseller in the Netherlands, is his second novel. DAVID DOHERTY studied English and literary linguistics in the UK before moving to Amsterdam, where he has been translating all manner of Dutch texts since 1996. He was commended by the jury of the 2017 Vondel Translation Prize for Marente de Moor's The Dutch Maiden and Jaap Robben's You Have Me to Love, and was runner-up in 2019 for his translation of Monte Carlo by Peter Terrin. Jaap Robben's Summer Brother, which Doherty most recently translated, was longlisted for the 2021 International Booker Prize.
Thank you for shopping local!