The Beginner's Guide to Raising Chickens: How to Raise a Happy Backyard Flock (Paperback)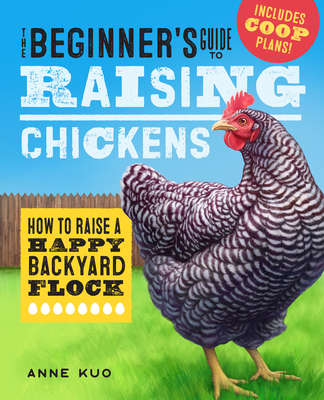 $17.99

Not in the store. We can order it and should have it in store in 3-5 business days.
Description
---
A beginner's guide to ruling the roost and raising happy backyard chickens
The Beginner's Guide to Raising Chickens
makes it easy to start keeping these surprisingly smart birds right in your own backyard. From constructing coops to rearing chicks, you'll learn everything you need to know to make sure your chickens stay happy and healthy all year round.
Which breed of chicken is right for you? What's the best bedding material? What sort of feed should you use? Expert chicken keeper Anne Kuo answers these questions—and many others—in this fun and friendly reference book that will get you excited to raise your new feathered friends.
This book on raising chickens guides you through:
Getting from the chicken to the egg—Find out how to raise chicks, keep your birds safe from predators, introduce new birds to the flock, and more.
Creating a custom coop—Build the perfect home for raising chickens with detailed backyard coop construction guides.
Expert care advice—Learn how to identify different behaviors in your chicken, help solve egg shortages, and navigate a range of potential surprises with confidence.
Get your first flock started successfully with
The Beginner's Guide to Raising Chickens
.
About the Author
---
ANNE KUO is a backyard chicken keeper, avid gardener, urban homesteader, crafter, and proponent of living sustainably. She is the voice behind the popular Instagram account @RealHensOfOC and the Real Hens of Orange County blog.
Praise For…
---
"As an avid urban gardener looking to start raising chickens, Anne's book is a beautiful, informative, one-stop-shop for the beginner chicken owner."—Kevin Espiritu, founder of Epic Gardening and author of Field Guide to Urban Gardening

"We're blown away by this impeccable resource for backyard chicken owners, and want to shout out it from the coop tops. It's a fun-to-read go-to guide for raising happier, healthier chickens. Every last detail you could possibly wonder, worry, or dream about is in here. Whether you're new to owning chickens, or a well-seasoned chicken parent, there's so much to discover. The Beginner's Guide to Raising Chickens is one of those 'buy one for me, get 5 for my friends' books."—Hailey Dray, head of marketing at Grubbly Farms

"For years folks have asked me for a book on raising and keeping chickens and I did not have anything I could confidently point them to. It is with great joy that I now recommend The Beginner's Guide to Raising Chickens because I am completely aligned with how Anne cares for her animals and the consciousness she has around her ecological footprint and raising of the birds. Rejoice chicken keeping novices and veterans: the book you have been waiting for has finally hatched!"—Franchesca Duval, head chicken wrangler at Alchemist Farm

"Being a chicken enthusiast myself, I was thrilled to read The Beginner's Guide to Raising Chickens. Anne Kuo's book is a comprehensive, enjoyable, and informative guide for any chicken keeper, and her expert chicken care knowledge is apparent. If you follow Anne's journey with her flock on social media and her blog, you know that she takes great care of them. I am glad that she wrote this complete guide to raising chickens so that more flock owners can get off to a fabulous start."—Janet Garman, owner of Timber Creek Farm (www.timbercreekfarmer.com) and author of 50 Do it Yourself Projects for Keeping Chickens