Shutter (Hardcover)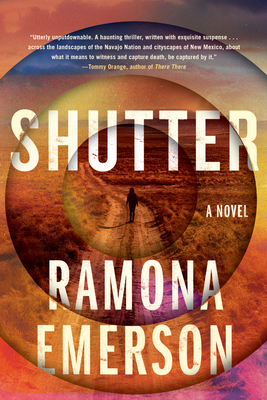 $25.95

Not in the store. We can order it and should have it in store in 3-5 business days.
August 2022 Indie Next List
---
"Rita Todacheene has seen ghosts since she was a child growing up in the Navajo Nation. Now a forensic photographer, Rita's life is upended by spirits seeking justice for their murders. This thrilling mystery left me hoping for more of Rita."
— Lia Lent, WordsWorth Books (AR), Little Rock, AR
Description
---
Longlisted for the National Book Award

This blood-chilling debut set in New Mexico's Navajo Nation is equal parts gripping crime thriller, supernatural horror, and poignant portrayal of coming of age on the reservation.

Rita Todacheene is a forensic photographer working for the Albuquerque police force. Her excellent photography skills have cracked many cases—she is almost supernaturally good at capturing details. In fact, Rita has been hiding a secret: she sees the ghosts of crime victims who point her toward the clues that other investigators overlook. 

As a lone portal back to the living for traumatized spirits, Rita is terrorized by nagging ghosts who won't let her sleep and who sabotage her personal life. Her taboo and psychologically harrowing ability was what drove her away from the Navajo reservation, where she was raised by her grandmother. It has isolated her from friends and gotten her in trouble with the law.

And now it might be what gets her killed.

When Rita is sent to photograph the scene of a supposed suicide on a highway overpass, the furious, discombobulated ghost of the victim—who insists she was murdered—latches onto Rita, forcing her on a quest for revenge against her killers, and Rita finds herself in the crosshairs of one of Albuquerque's most dangerous cartels. Written in sparkling, gruesome prose, Shutter is an explosive debut from one of crime fiction's most powerful new voices.
About the Author
---
Ramona Emerson is a Diné writer and filmmaker originally from Tohatchi, New Mexico. She has a bachelor's in Media Arts from the University of New Mexico and an MFA in Creative Writing from the Institute of American Indian Arts. After starting in forensic videography, she embarked upon a career as a photographer, writer, and editor. She is an Emmy nominee, a Sundance Native Lab Fellow, a Time-Warner Storyteller Fellow, a Tribeca All-Access Grantee and a WGBH Producer Fellow. In 2020, Emerson was appointed to the Governor's Council on Film and Media Industries for the State of New Mexico. She currently resides in Albuquerque, New Mexico, where she and her husband, the producer Kelly Byars, run their production company Reel Indian Pictures. Shutter is her first novel.
Praise For…
---
Praise for Shutter

An NPR Best Book of 2022
A New York Public Library Best Book of 2022
Longlisted for the National Book Award
An ABA IndieNext Pick for August 2022
An ABA IndieNext Gift Guide Selection
A PLA LibraryReads Pick for August 2022
A Publishers Weekly Editor's Top 10 Mystery for Fall
A CrimeReads Most Anticipated Crime Book of Summer
A Scribd Best Book of August

"Haunting."
—The New York Times Book Review

"This paranormal police procedural is unusual and multilayered, but what stands out is the gorgeously expressive and propulsive first-person storytelling, which is split between Rita's present and her past. A former forensic photographer herself, the pictures Emerson paints with words are as vivid as they are brutal."
—Oprah Daily

"This mystery-crime-thriller is beautifully and chillingly rendered."
—Ms. Magazine

"Rita is a starkly compelling figure, and she, combined with the cacophonous voices of the dead, makes this debut novel a strange and potent brew."
—AirMail

"Emerson touches upon subjects that Diné often are reluctant to raise or discuss in intimate circles, and does so in ways that allows for conversation about death, the possibilities of a spirit world, gifts of second sight, and witchery and evil . . . Yet, we must acknowledge and work through because it is reality, it is more so a coming-of-age story."
—Jennifer Dez Dennetdale, Navajo Times

"Emerson immediately establishes herself as a new talent with her engrossing debut Shutter, which combines a story of Navajo culture, coming of age, mysticism, family ties and crime detection . . . Emerson is definitely an author to watch."
—South Florida Sun-Sentinel

"The thriller read of the summer – 'Dark Winds' meets 'The Sixth Sense."
—Indian Country Today

"Chilling."
—Arizona Daily Star

"Shutter is utterly unputdownable. It is a haunting thriller, written with exquisite suspense, and filled to the brim with beautiful writing, through the lens of cameras and memory—an ode to photography, written across the landscapes of the Navajo Nation and cityscapes of New Mexico, about what it means to witness and capture death, be captured by it, told unflinchingly by an author who knows what she is doing on every page. It is fun, and funny, and chilling. This is a story that won't let you go long after you finish, and you won't want it to end even as you can't stop reading to find out how it does."
—Tommy Orange, author of There There

"Get ready for the next wave of Indigenous thrillers! Shutter is a soulful and mesmerizing exploration of the paranormal, set against the backdrop of New Mexico and the Navajo Nation. Written in tough, edgy prose, this book grabs you by the shoulders and refuses to let you leave. Ramona Emerson is a welcome new voice in Native literature."  
—David Heska Wanbli Weiden, author of Winter Counts

"Beautiful, imaginative prose with a sharp edge. Shutter is a powerful and supernatural debut. I've never seen a better rendering of gifts and power. This work understands the spirit world and how it does not relent until we bear witness. Ramona Emerson is a badass, propulsive, exacting and true storyteller."
—Terese Mailhot, author of Heart Berries

"This debut, spellbinding, gritty and beautiful, laced with body parts, hauntings, humor, residential school trauma and a lot of bloody noses, is, in the end, the story of a young girl who fell in love with a camera, and followed that camera into a life. Layered, depth-plumbing, radically suspenseful, deeply felt, Shutter moves between making your blood run cold and warming your heart, so quickly, smoothly and stealthily you won't know what hit you."
—Pam Houston, author of Deep Creek: Finding Hope in the High Country

"In her thrilling debut, Shutter, Ramona Emerson allows us a glance into not just one world, but many. Bridging the divide between a grounded procedural mystery and a paranormal thriller, this novel is a feast for fans of both genres and brings us a protagonist we'll want to visit again and again."
—Stuart Neville, author of The Ghosts of Belfast

"Shutter is an extraordinary debut novel, a stunning mix of crime, character study, and the supernatural, told in propulsive prose against the landscape of the Navajo Nation. It'll leave you gasping – and desperate to read what the author does next."
—Neil Nyren, BookTrib

"Loved this book! . . . [Shutter] has a mixed tone of being a dark-ish procedural and also a beautiful book about with her relationship with her grandmother. I would absolutely read another book following Rita and also anything else Ramona Emerson writes."
—BookRiot

"Shutter is impossible to classify, gorgeously written and ingeniously constructed. An indigenous crime scene photographer who hears the voices of the dead finds her careful existence shattered by the pleas of a murdered young woman to find her killer."
—CrimeReads

"Ramona Emerson's awesome debut, Shutter, had me totally mesmerized from cover to cover. Not since Stuart Neville's supernatural thriller, The Ghosts of Belfast, have I seen a more perfect blend of ghostly horror and mystery."
—SFReview

"Taut as a bowstring."
—Kittling Books

"This debut trilogy-starter showcases top-notch storytelling."
—Booklist

"Emerson presents an indigenous coming-of-age story blending forensics and the supernatural with a haunted heroine facing relentless evil."
—This is Horror

"Emerson, a filmmaker, is a stylish writer who has deftly combined plot, character, and setting into a compelling montage."
—Reviewing the Evidence

"Satisfyingly explores forensic photography and Diné culture within the New Mexico landscape, surrounded by the voices of some very engaging ghosts."
—BookPage

"Crime fiction fans will relish this keenly balanced paranormal page-turner and piquant coming-of-age yarn."
—Publishers Weekly

"Emerson's striking debut follows a Navajo police photographer almost literally to hell and back . . . A whodunit upstaged at every point by the unforgettably febrile intensity of the heroine's first-person narrative."
—Kirkus Reviews


Thank you for shopping local!