Quotients (Paperback)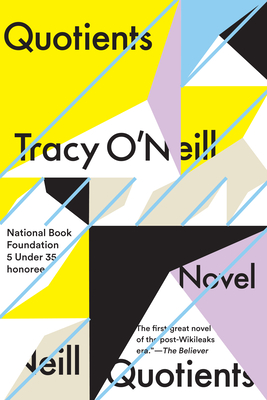 $17.00

Likely on our shelves now
Description
---
Two people search for connection in a world of fractured identities and aliases, global finance, big data, intelligence bureaucracies, algorithmic logic, and terror.

Jeremy Jordan and Alexandra Chen hope to make a quiet home together but struggle to find a space safe from their personal secrets. For Jeremy, this means leaving behind his former life as an intelligence operative during The Troubles in Northern Ireland. For Alexandra, a high-powered job in image management for whole countries cannot prepare her for her missing brother's sudden reappearance.

In a culture of limitless surveillance, Jeremy and Alexandra will go to great lengths to protect what is closest to them. Spanning decades and continents, their saga brings them into contact with a down-and-out online journalist, shadowy security professionals, and jockeying technology experts, each of whom has a different understanding of whether information really protects us, and how we might build a world worth trusting in our paranoid age.
About the Author
---
Tracy O'Neill is the author of The Hopeful, one of Electric Literature's Best Novels of 2015, and Quotients. In 2015, she was named a National Book Foundation 5 Under 35 honoree, long-listed for the Flaherty-Dunnan Prize, and was a Narrative Under 30 finalist. In 2012, she was awarded the Center for Fiction's Emerging Writers Fellowship. Her writing has appeared in Granta, Rolling Stone, The Atlantic, the New Yorker, LitHub, BOMB, Vol. 1 Brooklyn, The Literarian, New World Writing, Narrative, Scoundrel Time, Guernica, Bookforum, Electric Literature, Grantland, Vice, The Guardian, VQR, and the San Francisco Chronicle. Her column Body Language appeared in Catapult. She attended the MFA program at the City College of New York and the PhD program in communications at Columbia University.
Praise For…
---
A Millions Most Anticipated Book of 2020
A Big Other Most Anticipated Book of 2020
Tor.com Best Books of 2020
Lithub Best Books of 2020
A CrimeReads Best Espionage Novel of 2020
A 2020 Big Other Book Award Finalist

Praise for Quotients

"Stylish, impressive." 
—The New York Times

"Beyond conspiratorial thrills, this is a book about intimacy and loyalties yearned for and lost . . . [We] are often unable to see through our faulty human screens of fears, illusions, and hopes, especially burdened by an increasingly fractional and artificial society. In Quotients, O'Neill tackles this blindness, and the result is a distinct, unconventional narrative with no easy conclusions."
—Ploughshares

"Quotients describes the finance and surveillance industries with the obsessive questing of early DeLillo."
—Commonweal

"This stunning, and deeply disquieting, literary techno-thriller—about a couple struggling to escape their past lives and make safe harbor of their relationship within the gathering storm of the mass surveillance age—will knock you on your ass. Cerebral and lyrical, epic in geopolitical scope and achingly intimate in portraiture, Quotients is a blazingly intelligent (not to mention terrifyingly timely) novel of ideas as well as a humane and heartbreaking love story."
—Lithub

"If O'Neill wanted to write a simple literary thriller, she would have. What she has given us with Quotients is a piece of art that eschews convention, one that forces us to take a fractured narrative and turn it inward . . . This is a book for our paranoid age, the one where we keep our secrets pressed tight against our chests; the one where we have no secrets at all."
—The Chicago Review of Books

"Captivating . . . A fascinating study of inner lives run through a ringer of technology and stress, and O'Neill proves herself an immensely gifted novelist with a knack for closely-observed suspense."
—CrimeReads

"A story about secrecy, intimacy, and hidden systems. O'Neill's sentences are expertly crafted marvels of economy. Her prose almost feels redacted, as if someone has cut out just the right bits to keep you guessing and thinking and feeling."
—Charles Yu, author of Interior Chinatown

"Quotients is a stunning novel. O'Neill asks us to take a look at the nature of and the necessity for secrecy—in both our most intimate relationships and on the global scale—while reminding us of its inevitable demise in an age of eroding privacy. An entrancing, incendiary book—the ideas within these pages, and their implications, will haunt you for a good long while."
—Lauren Wilkinson, author of American Spy

"Quotients is a novel perfectly tuned to our times, and it contains more artistry and intelligence than our times perhaps deserve. Tracy O'Neill has constructed the moving story of a young couple trying to build their lives within a divided and constantly dividing world of big data, small faith, political gaming, and unquantifiable fear. A superb and enlivening exploration of paranoia and the search for intimacy."
—Jonathan Lee, author of High Dive

"A startling work of art: even as its sentences make precise, jujitsu moves on the reader, Tracy O'Neill's Quotients keeps us keyed to intimacy, to love, to a family's moving domestic world. With a plot that's intricate but intimate, global and domestic, this novel pulls us deep into surveillance's dark web, but, grounded in love, it offers us a way out: an awesome artistic feat."
—Gina Apostol, author of Insurrecto

"Thoroughly engaging and savvy. Part thriller, part mystery, part alarming critique of the world we're all living in without most people knowing it. Also, surprisingly, a love story rendered in galloping prose that takes you all over the map."
—Fiona Maazel, author of A Little More Human

"This challenging, slow-burning, yet suspenseful tale is a frame for O'Neill's powerful and chilling warning to consider the choices we are making. With an astounding grasp of the issues confronting our age, an assured depiction of a multitude of diverse characters, and a distinctive style all her own, she ranges from movingly sensual descriptions to sharp observations, from wordplay to gut punches. In sum, this is a poignant lament for our time's lost generation, which may be all of us."
—Booklist, Starred Review

"Vital and current . . . It is important to remember that in this world of instant connectivity, perhaps we are the engineers of our own loneliness and isolation; perhaps we can listen to O'Neill and turn instead toward love."
—Brooklyn Rail

"Lingers in the consciousness long after the final page."
—Foreword

Praise for The Hopeful
 
National Book Foundation 5 Under 35 Honoree
Longlisted for the Flaherty-Dunnan Debut Novel Prize
An Electric Literature Best Novel the Year
 
"Both a beautiful narrative and a political statement worth listening to."
—Huffington Post
 
"Written with an original literary grace all her own."
—The Rumpus
 
"The book soars . . . achieving a beauty of its own in the process."
—Kirkus Reviews
 
"A universal story about aspiration and imperfection . . . [exploring] ideas of heredity, ambition, maturity, failure, and, yes, hope."
—Publishers Weekly
Thank you for shopping local!