Tomato Love: 44 Mouthwatering Recipes for Salads, Sauces, Stews, and More (Paperback)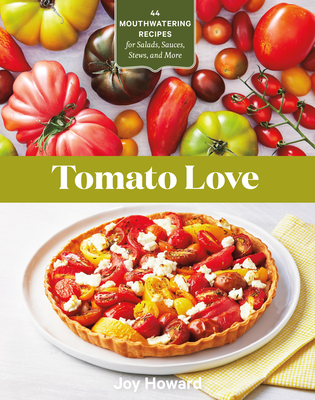 $14.95

Should be on our shelves now -- but wait for confirmation from us before coming to pick up. We'll respond to your order shortly.
Description
---
Tomato Love is a joyful collection of recipes that celebrate the favorite high-summer fruit. There's nothing quite like a luscious Brandywine or a sweet Sungold freshly-picked from the vine, but tasty canned and jarred products ensure tomatoes can be enjoyed year-round. The recipes in this collection invite year-round eating, new takes on classic dishes like red sauce and tomato soup, along with a mix of fresh ideas ranging from Sweet, Spicy, Smoky Barbecue Sauce, Roasted Tomato Basil Soup with Pumpernickel Croutons, to Caprese Pasta Salad with Salami and Shakshuka with Extra Veg. Home cooks, backyard gardeners, and CSA members overwhelmed with the bounty of the season will find dozens of inspiring ideas for introducing variety into the everyday repertoire of meals. With fresh and nourishing ingredients at the forefront, this cookbook makes it easy for families to put good food on the table—with easy cooking steps, ingredients that are readily available, and delicious recipes. Every recipe is shown in a color photo, making the book easy to browse and use.
 
About the Author
---
Joy Howard is a cookbook author, food stylist, and recipe developer. She writes a regular column about cooking with kids for EatingWell magazine, is the author of Disney Eats (Disney Publishing), and her work has appeared in numerous magazines, cookbooks, and national advertising campaigns. She got her start in food media as a magazine editor producing recipes and culinary content for home cooks and ran a test kitchen for many years. She lives in New England with her husband and daughters. 
Praise For…
---
"An endless array of ways to turn the humble staple into a standout meal." —Publisher's Weekly 

"There are so many creative, mouthwatering winners here, it's hard to know where to start. Tomato Grilled Cheese, Roasted Tomato Basil Soup, and Ravioli Lasagna? Yum, yum, and super-yum. Plus, canned tomatoes, tomato paste, and sundried tomatoes are all in the mix, so we can indulge in Tomato Love any time of year." —Jenna Helwig, food director at Real Simple and author of Bare Minimum Dinners 

"Written for home cooks, the tomato-inspired recipes are simple, creative, and bursting with flavor. From a Turkish dish of panfried eggplant simmered in a fresh tomato sauce, to a short-cut lasagna assembled cleverly with cheese ravioli, quick tomato sauce, and mozzarella, to irresistible BLT kebabs paired with a chipotle yogurt dip, the dishes in Tomato Love will keep you cooking deliciously with tomatoes (whether fresh or canned) all year long. A must-have book to add to your library!" —Betty Rosbottom, Food Writer, Cookbook Author, Cooking Teacher 

"I couldn't have loved this book more. The recipes are easy, simple and incredibly versatile and inventive."—Sally Sampson, cookbook author and founder of ChopChop Magazine