Today a Woman Went Mad in the Supermarket: Stories (Paperback)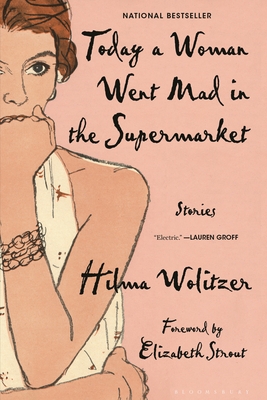 $17.00

Coming Soon - Available for Pre-Order Now
Description
---
An NPR Best Book of the Year * A New York Times Book Review Editors' Choice * An Electric Literature Best Short Story Collection of the Year * Finalist for the Chautauqua Prize

The "often hilarious and always compassionate" (New York Times Book Review) collected stories of a critically acclaimed, award-winning "American literary treasure" (Boston Globe), now in paperback—with a foreword by Elizabeth Strout.

From her many well-loved novels, Hilma Wolitzer—now ninety-one years old and at the top of her game—has gained a reputation as one of our best fiction writers, who "raises ordinary people and everyday occurrences to a new height." (Washington Post) These collected short stories—most of them originally published in magazines including Esquire and the Saturday Evening Post, in the 1960s and 1970s, along with a new story that brings her early characters into the present—are evocative of an era that still resonates deeply today.

In the title story, a bystander tries to soothe a woman who seems to have cracked under the pressures of her life. And in several linked stories throughout, the relationship between the narrator and her husband unfolds in telling and often hilarious vignettes. Of their time and yet timeless, Wolitzer's stories zero in on the domestic sphere with wit, candor, grace, and an acutely observant eye. Brilliantly capturing the tensions and contradictions of daily life, Today a Woman Went Mad in the Supermarket is full of heart and insight, providing a lens into a world that was often unseen at the time, and often overlooked now—reintroducing a beloved writer to be embraced by a whole new generation of readers.
About the Author
---
Hilma Wolitzer is a recipient of Guggenheim and National Endowment for the Arts fellowships, an American Academy of Arts and Letters Award in Literature, and a Barnes & Noble Writers for Writers Award. She has taught at the Iowa Writers' Workshop, New York University, Columbia University, and the Bread Loaf Writers' Conference. Her first published story appeared when she was thirty-six, and her first novel eight years later. Her many stories and novels have drawn critical praise for illuminating the dark interiors of the American home. She lives in New York City.
Praise For…
---
"Wolitzer has a gentle touch for conveying the nuances and humor to be found in small moments of intrigue... Intrigue may lead a story, but for Wolitzer the daily rituals of family always carry it." —The New York Times Book Review

"Like its author, the stories in Today A Woman Went Mad shine as brightly, cut as deeply and entertain as deliciously as if they'd been written today." —Los Angeles Times

"[Wolitzer has] demonstrated literature's power to both move and console." —NPR

"A timeless examination of [...] the staying power of love." —TIME

"Often hilarious and always compassionate." —New York Times Book Review

"Wolitzer is a champ at the closely observed, droll novel of manners." —NPR

"What an astonishing amount of family love, confusion and sadness Hilma Wolitzer fits into the short stories in Today a Woman Went Mad in the Supermarket . . . The book comes to a fiercely affecting conclusion in 'The Great Escape,' written last year, in which Paulette and Howard, nearing their 90s, face a frightening new challenge: the coronavirus pandemic. Somehow, this heartbreaking story is infused with the same candor and comedy as those written in the 1960s. It's an unforgettable ending to a wonderful collection." —The Wall Street Journal

"[A] sage collection of stories . . . Throughout, Wolitzer captures the feel of each moment with characters who charm with their honesty. The result is a set of engaging time capsules." —Publishers Weekly

"Hilma Wolitzer's collection brims with humor, insight and sorrow...beautiful indeed, this is a stunning and memorable collection." —The Minnesota Star-Tribune

"Thirteen timeless stories of what goes on between men and women, grounded in an optimism that is no stranger to sorrow. . . . Completing the trajectory of her early triumphs with a pandemic masterpiece, Wolitzer takes our breath away." —Kirkus Reviews, starred review

"Who writes more tellingly, more tenderly about the human connection than Hilma Wolitzer? About the way things work in a marriage, about the small details of daily life that bind you together or fling you apart?" —Roxana Robinson, Electric Literature

"[A] sterling and ambushing retrospective collection. . . . [Wolitzer is] an artist with a deceptively light touch, creating stories of psychological and social incisiveness that are at once poised and lacerating. She deftly reveals how women are harshly judged and how women judge, how children are trapped in their parents' snares and snarls and how they escape. Delectably funny and radically insightful . . . . [Today A Woman Went Mad in the Supermarket is] a striking and enlightening gathering of polestar short stories." —Booklist

"[Wolitzer] shows us the ever-shifting alliances of family life and ways in which love can both change and endure." —New York Times

"Superb . . . nearly every story starts with a punchy, lucid opening that sneaks up on you like the jab of a boxer barely out of his corner." —East Hampton Star

"[A] consistently fine collection . . . Wolitzer, who survived COVID but lost her own husband to it, once again wields the salient particulars to conjure a time, an illness, and life's inevitable heartaches. That she does so while keeping us engaged with these very ordinary characters speaks to her skill and her humanity." —The Boston Globe

"Wit, wisdom, and warmth form the foundation of this sparkling collection. Wolitzer is a natural-born storyteller whose rigor, attention, and generosity create miracles on each and every page." —Tayari Jones

"Hilma Wolitzer sees the miraculous, and the tragic, in modest lives and domestic particulars-wonders that might pass as ordinary events to the untrained eye. She magnifies the world. She insists, in one gorgeous sentence after another, that there's no such thing as a usual hour, let alone a usual day." —Michael Cunningham

"This moving collection spans the 91-year-old author's career, from the title story of unhinged domesticity to the heartbreaking finale that parallels Wolitzer's experience in the pandemic. Two constancies: the marriage of New Yorkers Howard and Paulette-from fevered courtship to present day, when their pregnant granddaughter declares, 'No one call[s] a child Howard anymore'-and Wolitzer's voice, which is funny, insightful and incomparably descriptive." —People

"Wonderful...grounded in a refreshing sort of optimism that is no stranger to sorrow...Crystalline...Full of the pleasures of intimacy, these are unusually happy stories about a complicated marriage...Completing the trajectory of her early triumphs with this pandemic masterpiece, Wolitzer takes our breath away." —Marion Winik, The Weekly Reader

"Leave it to this thoroughbred fiction writer to tackle the impossible subject and pull it off beautifully." —Tom Beer, Kirkus Reviews

"This is a treasure trove of feelings and ferocity." —Zibby Owens, Katie Couric Media

"Goddess of the rueful chuckle, provocateuse of domestic drudgery, flaunter of feminine/feminist angst... A delightful and provocative mix of wise woman and wiseacre, Hilma Wolitzer is a writer to be read at any age." —Northern Kentucky Tribune

"Hilma Wolitzer's Today a Woman Went Mad in the Supermarket is electric: with wit, with rage, with grief, with the kind of prose that makes you both laugh and thrill to the darker, spikier emotions just barely visible under the bright surface. What a wonderful collection of stories." —Lauren Groff

"How could you not love a collection of stories that begins with the titular Today a Woman Went Mad in the Supermarket? Wolitzer doesn't just brilliantly capture what we imagine is recognizable ordinary life, she reveals the unique magic that is so absolutely transcendent, it makes us see and live in the world differently. This is a fabulous collection brimming with the compassion, grace, and wit that Wolitzer is known for." —Caroline Leavitt

"In this acutely observed collection, Hilma Wolitzer considers the bonds of married love, emotional and erotic. With her trademark dry wit and abiding compassion, she explores the telling details of everyday life in ways that are unsettling, insightful, and wholly original. These stories will linger in your mind and get under your skin. They shimmer with life." —Christina Baker Kline

"To read Hilma Wolitzer is to laugh in a special way and to allow yourself little intermissions of sheer satisfaction in which you lay the open book facedown on your heart and snuggle with the human race." —Gail Godwin

"Immensely gratifying, poignant, funny…breathtaking." —Elizabeth Strout, from the Foreword
Thank you for shopping local!