A Saint from Texas (Paperback)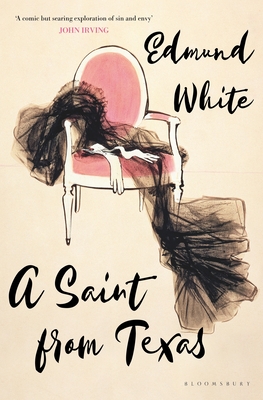 $18.00

Likely on our shelves now
Description
---
From Edmund White, a bold and sweeping new novel that traces the extraordinary fates of twin sisters, one destined for Parisian nobility and the other for Catholic sainthood.

Yvette and Yvonne Crawford are twin sisters, born on a humble patch of East Texas prairie but bound for far more dramatic and tragic fates. Just as an untold fortune of oil lies beneath their daddy's land, both girls harbor their own secrets and dreams-ones that will carry them far from Texas and from each other. As the decades unfold, Yvonne will ascend the highest ranks of Parisian society as Yvette gives herself to a lifetime of worship and service in the streets of Jericó, Colombia. And yet, even as they remake themselves in their radically different lives, the twins find that the bonds of family and the past are unbreakable.

Spanning the 1950s to the recent past, Edmund White's marvelous novel serves up an immensely pleasurable epic of two Texas women as their lives traverse varied worlds: the swaggering opulence of the Dallas nouveau riche, the airless pretension of the Paris gratin, and the strict piety of a Colombian convent. For nearly half a century, Edmund White's work has revitalized American literature, blithely breaking down boundaries of class and sexuality, and A Saint From Texas is one of his most joyous, gorgeously written, and piercing works to date.
About the Author
---
Edmund White is the author of many novels, including A Boy's Own Story, The Beautiful Room Is Empty, The Farewell Symphony, and Our Young Man. His nonfiction includes City Boy, Inside a Pearl, The Unpunished Vice, and other memoirs; The Flâneur, about Paris; and literary biographies and essays. He was named the 2018 winner of the PEN/Saul Bellow Award for Achievement in American Fiction and received the 2019 Medal for Distinguished Contribution to American Letters from the National Book Foundation.
Praise For…
---
"Edmund White's narrative brilliance ... give[s] us the divinely well-told tale of identical twins… The rocket fuel that propels these abrupt plot twists past the slightest suspicion of implausibility is the author's trademark narrative virtuosity and high-octane erudition." —New York Times Book Review

"A stunner about the secrets and dreams that bind two very different women." —AARP

"Darkly whimsical…White skillfully invites readers into an organized mess of a world filled with equal parts deceit and desire." —The Associated Press

"White's 28th book wraps his renowned erudition in a package of high-spirited family weirdness and narrative fireworks. Magnifique!" —People Magazine

"The pagan and the saintly contend in this audacious new novel by Edmund White whose sympathy for his Texas-born characters radiates like a kind of blessing through their myriad adventures- sacred as well as secular, and always sensuously alive." —Joyce Carol Oates

"At once funny and moving, this is a ribald novel of the miraculous-a comic but searing exploration of sin and envy." —John Irving

"Beautiful sentences spill off the page. Readers will delight in White's marvelous asides, characteristically exact vocabulary, and metaphors that make the reader smile… White has written a double first-person coming of age story replete with sex, dazzling wealth, secrets, and aspirations." —New York Journal of Books

""In this stylish, witty novel from the esteemed author, the Crawford twins take very different turns from their East Texas upbringing: One becomes a Parisian socialite, the other a Catholic saint." —New York Post's Required Reading

"Like a waltz that goes out of control, this is a wild, dizzying, joyful romp. A Saint from Texas is a daring and exuberant novel in the spirit of Tristram Shandy, but it is also a brilliantly observed story about how we find ourselves by losing ourselves, about family bonds and how the harm done to us can warp us into something new. I loved it." —Ann Beattie

"A literary firecracker… A Saint From Texas does a wonderful job exploring how siblings relate to each other and how they rely on each other to navigate the world. It's a dramatic departure from White's previous novels, but it's just as elegantly crafted as its predecessors. White writes with a deep empathy for his characters in prose that's both playful and self-assured; the result is another brilliant accomplishment from one of one of the country's most indispensable writers." —Texas Observer

"Exploring the complexities of sin, passion and love-both human and divine-Edmund White spins a tale of two Texas sisters whose destinies could not be more dissimilar… A Saint From Texas is alive with desire and rich with history, and White's love for his characters is infectious." —Bookpage

"A mesmerizing sensual history of identical twin sisters who leave their booming Texas oil town for Paris and a Colombian convent…Bombshell revelations abound when the narrative reaches its boiling point, which White handles with aplomb. Equally tender and salacious, White's deeply satisfying character study demonstrates his profound abilities." —Publishers Weekly, Starred Review

"Steeped in White's ironic worldview… A Saint from Texas brims with wit and style. Proust meets John Irving in this grand and delightful comedy of manners." —Kirkus, Starred Review

"Sumptuously imagined…In this gorgeously appointed novel, an elderly Texas belle who became a French baroness tells her story and that of her identical twin, whose abuse by their father set her on a spiritual path." —Shelf Awareness

"One of our most interesting, serious, and mischievous writers." —Lorrie Moore

"One of the three or four most virtuosic living writers of sentences in the English language." —Dave Eggers

"Edmund White has three voices. First there is the storyteller: relaxed, conversational, an anecdotalist, an inspired flaneur. Then there is the poet: on every page there lies in wait a metaphor of startling precision, an image that holds and reattracts the eye. And then there is the laic philosopher, who observes human life from the highest attitudes, held aloft by vast infusions of erudition and experience." —Martin Amis

"Winner of the PEN/Saul Bellow Award for Achievement in American Fiction "for his honest, beautifully wrought, and fiercely defiant books."" —PEN/Saul Bellow Award
Thank you for shopping local!