Cleopatra and Frankenstein (Hardcover)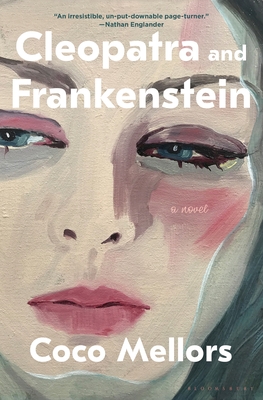 $28.00

Not in the store. We can order it and should have it in store in 3-5 business days.
Description
---
For readers of Modern Lovers and Conversations with Friends, an addictive, humorous, and poignant debut novel about the shock waves caused by one couple's impulsive marriage.

Twenty-four-year-old British painter Cleo has escaped from England to New York and is still finding her place in the sleepless city when, a few months before her student visa ends, she meets Frank. Twenty years older and a self-made success, Frank's life is full of all the excesses Cleo's lacks. He offers her the chance to be happy, the freedom to paint, and the opportunity to apply for a Green Card. But their impulsive marriage irreversibly changes both their lives, and the lives of those close to them, in ways they never could've predicted.

Each compulsively readable chapter explores the lives of Cleo, Frank, and an unforgettable cast of their closest friends and family as they grow up and grow older. Whether it's Cleo's best friend struggling to embrace his gender queerness in the wake of Cleo's marriage, or Frank's financially dependent sister arranging sugar daddy dates to support herself after being cut off, or Cleo and Frank themselves as they discover the trials of marriage and mental illness, each character is as absorbing, and painfully relatable, as the last.

As hilarious as it is heartbreaking, entertaining as it is deeply moving, Cleopatra and Frankenstein marks the entry of a brilliant and bold new talent.
About the Author
---
Coco Mellors grew up in London and New York. She has an MFA from New York University, where she was a recipient of the Goldwater Fellowship. She currently lives in Los Angeles, California with her husband.
Praise For…
---
"If Conversations With Friends has you yearning to read about more dysfunctional relationships, look no further than Cleopatra and Frankenstein. … This is a perfect read who loves a story with finely drawn characters you'll grow to care about." - Buzzfeed

"Cleo is a 24-year-old painter with an expiring student visa; Frank is 20 years older and financially stable (and then some). Their "impulsive marriage" sets off all sorts of reactions in their circle of friends and family-not to mention their individual reactions as they settle in as husband and wife. It's giving me early-season Girls vibes, which I'm very much here for." —LitHub's Most Anticipated Books of 2022

"Tantalizing … cinematic … [Mellors] has written some extraordinary sentences and shows a great talent for dialogue." —Los Angeles Times

"An irresistible, un-put-downable, page-turner of a novel. A love letter to New York, a love letter to love, Cleopatra and Frankenstein is a complex, funny, deeply-felt, beautifully written debut." —Nathan Englander, author of WHAT WE TALK ABOUT WHEN WE TALK ABOUT ANNE FRANK and KADDISH.COM

"Every sentence of Coco Mellors' debut novel Cleopatra and Frankenstein shimmers with wit and wisdom. Masterfully told through multiple voices, Cleopatra and Frankenstein offers an intimate glimpse of a marriage marred by alcoholism and mental illness. Mellors' real genius lies in her ability to render the pervasive damage wrought by those suffering from addiction, trauma, and mental illness with enough compassion that readers will find themselves rooting for each of the characters, firmly invested in their ability to wrest recovery and hope from the wreckage. Mellors' brilliantly crafted story and unforgettable characters offer unvarnished insight into the very heart of what it means to be human. I will be pressing this book into all my friends' hands." —Christie Tate, New York Times bestselling author of GROUP

"Mellors' remarkably assured and sensitive debut … strongly evoke[s] Hanya Yanagihara's A Little Life, but Mellors also cultivates a sprightlier style that keeps the novel's familiar tropes from feeling clichéd or reducing her characters to types … At its core, it's a novel about how love and lovers are easily misinterpreted and how romantic troubles affect friends and family. A canny and engrossing rewiring of the big-city romance." —Kirkus Reviews, Starred Review

"Mellors dissects the tumultuous relationship between two magnetic and damaged people … an enticing aura glows at this work's heart." —Publishers Weekly

"Ripples from one couple's tumultuous relationship spread widely in Coco Mellors's engaging debut novel … creating a nuanced, deeply emotional journey for her cast. Mellors's prose is a compelling balance of beautiful phrasing and snappy dialogue that propels the story while allowing time for reflection … it's the fullness of their humanity that makes Cleopatra and Frankenstein a worthwhile read. The beauty lies in the broken bits, and Mellors captures both." —Shelf Awareness

"These New Yorkers are displayed in all their humanity, and spending time among their brightness, laughter and tears is delightful. Mellors is a sparkling, intelligent talent." —Spectator World

"Cleopatra and Frankenstein, the luminous debut novel from Coco Mellors, is a book about many things: It's a great, swooning love story; a shattering depiction of how addiction and mental illness warp our lives; and a perceptive, witty portrait of globalized New York. But most of all, Mellors has written a devastatingly human book, at turns sharp and tender, that marks her as the rare writer whose sentences are as beautiful as they are wise. An unforgettable read." —Sam Lansky, author of THE GILDED RAZOR and BROKEN PEOPLE

"Deeply engrossing and easily lovable, perfect for fans of Sally Rooney and Lauren Groff." —Booklist

"I was in the thrall of this ambitious, surprising novel from the very first page. With razor-sharp dialogue, a keen eye for detail, and a cast of unforgettable characters, Cleopatra and Frankenstein untangles the mess of hope and heartache that love too often leaves in its wake. It's an astounding debut by a wise, assured writer. I can't wait to see what Coco Mellors conjures up next." —Grant Ginder, author of THE PEOPLE WE HATE AT THE WEDDING

"Coco Mellors writes about today's Bright Young Things as they stumble through marriages, affairs, artistic quandaries and addictive temptations. She is a strong writer of wit and sophistication who creates with assurance a jangling world where friendships both matter and falter, and where how to love remains the deepest preoccupation of all." —Susan Minot, author of Monkeys, Evenings, Thirty Girls and Why I Don't Write

"A character driven epic thoroughly engrossing and entirely magnificent. It is thrilling to read a book that articles with nuance and compassion the way gender impacts every part of our lives. Sometimes you can just tell that a debut novel has been percolating and perfecting inside an author's mind until it is ready to leap into-and ultimately change-the world." —Adam Eli, author of THE NEW QUEER CONSCIENCE

"A heart-stopping, page-turning, romantic saga rendered with uncommon depth and nuance. Mellors has created a couple that feels achingly real; the passionate fire that fuels their marriage is the same blaze that threatens to burn it to the ground. But the book smartly expands its lens beyond just husband and wife, and examines how one relationship can have a global impact on an entire network of loved ones. Cleopatra and Frankenstein will ensnare you with its irresistible wit, surprise you with its powerful insight, and enthrall you with its kaleidoscopic portrait of one great love affair." —Jonathan Parks-Ramage, author of YES, DADDY
Thank you for shopping local!