Plant Power Bowls: 70 Seasonal Vegan Recipes to Boost Energy and Promote Wellness (Paperback)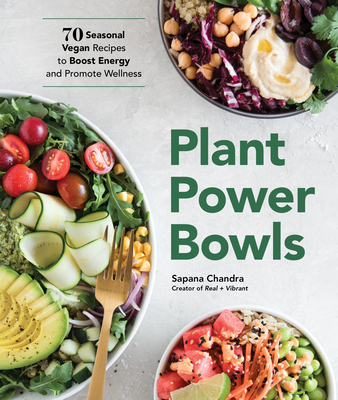 $22.95

Should be on our shelves now -- but wait for confirmation from us before coming to pick up. We'll respond to your order shortly.
Description
---
Discover 70 nourishing, plant-based recipes to energize and fuel your body, naturally—from Instagram star, certified health coach, and Real + Vibrant's Sapana Chandra.

As a certified health coach, Sapana ensures that each bowl contains a balance of healthy fats, complex carbohydrates, and proteins—plus the yum factor! The recipes in this book honor Sapana's common-sense philosophy for good health: eat real (food) and live well, and you will feel vibrant. Recipes are arranged seasonally so you can make the most of your area's local bounty and eat fresh throughout the year.
 
• Spring: White Bean & Rosemary Crispy Potatoes Bowl with a Sun-Dried Tomato Sauce, and Roasted Beet & Citrus Bowl with a Pistachio Citrus Sauce
• Summer: Sumac Falafel Bowl with a Roasted Red Pepper Hummus Sauce, and a Blueberry Mango Chia Breakfast Bowl
• Fall: Roasted Curried Cauliflower Bowl with a Creamy Turmeric Dressing; Kale & Persimmon Buckwheat Bowl with a Creamy Cashew Sauce
• Winter: Warming Chickpea Coconut Curry Bowl and Mediterranean Buddha Bowl with a Creamy Kalamata Sauce

…But Sapana wants us treat ourselves too! She also includes a chapter on ice cream bowls where you can indulge in Blackberry Lavender, Pineapple Black Pepper, or Chocolate Tahini Fudge.
 
Not strictly for vegans, these recipes will appeal to everyone who wants to include more plant-based meals in their diets.
About the Author
---
Sapana Chandra is a plant-based, professional cook, social media influencer, and holistic health coach. She launched Real + Vibrant in 2016 after healing herself from chronic illness. Real + Vibrant is a growing healthy-lifestyle business where Sapana teaches how to cook simple, delicious, mostly plant-based meals. She has been featured in Elephant Journal, Clean Eating, Thrive, and Mantra Yoga + Health and her photos have been featured in Whole Foods, Food52, Cooking Light, SELF, and mindbodygreen, among others. She lives in Seattle, WA.
Praise For…
---
"Seattle-based health coach Sapana Chandra is on a mission to prove that all you ever need can be found in one bowl. That's why each of her 70 energy-boosting recipes are completely balanced with healthy fats, complex carbs, and proteins. Don't know where to start? This better bowl bible is divided by season."
—VegWorld Magazine

"These Buddha bowls will blow you away with their fresh flavors (and how great they make you feel!)."
—Alive magazine

"Highly recommended."
—Vegan Health & Fitness Magazine

"...Sapana Chandra, the lovely face behind the blog Real + Vibrant, has just released an entire book of fresh, innovative ideas. Plant Power Bowls introduces 70 new recipes to help shake up any meal! The book is arranged by season, so it's easy to work through with seasonal vegetables, which helps to ensure your food is as fresh as possible!"
—Raise Vegan

"If you're looking for ultra-seasonal meals, look no further than Plant Power Bowls. In this new book, Chandra has created 70 big, beautiful bowls, organizing her chapters according to the seasons. Expect recipes like shaved asparagus and barley or roasted beet and orange for spring; watermelon poke with sriracha dressing and strawberry-spinach with toasted pecans await you come summertime. Creative, nutrient-dense, and colorful, these bowls are sure to inspire."
—Organic Authority