Alone: Britain, Churchill, and Dunkirk: Defeat into Victory (Paperback)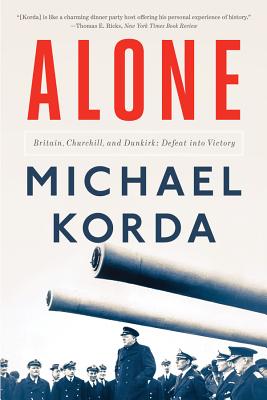 $18.95

Likely on our shelves now
Description
---
A BBC History Best Book of the Year

One of the most miraculous military rescue missions in modern history comes alive in this "superb and panoramic" (Washington Post) account of Dunkirk.
No one can evince the drama of what actually happened at Dunkirk in the year 1940 with as "great narrative skill and superb delineation" (David McCullough) as Michael Korda, the historian and legendary book editor. As dramatized in Christopher Nolan's film
Dunkirk
, May 1940 was a month like no other: Germany's war machine blazed into France, the impregnable Maginot Line crumbled, and Winston Churchill replaced Neville Chamberlain as prime minister as Britain, isolated and alone, faced a triumphant Nazi Germany. Against this vast canvas, best-selling author Michael Korda relates his own personal story, "by turns charming, powerful and poignant" (
Minneapolis Star Tribune
): that of a six-year-old boy from a glamorous movie family who would himself be evacuated. Weaving together "eyewitness detail and a fine sense of drama" (
Boston Globe
) to form an epic of remarkable originality, Alone movingly captures a moment of historic triumph—when an unlikely flotilla of destroyers brought 300,000 men home to safety.
About the Author
---
Michael Korda is the best-selling author of Hero, Clouds of Glory, and Charmed Lives. The former editor-in-chief of Simon and Schuster, he was awarded the Order of Merit of the Republic of Hungary for his participation in the Hungarian Revolution of 1956. He lives in Pleasant Valley, New York.
Praise For…
---
Entertaining. . . This crucial time is recounted by someone who witnessed those years as a child. Korda, a longtime book editor before becoming a full-time author, is like a charming dinner party host offering his personal experience of history. . . A fine introduction for anyone new to this fulcrum point of the 20th century.
— Thomas E. Ricks - New York Times Book Review

Where Korda's account differs from many similar Dunkirk histories is in a wide trawl of simultaneous social history alongside the military and political events. . . The book is also lavishly illustrated with contemporary photographs—many of them unfamiliar. Anyone wanting to explore the history behind Christopher Nolan's recent film could do a lot worse than start here. 
— Nigel Jones - Times Literary Supplement

Korda tells an exciting story laced with eyewitness detail and a fine sense of drama.
— Matthew Price - Globe

A swiftly paced, illuminating account of events at the opening of World War II in Europe, recounting 'a military defeat with a happy ending.' Revived in part thanks to Christopher Nolan's 2017 film Dunkirk, the history of the British Expeditionary Force is compelling even in its barest bones. Korda (Clouds of Glory: The Life and Legend of Robert E. Lee, 2014, etc.), noted as both a historian and publisher, brings a personal touch to the story with that of his own family's flight from Europe a step or two ahead of the advancing Nazis. . . . An excellent revisitation of a critically important set of battles that, once a byword for courage, have faded in memory.

— Kirkus Reviews (starred)

The incredible, almost miraculous story of what happened at Dunkirk in the year 1940—and why—is unfolded in Alone with great narrative skill and superb delineation of a highly interesting cast of characters, including, importantly, the author himself and his own remarkable family.

— David McCullough

The story of the coming of World War Two, the fall of France, and the 'miracle' at Dunkirk has been told many times before, but Michael Korda injects this familiar tale with fresh poignancy and compelling drama as only the finest historians can do…[His] memories as a young boy, watching his famous film family deal with the onset of war, give his elegant narrative an added dimension that makes it compulsively readable.
— Max Boot

Michael Korda, who has often extended our understanding of so many diverse subjects, has accomplished another masterpiece in Alone. Dealing with Britain's desperate situation as France fell, he shows how the evacuation from Dunkirk became the inspiration for eventual British victory. One of Korda's best.

— Henry Kissinger

A fascinating mix of political history and personal reminiscence. I personally had almost the same experience, and was transported back seventy-five years.
— John Julius Norwich

Michael Korda's cool dissection of the battle of Dunkirk and its aftermath makes wonderful reading: he's as able a historian as he was an editor.
— Larry McMurtry
Thank you for shopping local!