Snap Flash Hustle (Paperback)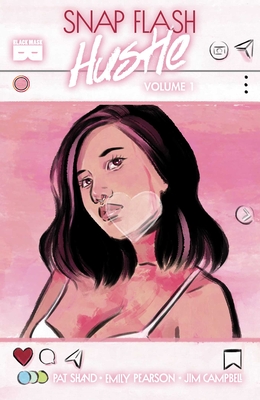 $14.99

Backordered at our distributor but we can check availability from the publisher.
Description
---
In this stylish crime thriller, Haley Mori, a downtrodden alternative-model, happens upon a secret society of elite models in NYC that are using their platforms to sell narcotics.
Seeing a possible escape from a lifetime of crushing debt, Haley becomes involved and works her way up the rank, making new alliances and enemies alike while getting a taste of a power she never knew she craved. Collects issues #1-4.

"Such a good first issue with personality exploding off the page. Emily's paneling is sickening, and if y'all aren't reading it yet you are f***ng up. Period." -Danny Lore (Champions, Queen of Bad Dreams)
About the Author
---
Pat Shand is a prolific writer of comic books and novels for popular brands like Disney, Marvel, Charmed, and Angel, as well as an ever-growing list of creator-owned works including Destiny, NY, Breathless, and Snap Flash Hustle at Black Mask Studios. He is known for his work on Marvel's Iron Man: Mutually Assured Destruction, Avengers: The Serpent Society, Guardians of the Galaxy: Space Riot, and Thor: Crusade of the Forgotten. He lives in New York with his wife Amy and their army of cats.

Emily Pearson is a comic book artist from California. She has previously worked for Black Mask Studios on THE WILDS, SNAP FLASH HUSTLE, as well as the Vault Comic's book BONDING and the Oni Press book THE VAIN.
Praise For…
---
"It looks like an American comic, and it reads like an American comic, but it comes from and delivers to all the places that the romantic, hopeless, hopeful, queer, horny, ennui-laden josei greats dwell in. For/about women who feel worthless and arrogant at the same time, women who are able to embrace cruelty and self-gratification, women who are willing to bargain their way out of desperation they contributed to."
— Claire Napier

"Breaking Bad meets Sex And The City"
— Comic Book Resources