Baby Loves Angular Momentum on Hanukkah! (Baby Loves Science) (Board book)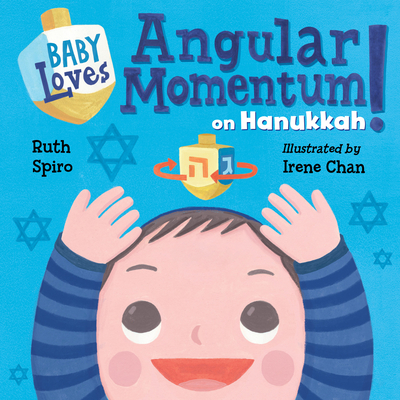 $8.99

Not in the store. We can order it and should have it in store in 3-5 business days.
Description
---
The perfect Hanukkah gift for babies and toddlers, complete with big, brainy science for the littlest listeners.

Baby discovers the science behind spinning a dreidel on Hanukkah! Accurate enough to satisfy an expert, yet simple enough for baby, this clever board book explores angular momentum, torque, friction, and gravity. Beautiful, visually stimulating illustrations complement age-appropriate language to encourage baby's sense of wonder. Parents and caregivers may learn a thing or two as well.
About the Author
---
Ruth Spiro is an award-winning children's book author and freelance writer whose articles, essays, and stories have appeared in magazines and anthologies. Her debut picture book, Lester Fizz, Bubble-Gum Artist (Dutton), won awards from Writer's Digest and Willamette Writers and was a Bank Street College of Education Best Book of the Year.

Irene Chan enjoys making beautiful things. She is an art director, designer, artist, amateur photographer, and illustrator.
Praise For…
---
After a brief explanation of the holiday of Hanukkah, simple text explains that torque makes the dreidel spin and that the spinning dreidel has angular momentum. "That means it spins and spins instead of falling over. The spinning dreidel hits tiny molecules in the air. That creates friction. The point of the dreidel rubs against the table. That creates friction, too. Friction slows the dreidel down. As the dreidel spins slower, it loses angular momentum. Gravity makes it tilt and wobble. Gravity pulls the dreidel down. Clunk!" The book continues with the rules of the game and other ways that families celebrate the holiday, ending with: "Not all Baby's friends celebrate Hanukkah. . . but they can spin the dreidel. Baby loves Hanukkah!" Adorable, vibrant cartoon illustrations feature round-faced and wide-eyed toddlers with various skin and hair colors though "Baby" is white and sports a blue kippah. Green energy, coding, quantum physics, and thermodynamics are just some of the topics addressed in this cute, accessible "Baby Loves Science" board book series that will also include Baby Loves Electrical Engineering on Christmas! and Baby Loves Photosynthesis on St. Patrick's Day!. Here's hoping that more Jewish holidays will be added in the future!
—AJL News & Reviews


These bright, vividly illustrated board books use Christmas and Hanukkah to explain scientific concepts. In Baby Loves Electrical Engineering on Christmas, a baby explores the world of twinkling lights around her, starting with the Christmas tree. "What makes the lights blink and twinkle? Electricity!" The story then launches into an appropriately simplified explanation of atoms, electrons, circuits, and electrical energy. In Baby Loves Angular Momentum on Hanukkah, the spinning dreidel is used as an example of torque and angular momentum. A basic description of how the game is played as well as why Hanukkah is celebrated blends nicely with the scientific topics. These high concept board books offer a unique angle on the traditional Christmas/Hanukkah book, with succinct explanations of the holidays and the scientific concepts they highlight. Chan's rich colors and happy faces offer the warm familiarity of family holidays as well as simple visual representations of the themes. VERDICT Recommended in library collections where board books are popular and where holiday books are in demand.
—School Library Journal


Thank you for shopping local!