Texas Jazz Singer: Louise Tobin in the Golden Age of Swing and Beyond (Sam Rayburn Series on Rural Life, sponsored by Texas A&M University-Commerce #25) (Hardcover)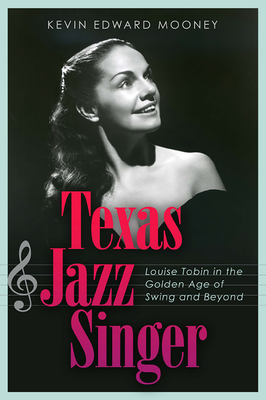 $30.00

Not in the store. We can order it and should have it in store in 3-5 business days.
Description
---
At 102 years of age, Louise Tobin is one of the last surviving musicians of the Swing Era. Born in Aubrey, Texas, in 1918, she grew up in a large family that played music together. She once said that she fell out of the cradle singing and all she ever wanted to do was to sing. And sing she did. She sang with Benny Goodman and also performed vocals for such notables as Will Bradley, Bobby Hackett, Harry James (her first husband), Johnny Mercer, Lionel Hampton, the Glenn Miller Orchestra, Peanuts Hucko (her second husband), and Fletcher Henderson.
Based on extensive oral history interviews and archival research, Texas Jazz Singer recalls both the glamour and the challenges of life on the road and onstage during the golden age of swing and beyond. As it traces American music through the twentieth century, Louise Tobin's story provides insight into the challenges musicians faced to sustain their careers during the cultural revolution and ever-changing styles and tastes in music.
In this absorbing biography, music historian Kevin Edward Mooney offers readers a view of a remarkable life in music, told from the vantage point of the woman who lived it. Rather than simply making Tobin an emblem for women in jazz of the big band era, Mooney concentrates instead on Tobin's life, her struggles and successes, and in doing so captures the particular sense of grace that resonates throughout each phase of Tobin's notable career.
About the Author
---
Music historian KEVIN EDWARD MOONEY has performed as a guitarist with jazz greats Dizzy Gillespie and David Amram. A member of the musicology faculty at Texas State University, he has contributed to Grove Dictionary of American Music, Southwestern Historical Quarterly, Journal of Texas Music History, and others. 
Praise For…
---
"In this extensively researched, lovingly written biography, Professor Kevin Mooney brings the Swing Era to vivid life, doing justice to one of its last survivors, the big-band singer Louise Tobin. Heretofore mostly remembered for her brief marriage to Harry James — and for calling James's attention to a skinny young singing waiter named Sinatra — Tobin, whom Mooney interviewed at length, was a fine vocalist in her own right, with a gratifying second career (and second marriage, to the clarinetist Peanuts Hucko) in the big-band revival of the 1960s and 70s. Texas Jazz Singer is an important addition to Swing Era literature."—James Kaplan, author of Frank: The Voice and Sinatra: The Chairman.
— James Kaplan

" . . . a heady cocktail of glamour and domesticity, struggle and success, love and tragedy, and of lifelong friendships formed . . . In Texas Jazz Singer, Kevin Edward Mooney captures a lost time that should be never forgotten. . . . A time machine that takes us back to the heady days of the big bands and swing music . . . through the eyes of a woman who was there and at the top of the business!"—RICHARD JOHN Irvine is the presenter of The Vintage Wednesday Breakfast Programme and The 602 Jazz Club on Radio North Angus in Arbroath, Scotland
— Richard John Irvine

"It's been said that ignorance is bliss. I disagree and here's why: I was lucky enough to work with Louise Tobin and her husband Peanuts Hucko on many a tour and jazz party in the 70s, 80s, and early 90s. I was aware that Louise had had quite a career in jazz from the 1930s to the recent past but I had NO idea of the events and the heights of jazz that Louise had been involved in. Kevin Mooney takes you from the very beginning in Aubrey, Texas, and follows Louise all the way to the pinnacle of music – Carnegie Hall. What a trip it is. The big names in jazz are here and Louise Tobin was a huge part of it all. To say that I recommend everyone should read this book is a large understatement. Heck, I might read it again one more time. So here's to you, Louise. TEXAS JAZZ SINGER. If I had only known…"—Butch Miles, drummer, educator, three time Grammy award winner
 
— Butch Miles
Thank you for shopping local!