The Mbira: An African Musical Tradition (Paperback)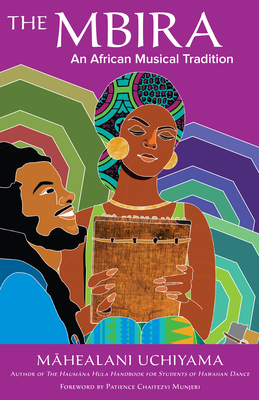 $14.95

Not in the store. We can order it and should have it in store in 3-5 business days.
Description
---
An introductory guide to the mbira: the spiritual traditions, historical perspectives, and practical applications of a sacred Zimbabwean instrument.

In this accessible overview steeped in history and tradition, teacher and student Māhealani Uchiyama offers insights for learning about the mbira and actively engaging with it in an informed and respectful way.

The mbira is made of a wooden soundboard and hammered metal keys. It can be played solo or accompanied by singing, clapping, dancing, percussion, or other mbira. In traditional Zimbabwean culture, the mbira is a spiritual practice that bridges worlds: for example, the realm of the ancestors and of healing energies with the worlds of the living.

Supplemented with 32 images and glossary of terms, this book helps readers understand:


• The mbira's special roles within the lamellaphone instrument family
• Relevant Zimbabwean and African cultural, historical, and spiritual perspectives
• Ways the mbira can become a connection point for people severed from their African roots
• How appropriation and commodification have contributed to the mbira's popularization around the world
• Codes of conduct for respectfully playing the mbira and for taking it up as a practice
About the Author
---
MĀHEALANI UCHIYAMA is an award-winning dancer, musician, composer, choreographer, recording artist, teacher, and author. She is the founder and artistic director of the Māhea Uchiyama Center for International Dance (MUCID) and director of the Polynesian dance company Hālau KaUaTuahine, with whom she has toured internationally.

Uchiyama's unique perspective on the mbira is informed by her status as an initiated priestess (Iyanifa) of Ifa, a spiritual tradition of West Africa. She has studied Shona music for two decades both locally and in Zimbabwe, and her work with the mbira has been recognized by the City of Oakland's Cultural Funding Program and the Alliance for California Traditional Arts. She is the former President of the Board of Directors of World Arts West, is currently co-artistic director of the San Francisco Ethnic Dance Festival, and serves as vice president of the nonprofit organization MBIRA. She is also the director of the African American Mbira Project, an initiative to introduce, support, and perpetuate the music of the mbira of Zimbabwe within the African American community. She is the author of Haumāna Hula Handbook for Students of Hawaiian Dance.
Praise For…
---
"As she is one of the few female African Americans who play mbira, it is really important to hear [Māhea Uchiyama's] perspective of mbira and how it has worked in her life."
—From the foreword by Patience Chaitezvi Munjeri, Gwenyambira

"This is an important introduction to Zimbabwean mbira music for those from other continents. If you are attracted to mbira music, but are unfamiliar with its history and cultural significance and perhaps wonder whether it's really OK for you to play it, this book will answer all your questions!"
—Erica Azim, executive director of MBIRA (mbira.org)

"Mbira music and its culture teaches us to embrace our ancestors and tap into the spiritual richness that lies within ourselves. This book will take us on this magical journey."
—Sheree Seretsem director of the Anzanga and Zambuko Marimba Ensembles, Seretse African Music Collective, University of Washington
                                        
"Māhea highlights a compelling perspective and outlook into the discovery of the mbira music culture and that of the Shona culture. A must-read for those on a journey to understand their ancestral lineages through the powerful mastery of mbira music. Well done!"
—Laina P. Magaya, a.k.a. Piwai, award-winning recording artist, percussionist, and  Gwenyamibra

"I wholeheartedly recommend Māhealani Uchiyama's book for western mbira students, beginners and experienced players alike. She takes a holistic approach to learning the music and its place within Shona culture rather than just breaking down the musical sounds. Central to her perspective is wise commentary on our roles as westerners in engaging with Shona music, pointing out that 'True respect for the mbira and its rich heritage must begin with an acknowledgment of the long history of Western peoples consuming, modifying, and decontextualizing artifacts and practices of other peoples.'"
—Claire Jones, PhD, Zimbabwean Music Festival Coordinator