The Searchers: The Making of an American Legend (Paperback)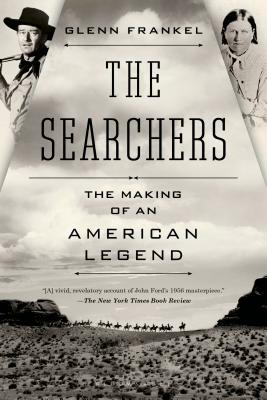 $18.00

Should be on our shelves now -- but wait for confirmation from us before coming to pick up. We'll respond to your order shortly.
Description
---
New York Times Bestseller

Named one of the best books of the year by:
Parade
The Guardian
Kirkus
Library Journal

The true story behind the classic Western The Searchers by Pulitzer Prize-wining writer Glenn Frankel that the New York Times calls "A vivid, revelatory account of John Ford's 1956 masterpiece."

In 1836 in East Texas, nine-year-old Cynthia Ann Parker was kidnapped by Comanches. She was raised by the tribe and eventually became the wife of a warrior. Twenty-four years after her capture, she was reclaimed by the U.S. cavalry and Texas Rangers and restored to her white family, to die in misery and obscurity. Cynthia Ann's story has been told and re-told over generations to become a foundational American tale. The myth gave rise to operas and one-act plays, and in the 1950s to a novel by Alan LeMay, which would be adapted into one of Hollywood's most legendary films, The Searchers, "The Biggest, Roughest, Toughest... and Most Beautiful Picture Ever Made!" directed by John Ford and starring John Wayne.

Glenn Frankel, beginning in Hollywood and then returning to the origins of the story, creates a rich and nuanced anatomy of a timeless film and a quintessentially American myth. The dominant story that has emerged departs dramatically from documented history: it is of the inevitable triumph of white civilization, underpinned by anxiety about the sullying of white women by "savages." What makes John Ford's film so powerful, and so important, Frankel argues, is that it both upholds that myth and undermines it, baring the ambiguities surrounding race, sexuality, and violence in the settling of the West and the making of America.
About the Author
---
Glenn Frankel worked for many years at The Washington Post, winning a Pulitzer Prize in 1989. He has taught journalism at Stanford University and the University of Texas at Austin, where he directed the School of Journalism. He has won the National Jewish Book Award, was a finalist for the Los Angeles Times Book Prize, and is a Motion Picture Academy Film Scholar. He is the bestselling author of The Searchers and High Noon, and lives in Arlington, Virginia.