Volunteers: Growing Up in the Forever War (Hardcover)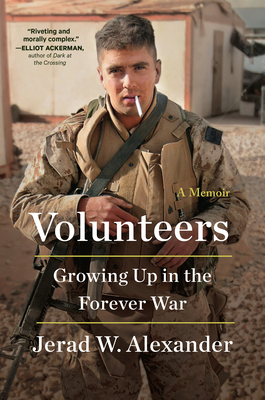 $26.95

Backordered at our distributor but we can check availability from the publisher.
Description
---
"Riveting and morally complex, Volunteers is not only an insider's account of war. It takes you inside the increasingly closed culture that creates our warriors." —Elliot Ackerman, author of the National Book Award finalist Dark at the Crossing

As a child, Jerad Alexander lay in bed listening to the fighter jets take off outside his window and was desperate to be airborne. As a teenager at an American base in Japan, he immersed himself in war games, war movies, and pulpy novels about Vietnam. Obsessed with all things military, he grew up playing with guns, joined the Civil Air Patrol for the uniform, and reveled in the closed and safe life "inside the castle," within the embrace of the armed forces, the only world he knew or could imagine. Most of all, he dreamed of enlisting—like his mother, father, stepfather, and grandfather before him—and playing his part in the Great American War Story.

He joined the US Marines straight out of high school, eager for action. Once in Iraq, however, he came to realize he was fighting a lost cause, enmeshed in the ongoing War on Terror that was really just a fruitless display of American might. The myths of war, the stories of violence and masculinity and heroism, the legacy of his family—everything Alexander had planned his life around—was a mirage.

Alternating scenes from childhood with skirmishes in the Iraqi desert, this original, searing, and propulsive memoir introduces a powerful new voice in the literature of war. Jerad W. Alexander—not some elite warrior, but a simple volunteer—delivers a passionate and timely reckoning with the troubled and cyclical truths of the American war machine.
About the Author
---
Jerad W. Alexander has written for Esquire, Rolling Stone, The Nation, Narratively, and elsewhere. He holds an MFA in Literary Reportage from the New York University Arthur L. Carter School of Journalism. From 1998 to 2006, he served as a U.S. Marine, deploying to the Mediterranean, East Africa, and Iraq. He grew up on military bases, from the east coast of the United States to Japan. He currently lives in New York City, but calls Atlanta home.
 
Praise For…
---
"Riveting and morally complex, Volunteers is not only an insider's account of war. It takes you inside the increasingly closed culture that creates our warriors. In the case of Jerad W. Alexander, that culture has also created a writer of remarkable talent."
—Elliot Ackerman, author of the National Book Award finalist Dark at the Crossing

"A beautiful and powerfully affecting portrait of a boyhood in a military family, in which contrasting and ever more complex views of America, of war, and of what it means to be a soldier lead to the decision to join the military and serve in Iraq. In that way, it's also a portrait of the stories we tell ourselves, and how those stories fare when our children grow up and try to live them." 
—Phil Klay, author of Redeployment (winner of the National Book Award) and Missionaries

"With this work, Jerad W. Alexander has staked his claim as one of the most necessary voices while contributing to a necessary and overdue examination of our military culture and what it means to be an American. An absolute triumph."
—Jared Yates Sexton, author of American Rule: How a Nation Conquered the World but Failed Its People 

"Alexander offers a well-attuned perspective of the military world and how its expansive influence not only motivates, but also arouses a justification for war itself . . . Alexander's insights into the myth-building ethos of the military . . . are well articulated, and he ably explores ideals of masculinity, heroism, and camaraderie within the military establishment . . . Alexander vividly captures the foreboding atmosphere of a country under siege and recounts the disturbing incidents he witnessed during his seven-month deployment . . . An absorbing memoir reflecting the realities of serving in the modern-day military."
—Kirkus Reviews 

"What sets apart Volunteers from other literary treatments of modern conflict is that it understands war is not a destination but a state of being. 'The war is everywhere,' Jerad W. Alexander writes in this beautiful, dark chronicle of an American life and lineage shaped by empire. This testament to moral and physical courage deserves all the accolades about to come its way and more. Volunteers is exceptional."
—Matt Gallagher, author of Youngblood and Empire City 

"A reckoning of American identity, masculinity, and exceptionalism that dissects the U.S. military ethos, while capturing the popular culture that shaped a generation of service members. An eloquent and compelling memoir, written in the language of candor, humor, and grim realism."
—Dewaine Farria, author of Revolutions of All Colors

"Volunteers is a compelling twofer. In it, Jerad Alexander recounts his coming of age in an environment that glamorized war and his own subsequent encounter with the singularly unglamorous reality of combat. Vivid, intimate, and moving, Volunteers belongs on the very top shelf of 'forever war' memoirs." 
—Andrew Bacevich, author of After the Apocalypse: America's Role in a World Transformed