The Well-Spoken Woman: Your Guide to Looking and Sounding Your Best (Paperback)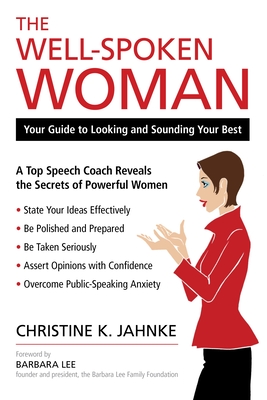 $19.00

Not in the store. We can order it and should have it in store in 3-5 business days.
Description
---
Sheryl Sandberg advises women to "lean in" to realize their full potential. To do so successfully, women need effective communication skills and a confident presentation style. In this must-have guide, one of the nation's premier speech coaches shares tested techniques from twenty years of coaching women on what works and what doesn't. The author details the practices and techniques of successful women to help all women improve their presentation and public speaking skills. With access to her expertise, you'll learn strategies that will help you present your best self in forums from PTA meetings to TV studios, conferences to classrooms, boardrooms to YouTube.

The author has advised First Lady Michelle Obama for her International Olympic Committee speech, provided speaker training to Hillary Clinton's presidential campaign, and coached corporate CEOs and more women elected officials than any other trainer. Every woman can benefit from studying the polished speaking skills of such powerful women.

Strategic advice on everything from messaging to hair and hemlines will allow you to come across as polished and prepared. The author includes easy-to-follow exercises so you can try out techniques immediately, from the use of sound bites and secrets to establishing eye contact to what not to do with your hands.

Filled with behind-the-scenes advice, this book is for every woman who wants to present herself well, express her ideas with confidence, and earn the respect of any audience.
About the Author
---
Christine K. Jahnke is the president and founder of Positive Communications (www.poscom.com) and has provided speech coaching and media training to leaders in business, the nonprofit community, government, and politics since 1991. Jahnke has advised First Lady Michelle Obama and Hillary Clinton's presidential campaign and has worked with women CEOs at companies as diverse as the National Geographic Channel and the International Speedway Corporation, parent of NASCAR.
Praise For…
---
"Filled with practical wisdom, exercises, and exactly the right advice to help you overcome barriers to becoming a welcome, passionate, effective speaker."
—GLORIA STEINEM

"This should be on every young woman's "must read immediately" list and if you know a young woman about to leave high school or college, do consider presenting them with a copy of this invaluable book."
—Monsters and Critics

"I wish I had owned a copy of The Well-Spoken Woman before I first stepped up to a microphone. Decisions look different when there's a woman at the table, but we have to get there first—and Jahnke has a keen sense of what it truly takes for any woman to transform her ambitions into real-world success."
—GOVERNOR BEV PERDUE, North Carolina

"A great resource for every woman who wants to make her voice heard: proven techniques, real-life examples, and helpful tips on how to make the most of every presentation—from school seminars and business meetings to local political campaigns and nationally televised debates."
—ANN F. LEWIS, former White House director of communications

"Jahnke is a brilliant communicator and teacher. Armed with this personal guide packed with her field-tested strategies and practical tips, you will ace your media interviews, speeches, testimony, and debates. This book is an indispensable tool for any woman who wants to get her message out."
—DEBBIE WALSH, director, Center for American Women and Politics, Rutgers University

"For years, women across the country have relied on Christine K. Jahnke. From governors to senators, she's helped women craft their own persuasive stories and remain confident no matter what comes their way. With this book, she adds insight from accomplished women—and brings her powerful lessons for communicating to everyone. This book is a tool to help women find their voices and make our country better."
—STEPHANIE SCHRIOCK, president, EMILY's List

"This is a great 'how to do it well' manual. And I loved the illustrative stories that created a sense of intimacy with women I've admired from afar. I want this book with me wherever I go—a great resource, and how nice to be in the company of Maya Angelou, Ann Richards, Hillary Clinton, and Barbara Jordan!"
—DONNA STARK, vice president, the Annie E. Casey Foundation

"Speech coach Christine K. Jahnke has written a book that will motivate women to believe in themselves and become great speakers. She believes women should be risk takers and cites numerous examples of how everyday women have exceeded audience expectations."
—CELINDA LAKE, pollster and strategist, Lake Research Partners

"We may have 'come a long way, baby,' but when it comes to speaking publicly—whether in front of a TV camera or an audience—women still face a unique set of expectations and assumptions. And no one understands that like Christine K. Jahnke. She's dedicated her career to helping women look and sound their best. I've watched Jahnke work her magic on women politicians. And I find myself turning instinctively to the advice she gave those women for myself."
—AMY WALTER, political analyst and TV commentator