How to Eat More Plants: Transform Your Health with 30 Plant-Based Foods per Week (and Why It's Easier Than You Think) (Paperback)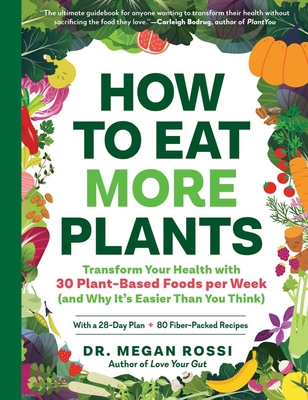 $24.95

Not in the store. We can order it and should have it in store in 3-5 business days.
Description
---
From the award-winning gut health doctor and author of Love Your Gut comes a medically proven guide—featuring the revolutionary Plant Point plan—that makes it easy to fuel up on fiber and nutrients by eating 30 or more plant foods each week"A must-have guide to plant-based eating."—Dr. Will Bulsiewicz, NYT–bestselling author of Fiber Fueled
 
"This is the ultimate guidebook for anyone wanting to transform their health in a practical, sustainable way without sacrificing the food they love."—Carleigh Bodrug, NYT–bestselling author of PlantYou 
This book was previously published in the UK titled
Eat Yourself Healthy
Happy gut microbes are the key to our health goals—they support our brain, skin, immunity, hormones, metabolism, and more. In 
How to Eat More Plants, 
Dr. Megan Rossi explains how to give your gut what it 
really
 craves—variety!
Eat 30 different plants per week, to fuel up on fiber and nutrients

Each fruit, vegetable, legume, grain, nut, and seed counts as 1 Plant Point—and getting to 30 is easier than you think. 

Start your journey with the 28-day Plant Points Challenge

Dr. Rossi's 4-week plan makes it fun to get more plants on the menu!

Rack up Plant Points with over 80 delicious recipes

Fiber-filled breakfasts: Eat-the-Rainbow Pancakes
Lighter bites: Leafy Taco Wraps, Butternut Muffins
Easy to-go lunches: Roasted Veggie and Freekeh Salad
Protein-packed dinners: Stir-fry, five ways; Hearty Lasagna
Decadent desserts: Prebiotic Rocky Road, Loaded Melon Wedges
How to Eat More Plants
 is all about inclusion, not exclusion—whether you're vegan, vegetarian, or just want to eat more veggies. 
Don't diet—diversify. Your gut will thank you.
About the Author
---
MEGAN ROSSI, PhD, RD, The Gut Health Doctor, is one of the most influential gut health specialists internationally. A practicing dietitian and nutritionist with an award-winning PhD in gut health, she is also a leading research fellow at King's College London, where she is currently investigating nutrition-based therapies in gut health, including pre- and probiotics, dietary fibers, plant-based diversity, the low-FODMAP diet, and food additives. She is also the founder of The Gut Health Clinic, where she leads a team of gut-specialist dietitians who see clients all over the world. She is a Daily Mail contributing columnist, a two-time instant Sunday Times–bestselling author, and one of Business Insider's Top 100 Coolest People in Food & Drink. She lives in London, England.
Praise For…
---
"Get your taste buds ready! Dr. Megan Rossi shares a simple, delicious plan to help you and your gut thrive through abundance, not restriction. A must-have guide to plant-based eating."—Dr. Will Bulsiewicz, New York Times–bestselling author of Fiber Fueled
 
"We know that eating a diversity of plants is one of the biggest keys to health and vitality, but actually putting that into practice isn't always so easy! Enter How to Eat More Plants by Dr. Megan Rossi. This is the ultimate guidebook for anyone wanting to transform their health in a practical, sustainable way without sacrificing the food they love."—Carleigh Bodrug, New York Times–bestselling author of PlantYou 
 
"Readers looking to eat healthier without feeling like they're missing out would do well to pick this up."—Publishers Weekly

"How to Eat More Plants by Dr. Megan Rossi packs a whole lot of reliable and sound nutrition advice into one handy guide. Rossi explains why we should be eating more plants and how we can effortlessly get the job done. She also makes the case for diversifying our diets and—my favorite part—shows you how to add healthy foods to your diet instead of eliminating or restricting less healthy ones. The plan is smart, science-based, realistic, and totally manageable. This book is great for plant-lovers, plant-phobes…and everyone in between."—Joy Bauer, MS, RDN, health and wellness expert for NBC's Today show and #1 New York Times–bestselling author
 
"How to Eat More Plants has completely transformed the way I think about food and my gut health! When I was first diagnosed with IBS, I started the low-FODMAP diet and completely restricted everything that I was sensitive to. After reading this book, I learned that restrictive diets are actually counterintuitive and cause even more problems in the long run. This book has aided me in my journey to optimal health and I am forever grateful!"—Leena Snoubar, creator of With Love, Leena

"Gut doctor Dr. Megan Rossi is eons away from your average glossy wellness warrior. Instead of fasting, or becoming vegan, she wants us to eat at normal times—with almost any food on the menu—and certainly not to single out superfoods to fixate on."—The Telegraph

"The dietician and author of [Love Your Gut] is back with 90 plant-packed recipes, paired with expert advice on how to make a diverse selection of vegetables, nuts, seeds and herbs the basis of your diet...boosting your gut microbiome and overall health."—The Sunday Express

"These recipes are the perfect way to boost your mood."—Woman's Own

"This science-backed approach to healthy eating is all about enjoying delicious food that you, your family and your body will love, free from restriction and fad diets...the ultimate toolkit with everything you need to start nourishing your body."—OM Magazine

"Recipes are straightforward and beautifully illustrated… A tasty primer on increasing the diversity of foods in diets and improving overall gut health."—Library Journal

Praise for Love Your Gut

"Learn to love your gut with this jam-packed book."—Jamie Oliver

"Dr. Rossi, a well-recognized dietitian and nutritionist, has done a remarkable job of distilling our knowledge base of the role of diet in IBS. With this guidance, individuals suffering from IBS will now have a toolkit to self-manage their symptoms, and also know when to go for additional help if needed."—Douglas A. Drossman MD, Professor Emeritus of Medicine and Psychiatry at the University of North Carolina and President, Rome Foundation

"I've learned so much from Megan—looking after my gut is now a priority and I feel so good for it. She's a huge inspiration to us."—Ella Mills, author and founder of Deliciously Ella

"In the crowded field of wellness and nutrition, packed with some who are flogging overpriced nonsense to the gullible and desperate, Rossi is that most welcome of things: someone who knows what she's talking about."—The Times (UK)