Waylon: An Autobiography (Paperback)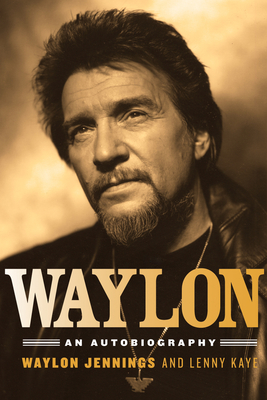 $18.95

Not in the store. We can order it and should have it in store in 3-5 business days.
Description
---
Equal parts outlaw, renegade, and legend, Waylon Jennings enjoyed a stellar music career for four decades and this no-holds-barred autobiography reveals the story of a man who infused conservative country music traditions with the energy of rock and roll to rewrite the rules of popular music in America. It chronicles all the chapters of Jennings's incredible life, including his beginnings as a dirt-poor son of a farm laborer; his role as Buddy Holly's protégé; his influential friendships with such luminaries as Johnny Cash, Willie Nelson, and George Jones; the stunning success ushered in by his platinum 1976 anthology album, Wanted: The Outlaws; the drug habit that nearly destroyed him; and his three failed marriages and the journey that lead him to Jessi Colter, the woman who would become his wife for 25 years. With anecdotes, portraits, and little-known facts about Jennings's fellow country music stars, this book overflows with the honesty, true humor, and down-home charisma of an authentic honky-tonk hero.
About the Author
---
Waylon Jennings was an American country music singer, songwriter, and musician. Lenny Kaye is an acclaimed music writer whose work has appeared in Crawdaddy, Creem, Hit Parader, Rolling Stone, and Village Voice. He is the author of You Call It Madness: The Sensuous Song of the Croon and has been playing guitar for Patti Smith since 1971. He lives in New York City.
Praise For…
---
"As good a book about American popular music as one is likely to find."  —Washington Post
 

"Folksy, funny, spirited. . . . There are plenty of Waylon moments to be enjoyed . . . loving, insightful . . . filled with backcountry humor. . . . Unflinchingly, the book reads true to the man: if you like Waylon, you'll love Waylon."  —Fort Worth Star-Telegram


"Well-turned, sometimes salty . . . refreshing . . . candid . . . poignant . . . An honest spotlight on a passel of colorful characters . . . . One of the best of country's tell-alls, as warm, peculiar, and individualistic as Jennings's music itself."  —Entertainment Weekly


"What a life! And what a wonderful story of a country boy who despite hardships unimaginable attained success and stardom. A 'must read' for not anyone, but everyone."  —Chet Atkins
"Finally, here is the autobiography we've all been waiting for!"  —Willie Nelson
"Read Waylon if you love country music. And read it if you admire renegades who throw away the formula and play it the way they hear it in their heads . . . . Eminently readable . . . . Mr. Jennings tells his tales with humor and detail."  —Dallas Morning News
"A no-holds-barred, tell-it-all story, overflowing with the honesty, true humor, and down-home charisma of an authentic honky-tonk hero down to the very last page."  —Music City News
"Essential reading for country fans."  —Publishers Weekly