We Are Not Starving: The Struggle for Food Sovereignty in Ghana (African History and Culture) (Paperback)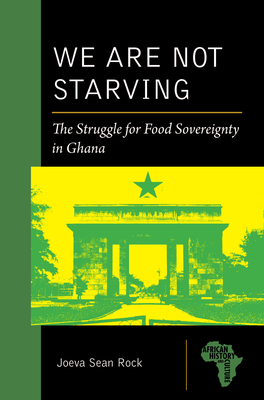 Description
---
This critical text is a timely ethnography of how global powers, local resistance, and capital flows are shaping contemporary African foodways. Ghana was one of the first countries targeted by a group of US donors and agribusiness corporations that funded an ambitious plan to develop genetically modified (GM) crops for African farmers. The collective believed that GM crops would help farmers increase their yields and help spark a "new" Green Revolution on the continent. Soon after the project began in Ghana, a nationwide food sovereignty movement emerged in opposition to GM crops. Today, in spite of impressive efforts and investments by proponents, only two GM crops remain in the pipeline. Why, after years of preparation, millions of dollars of funding, and multiple policy reforms, did these megaprojects effectively come to a halt? One of the first ethnographies to take on the question of GM crops in the African context, We Are Not Starving: The Struggle for Food Sovereignty in Ghana blends archival analysis, interviews, and participant observation with Ghanaian scientists, farmers, activists, and officials. Ultimately the text aims to illuminate why GM crops have animated the country and to highlight how their introduction has opened an opportunity to air grievances about the systematic de-valuing and exploitation of African land, labor, and knowledge that have been centuries in the making.
About the Author
---
JOEVA SEAN ROCK is an assistant professor in development studies at the Centre of Development Studies in the Department of Politics and International Studies at the University of Cambridge. She is the 2019 winner of the Boahen-Wilks Outstanding Scholarly Article Prize from the Ghana Studies Association.
Praise For…
---
"In this well researched, yet very approachable text, Joeva Sean Rock sheds light on the controversies surrounding the introduction of GMO crops in Ghana and the vital role that civil society and the food sovereignty movement are playing in raising critical questions about this corporate and donordriven agenda."
—WILLIAM G. MOSELEY, steering committee member of the High Level Panel of Experts on Food Security and Nutrition
Thank you for shopping local!