We Kept Our Towns Going: The Gossard Girls of Michigan's Upper Peninsula (Paperback)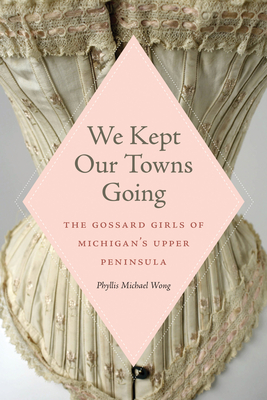 $19.95

Not in the store. We can order it and should have it in store in 3-5 business days.
Description
---
WITH A FOREWORD BY LISA M. FINE, MICHIGAN STATE UNIVERSITY—Michigan's Upper Peninsula is known for its natural beauty and severe winters, as well as the mines and forests where men labored to feed industrial factories elsewhere in the nineteenth and twentieth centuries. But there were factories in the Upper Peninsula, too, and women who worked in them. Phyllis Michael Wong tells the stories of the Gossard Girls, women who sewed corsets and bras at factories in Ishpeming and Gwinn from the early twentieth century to the 1970s. As the Upper Peninsula's mines became increasingly exhausted and its stands of timber further depleted, the Gossard Girls' income sustained both their families and the local economy. During this time the workers showed their political and economic strength, including a successful four-month strike in the 1940s that capped an eight-year struggle to unionize. Drawing on dozens of interviews with the surviving workers and their families, this book highlights the daily challenges and joys of these mostly first- and second-generation immigrant women. It also illuminates the way the Gossard Girls navigated shifting ideas of what single and married women could and should do as workers and citizens. From cutting cloth and distributing materials to getting paid and having fun, Wong gives us a rare ground-level view of piecework in a clothing factory from the women on the sewing room floor.
About the Author
---
PHYLLIS MICHAEL WONG has held roles as a historian, an educator, and thirty-year member of the university level academic world, including as First Lady at Northern Michigan University (2004–12) and San Francisco State University (2012–19).
Praise For…
---
Phyllis Michael Wong's new book We Kept Our Towns Going: The Gossard Girls of Michigan's Upper Peninsula renders visible the voices of the subaltern. One of the myths of US history is that white women didn't begin working outside of the home until the early 1970s. This myth has been perpetuated by the lack of storytelling about white women working outside the home. Wong's pioneering book offers a rare glimpse into this invisible world. This is an astonishing book that will challenge and transform your understanding of what we as Americans think about working women.—Angela J. Hattery, professor of women and gender studies and co-director of the Center for the Study and Prevention of Gender-Based Violence, University of Delaware
 
 

In my years of study of Upper Peninsula history I often wondered when the story of the Gossard girls would be told. Now, through Phyllis Michael Wong's diligent and thorough efforts, the story has arrived—a major milestone in the history of women in the UP.—Russell M. Magnaghi, professor of history emeritus, Northern Michigan University, and author of Upper Peninsula of Michigan: A History
 

This is a brilliant presentation about the cultural and economic history of women in the garment industry in the UP of Michigan. These are important and moving stories, very well researched.—Douglas B. Roberts, former chair, board of trustees, Northern Michigan University; former director, Institute for Public Policy and Social Research, Michigan State University; and former State Treasurer of Michigan
 

Relentlessly researched, beautifully written, and chock-full of intimate life stories from some of America's most impactful glass-ceiling breakers, We Kept Our Towns Going is an engaging yet poignant reminder that our nation's battle for gender equity, immigrant rights, and labor unions is replete with unsung heroes. Unsung no longer, the Gossard Girls profiled in these pages are worthy of study and celebration as our nation aims to finally and fully eradicate the inequities they so courageously faced.—Framroze M. Virjee, president, California State University, Fullerton
Thank you for shopping local!