LOVF: An Illustrated Diary Of A Man Literally Losing His Mind (Hardcover)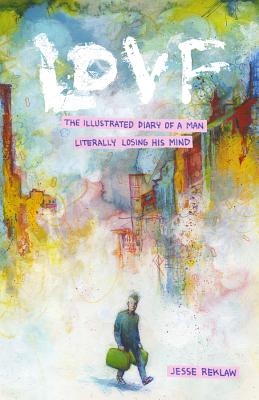 $16.99

Backordered at our distributor but we can check availability from the publisher.
Description
---
This sketchbook chronicles the encounters, and the state of mind they create, of a mentally ill man on the run.
LOVF
is the sketchbook companion of a man literally losing his mind. Homeless and broke after giving all his stuff to punk-rock heroin dealers, he ends up off his meds and on a secret quest from Portland to Brooklyn, DC, LA, San Francisco, and Seattle. Jammed with cartoons, mad schemes, psychedelic portraits, and notes from the road,
LOVF
is a travel journal and a mirror of the post-traumatic dreamworld its author can't escape from, a Kerouacian meltdown of cross-hatching, spattered marker, crayons, glitter, tape, nail polish, Wite-Out, finger-painting, rain, wine, stickers, and word balloons.
About the Author
---
Jesse Reklaw grew up in Sacramento, studied at UC Santa Cruz, and completed a master's degree in computer science at Yale University. In 1995, while pursuing a Ph.D. in artificial intelligence, he began self-publishing comics and dropped out of Yale to be a cartoonist.
Praise For…
---
A tough read. Its subtitle is An Illustrated Diary Of A Man Literally Losing His Mind, but even that doesn't prepare you for the autobiographical tale between its covers. The graphic novel unspools Reklaw's experience during a months-long manic phase, during which he wandered from one side of the country to the other. Homeless, with almost nothing to his name but the sketchbook he later transformed into this comic, he goes from bad to worse. That said, there are elements of the book that are simply exhilarating. Reklaw overlays a narrative on top of already crowded pages, alive with color and collage, conveying the joy of the highs that come with bipolar disorder without minimizing its downside.

— Paste

Moody, colorful, watercolory – manic – and intense. If Bill Sienkiewicz was making underground comics today, they might look something like this.
— Atomic Books
Thank you for shopping local!