Chicago (Hardcover)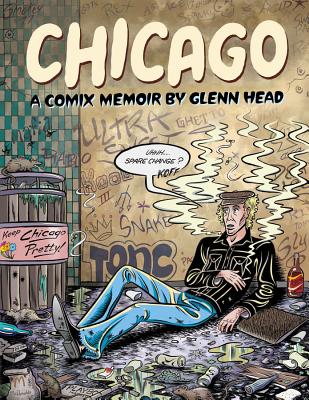 $24.99

Backordered at our distributor but we can check availability from the publisher.
Description
---
A coming-of-age graphic memoir, set against the seedy 1970s Windy City.
From Harvey- and Eisner-nominated cartoonist and editor Glenn Head comes
Chicago
, the hilarious and harrowing tale of a nineteen-year-old virgin who drops out of everything and into the unknown. Abandoning suburbia for art school and then the gritty streets, young Glenn finds himself fending off predators and fighting depression. A visit to
Playboy
offers entrée into the world of underground comix and R. Crumb, but it's a chance encounter with Muhammad Ali that allows young Glenn to prove his mettle. Like Scorsese circa
Mean Streets
crossed with revealing autobiography like Jim Carroll's
The Basketball Diaries
,
Chicago
is an unforgettable tale of losing one's mind, finding one's identity, and discovering love where it's least expected.
About the Author
---
Glenn Head was born in 1958 in Morristown, New Jersey, and began drawing comics when he was fourteen.  In the early 1990s Head co-created (with cartoonist Kaz) and edited Snake Eyes, the Harvey-Award nominated cutting edge comix anthology series and he was a frequent contributor to the Fantagraphics' comix anthology quarterly Zero Zero.  From 2005 to 2010 Glenn edited and contributed to the Harvey and Eisner-nominated anthology HOTWIRE Comics and recently created his graphic epic, Chicago (2015).  He lives in New York City.
Praise For…
---
I discovered Glenn's head work in 1990, and thought 'this guy is a punk comics force of nature.' All of the other '80s and '90s underground artists have grown in different directions, some good, some stupid, some bad. I like this direction Glenn has gone, burrowing deeper into the heart of what makes him good.
— Josh Bayer (Raw Power, Theth) - Tech Times

This quasi-memoir is so straightforward and digestible that you might not even notice how subversive it is. The history of sequential art is littered with autobiographical stories about impetuous and misunderstood young men on journeys of self-discovery, but Chicago is a subtle dismantling of that overdone subgenre. The protagonist certainly thinks he's searching for authenticity and inspiration, but Head crafts him as an infuriating narcissist who squanders every opportunity and alienates every friend. Luckily, since Head is (mostly) talking about himself, it remains grounded in a humanely sympathetic tone of grudging self-acceptance.

— Abraham Riesman - Vulture

Unflinching
— John Porcellino (King-Cat, The Hospital Suite)

Chicago by Glenn Head is a true rarity: a modern graphic novel that could hold its own with many titles from the heyday of the Underground. With unsparing honesty and sometimes disturbing imagery, Head charts a trajectory spanning three decades. The work is cut from whole cloth, in that his intense  visual style owes zilch to the abundant style books and polemics that inform much contemporary work. His writing is obviously informed by authentic experience, so it has a consistent verve. That live current throbs through the whole panorama: it's a coming of age story; a dangerous psychic battle; a love story; a scary urban survival saga; a career overview and a reflection on fatherhood. At least, I know it's about those things. The elusive author/artist voice outside of all this varied experience is the true subject. It's well worth hearing!

— Justin Green (Binky Brown Meets the Holy Virgin Mary)

Glenn has at last found his voice, found the way to tell his own truth, and has produced a very fine graphic novel, strange, unique, deeply personal, a very rewarding comic book reading experience.
— R. Crumb

In Chicago, Head's graphic memoir, he nakedly airs out his struggles as a teen living on the street, his insecurities, and his transition into adulthood. It's a blunt take on growing up and finding one's identity.

— Andrea Towers - Entertainment Weekly

Mr. Head's work as an editor and creator has earned him well-deserved Harvey and Eisner-award nominations and it's easy to see why. His time contributing to Weirdo magazine and Bad News was at times funny, entertaining, and enlightening—but always worked to make the reader experience something.

— Jed W. Harris-Keith - FreakSugar

...Glenn Head [uses] a flowing, sometimes loopy style to accent works grounded in austere reality. ... [Chicago] provides an entertaining autobiographical ride...

— Hillary Brown - Paste

Head's swirling, bug-eyed style channels the freakish and frantic energy of underground comix with such fidelity that every page feels thick with smoke and adventurous grandiosity. ...Head's memoir conjures the rebel spirit of the comix underground with ease and dissects the soul of creative ennui with straight-no-chaser honesty.
— Publishers Weekly

Head does not scrimp on mortifying detail, and that is where Chicago excels.

— Tim O'Neil - The A.V. Club

Chicago is also an intricate, literary story, with a protagonist whose motivations are often opaque and with outcomes that are anything but expected. ...Head's vibrant lines, richly detailed, panoramic splash pages, and deep, painterly blacks are in a class unto themselves, with certain sequences practically popping off the page. ... In producing his first long-form work rather late into his career, Head has made the most of the opportunity. Chicago is a well crafted, impeccably rendered, and mature book, an amalgamation of different underground and alt-comics traditions blended into something fresh, gripping, and elusive.

— Rob Kirby - The Comics Journal

Glenn Head is one of the strongest artists I relate to later-period underground comix... He has style to burn, and his comics are always a highlight wherever they appear. In Chicago, ...the art is a joy and the voice appealing, but Head gets at some ideas and states of mind that aren't the common fodder of issue- or event-oriented memoir writing. I was most impressed with how he wrote about the growing realization you have as a young man that life is mostly arbitrary and the result of an accumulation of decisions from those you can't remember to the most recent.

— Tom Spurgeon - The Comics Reporter

In his breathtaking new semiautobiographical graphic novel, Chicago, Glenn Head is the best kind of emotional-smut peddler, offering a mouthwatering medley of humiliations, obsessions, jealousies, and poor decisions. ... This kind of unflinching self-observation is gripping, admirable, and indelible. ... And the artwork is wonderful. ... Every scene is just a few extra lines away from becoming surreal, and it's hard to take your eyes off a style that stands on the threshold of nightmarish-ness.

— Abraham Riesman - Vulture

Glenn Head's work is cut from the fabric of his being with a rusty straight razor, he knows that you can't be open and exposed without a little blood. His honesty is nearly unappreciated in a culture built on lies and social Darwinism, but is as vital and necessary to remind us of the freedoms we lost in the past two decades as anything penned by Orwell. His work is a wail of freedom; not the bumper sticker shrink wrapped kind that always falls out of the mouth of millionaire politicians, but the freedom that comes only when you have sacrificed everything.
— Johnny 'Thief' Di Donna (Seppuku Tattoo)

Glenn's story is crazy and delightful and his work masterfully done.  His combination of old school comics and adult retrospective is a rare and impressive thing, and makes for an incredibly satisfying read.
— Julia Wertz (Drinking at the Movies)

Head's comics style ties right into the Underground setting of the late 1970's that he's exploring, and with innovative stylistic choices, Head manages to take us inside the psychological perceptions and reactions of the youthful protagonist to create an emotional and unfailingly truthful narrative.
— Hannah Means Shannon - Bleeding Cool

Staggeringly personal, Glenn Head's Chicago is a storytelling triumph. ... Chicago is an intimate voyage of personal discovery along the jagged edge between reason and madness that so often defines major turning points and permeates our daily struggle with life, death, and meaning.

— Karen O'Brien - Broken Frontier

With an unabashed underground comix feel, Chicago is the counterculture hit of the year and a courageous bit of well-crafted storytelling.

— Karen O'Brien - Broken Frontier

...[W]ith an approach that is surprisingly frank, and refreshingly different, Head brings new depth the underground bio-comic. Many independents are about starving artists roughing it out in the city, unwilling to compromise their principles just to make a few bucks, but few are written with the perspective of a few decades of honest, unflinching self-assessment. Even fewer are illustrated with the type of controlled mania that Head possesses. ... A great-looking long-form from an art-comix veteran hitting his peak thirty years into an impressive career.
— John Parker - ComicsAlliance

This book is such a great melding of life experiences and art that it will probably end up being taught in colleges at some point.
— Davey Nieves - The Beat

Cartoonist Glenn Head is a comics lifer, with a sensibility filtered through the undergrounds and decanted into the best of 90s alternatives. And how he's crafted a autobiographical comic called Chicago that... is quite a statement from a creator who hasn't gotten the attention he should in today's comics-loving world. But Chicago... will change that.

— Heidi MacDonald - The Beat

Glenn Head is as close to underground comics royalty as can exist in a scene that openly scorns hierarchies. ... [Chicago] has won praise... around the comics world for its honesty, and for Head's typically hyper-detailed, stunning art.

— Jim Dandeneau - Topless Robot

There's no great moral to the story, no real point to [Head] telling it now besides putting it out there, and I think that's kind of the point - even through some really terrifying shit, the Glenn in the comic just kept moving forward and busting his ass. There's something really admirable about that, even though he's an idiot teenager for most of the comic. The art is very '70s underground, and very intricate and detailed. ...[T]his is a great book, and worth picking up.
— Jim Dandeneau - Topless Robot
Thank you for shopping local!