Artists Authors Thinkers Directors (Hardcover)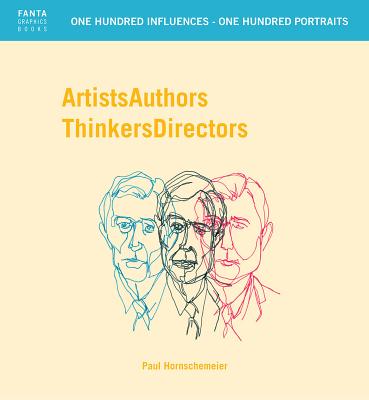 $19.99

Backordered at our distributor but we can check availability from the publisher.
Description
---
This book collects Paul Hornschemeier's sketchbook portraits of those who shaped his (and many others') artistic views, culled from his drawing blog The Daily Forlorn  – spotlighted by Tumblr  — which adds thousands of new followers every week.
A self-portrait through one hundred portraits,
Artists Authors Thinkers Directors
explores cartoonist Paul Hornschemeier's sketchbook renderings of those who shaped his (and many others') artistic views. Culled from his drawing blog —
The Daily Forlorn
, now one of Tumblr's featured illustration blogs, adding thousands of new followers every week — these portraits are as stylistically varied as the subjects they portray. A scrawled, single line drawing of Lenny Bruce shares space with a triangular Werner Heisenberg. A monochromatic, stippled Stanley Kubrick stares intently at a muppetheaded Frank Oz. Each turn of the page offers a new take on a familiar face. In the afterword, Hornschemeier includes brief notes on each portrait and that creator's particular work or insight that spoke specifically to him. And in that specificity, much of what is universally affecting in each creator shines through. Hornschemeier's graphic novels hop from one aesthetic to the next, varying the line and color quality to depict his narrative's mood. He plays with the language of comics. In these portraits we can clearly see him hard at experimentation, adding to his vocabulary.
About the Author
---
Paul Hornschemeier lives in Chicago, IL, with his fiancée, Emily. He is the author of several graphic novels, including Mother, Come Home, Let Us Be Perfectly Clear, The Three Paradoxes, All and Sundry and Forlorn Funnies.
Thank you for shopping local!