Business Engineering and Service Design with Applications for Health Care Institutions (Paperback)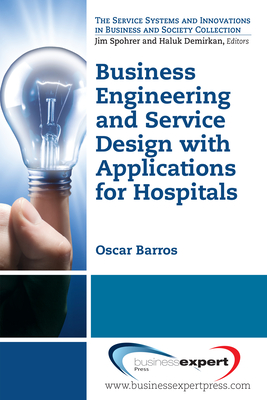 $21.99

Not in the store. We can order it and should have it in store in 3-5 business days.
Description
---
Business Engineering attempts to provide tools, as other engineering disciplines have, for the design of businesses. This implies that enterprises should be formally designed and that their architectures, including processes, people organization, information systems, IT infrastructure and interactions with customers and suppliers should be considered in a systemic way in such design. This Enterprise Design is not a onetime effort, but, in the dynamic environment we face, organizations have to have the capability to continuously evaluate opportunities to improve their designs. Our approach includes the integrated design of a business, its service configuration (architecture) and capacity planning, the resource management processes and the operating processes. Such an approach is based on general patterns that define service design options and analytical methods that make possible resource optimization to meet demand. This is complemented with technology that allows process execution with BPMN tools and web services over SOA. In summary we integrate the design of a business with analytics and supporting IT tools in giving a sound basis for Business Engineering Our proposal has been extensively tested and improved based on the experience with hundreds of projects in all types of service industries performed at the Master in Business Engineering of the University of Chile. Several of such cases, which have had impressive economics results, are summarized in the text. In particular, we have worked on hospital services, where research and development projects that have been performed in five public hospitals will originate general solutions, summarized in the book, which will eventually be implemented in over a hundred facilities.
About the Author
---
Oscar Barros (PhD, U. of Wisconsin) is full professor at the Department of Industrial Engineering of the U. of Chile. He created the first group of OR in Chile and the first master in the discipline. He also developed the discipline of IS, including a master on the subject. He is now dedicated to the development of an original methodology for the design of businesses and services, including the creation of the novel and recognized master in business engineering. He also directs an applied research program applying the ideas of BE in health services, which has produced significant impacts on productivity and quality of service. He has written 12 books, with more than 100,000 copies sold, on OR, IS, IT, BP, and BE. He has also published widely in scientific journals.