The Home Creamery: Make Your Own Fresh Dairy Products; Easy Recipes for Butter, Yogurt, Sour Cream, Creme Fraiche, Cream Cheese, Ricotta, and More! (Paperback)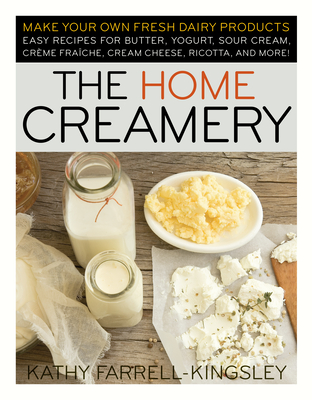 $18.99

Not in the store. We can order it and should have it in store in 3-5 business days.
Description
---
Discover how easy it is to make fresh dairy products at home! You don't need a commercial kitchen or specialty ingredients to whip up your own cheeses, yogurts, and spreads. With simple step-by-step instructions that don't require complicated aging techniques, you can add a wonderful range of tart, sweet, and nutty flavors to your cooking. From fresh buttermilk for mouthwatering pancakes to creamy mozzarella in a refreshing Caprese salad, you'll soon enjoy the fresh flavors of your homemade dairy creations. 
About the Author
---
Kathy Farrell-Kingsley is the author of many cookbooks, including Chocolate Therapy, The Big Book of Vegetarian, and Chocolate Cakes, selected as one of the best cookbooks of 1993 by Julia Child. Kathy was the food editor of Vegetarian Times for five years, and she has written numerous articles for other publications, such as Cooking Light, Eating Well, and McCall's. She was the founder of Great Cakes Bakery. Kathy lives in Newtown, Connecticut, with her husband and two daughters.
Praise For…
---
"Farrell-Kingsley's thorough but unintimidating recipe instructions will enable any reader to make a variety of dairy products, and many home cooks will be eager to try them."
Library Journal
"You won't churn out any award-winning artisanal brie, but you could make a darn fine mozzarella. Kathy Farrell-Kingsley is ready to walk you through the latter (as well as a variety of other easy soft cheese and dairy products) in her recent book, "The Home Creamery." This isn't the book for serious cheesemakers (as in, those who hope to ditch the corporate life for a dairy farm in Vermont), but rather those who enjoy playing in the kitchen or want bragging rights at their next dinner party. The recipes are simple, easy to follow and would be great projects to do with the kids. Cheeses include cream cheese, cottage cheese, ricotta, goat cheese, mozzarella and marscapone. The book also includes recipes for using the cheeses. Farrell-Kingsley also explains how to make yogurt, kefir, butter, creme fraiche and sour cream."
Associated Press
"Imagine crème fraiche that's really fresh. If you're up for a really fringy pursuit, you can learn to make your own dairy products – butter, yogurt, sour cream, cheeses – from Kathy Ferrell-Kingsley's new book, The Home Creamery. With this guide, you're biggest challenge might be finding a source for milk-curdling rennet."
The Newark Star-Ledger