The Power of a System: How to Build the Injury Law Practice of Your Dreams (Hardcover)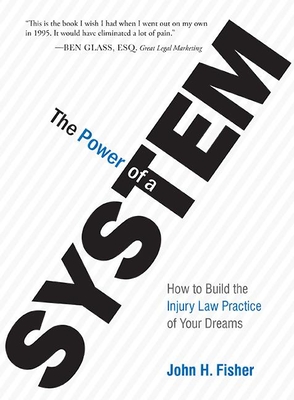 $26.99

Backordered at our distributor but we can check availability from the publisher.
Description
---
What if you had total control overyour hours and weekends?What if you didn't have toanswer to anyone?What if you took control over your future?
When you work for someone else, you don't control your future. Your boss decides how much money you make and how many hours you work. For many, the law is just a job that you do to make ends meet and pay the bills.It's time to change thatIt's not just about work and money. It's about loving what you do and looking forward to coming to work. It's about spending time with your family and living a fun life. It's time you make the rulesFor the first time, you have in your hands the technical, managerial and entrepreneurial secrets to running a multi-million dollar law firm. Tried and true methods for managing and growing the injury law firm of your dreams is now in your hands--precise methods that, when applied, will slowly but surely grow your law firm into an asset that serves your ideal lifestyle. Who said you have to be a slave to your law practice? IT'S TIME TO BREAK ALL OF THE RULES so you have the one thing that all lawyers should seek: autonomy to live life on your terms. THE POWER OF A SYSTEM Torts, contracts, constitutional law...you got your fill in law school of theoretical concepts that you need to pass the bar exam. But then a funny thing happened, you got out of law school, opened your new law firm and you realized something--no one ever taught you how to run your own law firm in law school. Suddenly, you're on your own with fancy new letterhead, a few clients and not much else. Your dusty law school books aren't much help. It's great to have your book smarts and fancy law degree but how do you pay the bills every Friday when your staff wants their paycheck? You pull your hair out wondering how you got yourself into this mess. This book was written for you.You are not alone. Yes, others have done the same thing before you and believe it or not, there are tried and proven recipes for success. Instead of fumbling around like the other lawyers in your town and just waiting for your phone to ring with your next case, you study the recipe and principles for a big-time injury law firm and little by little you begin implementing systems into your new law firm. You have in your hands tried and proven systems for the injury law firm of your dreams. It's not just the technical aspects of running your own law firm, but the managerial and entrepreneurial principles that you must have to keep a constant stream of new cases and clients coming down the pipe. And no, these are not law school theoretical concepts but the technical, managerial and entrepreneurial "how to" steps that have been tried and tested over years of trial and error.You won't find a book like this in your law school library...or anywhere else. Law school's out--no more time for theoretical concepts--it's time to get bills paid, move cases to trial, start making money and begin living life on your terms. All royalties from the sale of this book are donated to Doc to Dock, Inc., an amazing nonprofit organization based in New York that collects unused and unwanted medical supplies from around the country and ships them to hospitals and clinics in impoverished Third World nations in Africa and Haiti. Every day tons of unused medical supplies and equipment are incinerated or tossed into landfills in the U.S. Rather than letting the unused medical supplies go to waste, Doc to Dock, Inc. collects the donated medical supplies consisting of basic medical devices such as catheters and ultrasound machines, and transports them to developing countries where they are needed the most. Doc to Dock, Inc. has provided shipments to 18 different countries in the poorest regions of sub-Saharan Africa and has made a huge difference in preventing very curable and basic illnesses that are often life-threatening in Africa due to their lack of medical supplies.