Olympians: Zeus: King of the Gods (Paperback)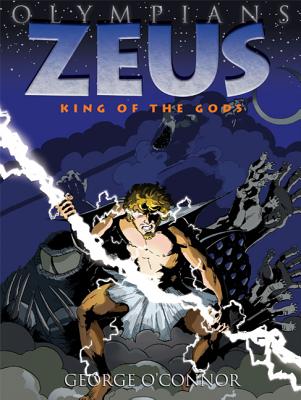 $12.99

Not in the store. We can order it and should have it in store in 3-5 business days.
Other Books in Series
This is book number 1 in the Olympians series.
Description
---
George O'Connor is a Greek mythology buff and a classic superhero comics fan, and he's out to remind us how much our pantheon of superheroes (Superman, Batman, the X-Men, etc) owes to mankind's ORIGINAL superheroes: the Greek pantheon.

In OLYMPIANS, O'Connor draws from primary documents to reconstruct and retell classic Greek myths. But these stories aren't sedate, scholarly works. They're action-packed, fast-paced, high-drama adventures, with monsters, romance, and not a few huge explosions. O'Connor's vibrant, kinetic art brings ancient tales to undeniable life, in a perfect fusion of super-hero aesthetics and ancient Greek mythology.

Volume 1 of OLYMPIANS, ZEUS: King OF THE GODS, introduces readers to the ruler of the Olympian Pantheon, telling his story from his boyhood to his ascendance to supreme power. This title has Common Core connections.
About the Author
---
George O'Connor is the New York Times–bestselling author of the Olympians, a series of graphic novels featuring the tragic, dramatic, and epic lives of the Greek gods. George is also the creator of popular picture books such as the New York Times–bestselling Kapow! and If I Had A Triceratops. He lives in Brooklyn, New York.

George O'Connor is the New York Times–bestselling author of the Olympians, a series of graphic novels featuring the tragic, dramatic, and epic lives of the Greek gods. George is also the creator of popular picture books such as the New York Times–bestselling Kapow! and If I Had A Triceratops. He lives in Brooklyn, New York.
Praise For…
---
"O'Connor unveils his new Olympians graphic-novel series with this story of the daddy of Greek gods. Most immediately striking about this, aside from the exciting artwork, is the care O'Connor takes to visualize the creation myth that begins with Gaea creating and taking as a husband the sky, Ouranos. Their children-the Titans and other proto-Olympian entities-are often neglected or at best murkily covered, but here they're vividly portrayed with all the magnificence of their beyond-good-and-evil power. After this breathtaking and lengthy sequence, Zeus enters the scene to grow from a feisty nymph-needling youth to a lightning bolt-wielding avenger. The extended, earth-shattering battle he wages with his father, Kronos, takes up the bulk of the story, delivering page after page of cataclysmic blows with the sensibility and hyperkinetic pacing of a literary superhero comic. While O'Connor includes a generous bounty of bonus materials to gratify myth hounds, this series could well become the initiation point for a new cadre of acolytes. New volumes should come quickly, with Athena's book due in April 2010." —Booklist

"O'Connor (Kapow!; Journey into Mohawk Country) embarks on a new project: a series of graphic novels for young readers about Greek mythology (Athena: Grey-Eyed Goddess follows in April, with Hera and Hades in the pipeline). While the D'Aulaires' Book of Greek Myths is the gold standard for illustrated introductions to Greek mythology, O'Connor offers a modern take with a new view of these "original superhero stories" with gritty yet heroic art and spare prose that lets the myths speak for themselves. The story is the one most schoolchildren know-the Titans created Zeus and Hera, as well as the Cyclopes, and adventure ensued-but O'Connor brings the young gods to life with memorable compositions and attention to detail (childlike fear on Hera's face as she navigates the treacherous new world, a bat screeching away as Zeus confronts the Cyclopes). Back matter includes notes, a bibliography, a list of recommended books for further reading, and discussion questions for readers, making it attractive for teachers and librarians for its information and depth of research. But that shouldn't stop tweens from enjoying the story. Ages 9-12. (Jan.)" —Publisher's Weekly

"An energetic graphic series on classical mythology debuts with the origin story of the Big Cheese Olympian, Zeus. Appropriately heightened, stately language narrates the joining of Gaea with Ouranos, the Titans' rise to power and Kronos's devouring of all his children but one-Zeus (pictured with lots of muscles and, oddly enough, Nordic blond good looks). In contrast (and in the same spirit as G. Brian Karas's rendition of the King of the Gods's story for younger readers, Young Zeus, also 2009), speech-balloon dialogue is decidedly colloquial: "Hey Metis. How about a kiss?" O'Connor pulls out the comic-book stops in his artwork, consciously echoing superteam portraits of yore in his line-up of angry Olympians and allowing the Clash of the Titans to extend over pages and pages of hugely satisfying sound effects, crumbled mountains and thrown lighting bolts. He plants clues in both text and images to stories to be developed as the series continues. Extensive backmatter includes an author's note, full-page character profiles, "G[r]eek Notes," discussion questions ("Has your dad ever tried to eat you?") and a bibliography. Holy Cyclopes, here's a keeper. (Graphic mythology. 8-14)" —Kirkus Reviews

"Here it is! The book you've been waiting for: the first in a 12-book graphic novel series about the Greek gods, called Olympians. And it's just in time to satiate the kids waiting anxiously for The Lightning Thief's movie release (and aimed at the same age readers). Going back to sources from antiquity, including Homer and Hesiod, George O'Connor begins his story with the creation of the gods and lays the foundation for their famous jealousies and rash actions. For starters, Ouranos (the sky), husband to Gaea (Mother Earth), favors his Titan offspring ("They were ageless and beautiful and so tall that their heads scraped the sky") over the one-eyed Cyclopes and Hekatonchieres (each of which has 50 heads and 100 hands). So Ouranos condemns the latter two lines to a chasm deep within the earth. Gaea (pronounced GHEE-uh), however, wants all of her children to be free. So, at her urging and with Kronos in the lead, the Titans "cut open the sky" and drain Ouranos of power. Much to Gaea's dismay, Kronos, now ruler of the Titans, "has too much of his father in him," and he, too, refuses to free his brothers below the earth. So she appeals to the next generation--Zeus.

O'Connor, who early on demonstrated his love of comics with his debut picture book, Kapow!, taps into the more complex visual characterizations he explored in his artwork for last fall's Ball Peen Hammer (by Adam Rapp) here. Kronos and Zeus, even at their most chilling, never lose their dimension or their charisma. The artist uses long vertical cartoon panels in wine, rust and midnight-blue tones to emphasize the commanding grace of the Titans, as well as the "new life" that arises from the drops of Ouranos's blood (and the text plants seeds to further installments: "What came from that [pink froth] is a tale for another day"). The first sight of a maturing Zeus warrants a full page and a much lighter palette in terra cotta, forest green and robin's egg blue. Eight equal panels chronicle Zeus's transformation into an eagle ("To be an Olympian... was to be able to change shape as others change their mind"), and when Zeus meets Metis (a daughter to Oceanus and future mother of Athena), the story shifts from the omniscient narrator's voice to direct dialogue between the pair. But the climactic duel between Kronos and Zeus (father and son) is O'Connor's crowning achievement here. While carefully adhering to the Greek legends, O'Connor endows these mythic characters with a freshness and magnetism that will attract even today's visually savvy youth." —Shelf Awareness

"Gr 4 Up-This 12-volume series debuts with the origins of Zeus. O'Connor begins his retelling by starting from literally nothing. Then a simple brown circle introduces readers to Gaea, or Mother Earth. The creation of Olympians unfolds slowly with simple straightforward lines and silhouettes. Dark browns and blacks echo the early development of the Titans. The first fully rendered face is that of the infant Zeus, with his birth symbolized in a pastel palette. This new race of Gods is visually and strikingly different. Zeus's virility and vitality both bring the story to life and make it accessible to young readers. Zeus's encounters with gods, particularly his battle with his father Kronos, are visually compelling. Images of grasping hands, thunderbolts, close-up visages, gaping holes in the earth, and silhouetted bodies bring Zeus's struggle for dominance into clear focus. Oversize panels reinforce the heroic proportions of the story. It is telling that from such a simple beginning, the complex story is able to evolve naturally to a satisfying conclusion, as depicted on the final page showing Zeus and the new race of numerous immortal gods. O'Connor clearly hints throughout the retelling that more stories are forthcoming: "And that is a tale for another day." Endpapers show the Olympian Family Tree. Back matter includes an author's note, notation of Greek words, discussion questions, and recommended reading. This ultimate superhero story will appeal to anyone who enjoys Greek mythology or great comic art." —Barbara M. Moon, Suffolk Cooperative Library System, Bellport, NY, School Library Journal

"Readers who find Edith Hamilton-styled myth retellings just a tad too stately or a touch too solemn will be delighted with this debut title in the Olympians series of graphic novels. O'Connor takes his subject seriously, adhering closely to Hesiod's Theogony; he ramps it up with artwork that retains the majesty of a creation story while sparkling with dashes of comic-book humor that nestle readers right into a comfort zone. Beginning with Gaea's creation of her heavenly mate, Ouranos, he launches into the epically dysfunctional family drama that is the story of their belligerent offspring. These ur-creatures, regal and monumental, seem to be chiseled out of elemental earth itself, but teens who are immersed, or even slightly dipped, in contemporary comics will also recognize that carefully staged group poses of the Titans and Kronos' six children recall superhero teams mustering their forces to kick some cosmic butt. It's this balance between respect for myth and adherence to comic-book form that works so wonderfully well here: Zeus is every inch the ripped stud, equally adept at warfare and womanizing; Metis, who helps him conquer his child-consuming father, is a not-as-ditzy-as-she-looks blonde; and Hera, Zeus' sister and wife, is both a vulnerable rescued maiden and a no-nonsense queen. O'Connor packs his title with delicious end matter, including full-page summaries of several main figures, in presentations reminiscent of game-character bios; a note on oral and written transmission of Greek myths; "G[r]eek Notes" that explicate the contents of various panels (and sometimes provide tie-ins with contemporary comic book heroes); a bibliography and list of recommended reading; discussion questions; and an Olympians Family Tree that graces the front endpaper. This will be a worthy lead-in or companion piece to Eric Shanower's Age of Bronze. EB" —BCCB
Thank you for shopping local!