Men of Terror: A Comprehensive Analysis of Viking Combat (Hardcover)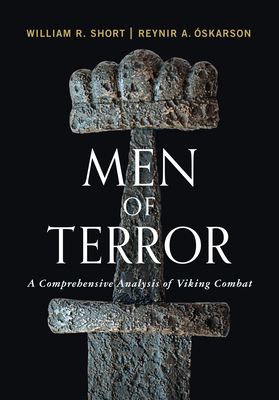 $50.00

Not in the store. We can order it and should have it in store in 3-5 business days.
Description
---
An Interdisciplinary Study of Viking Martial Culture that Dispels Myths and Expands Our Understanding of the Medieval Norse World
Sometime near the end of the tenth century, a man named Fraði died in Sweden. His kinsmen raised a granite runestone to his memory in Denmark. The carved message appears to tell us that Fraði was "first among all Vikings" and that he was the "terror of men." Known sources about the Vikings revolve around the constant threat of violence: literary and artistic sources from both inside and outside Viking lands, including poetry, myths, stories, and artwork; law codes; burial practices; weapons; even their ship and house architecture. 
    Based on nearly two decades of research, Men of Terror: A Comprehensive Analysis of Viking Combat is a richly illustrated interdisciplinary study of the heart of Viking society: weapons and combat. Relying on a vast array of sources from a wide range of fields, research scientist William R. Short and independent scholar and martial arts instructor Reynir A. Óskarson dig deep into the culture of men like Fraði to better understand the mindset and performance of Viking warriors that led them to venerate and praise acts of violence and aggression. In the process they have painstakingly reverse-engineered Viking combat to account for the archaeology we have. Along the way, they answer questions such as: Were there women warriors? Why were acts such as raiding held in such high esteem? What mundane object was the king of Viking weapons and how was it used? Could bowstrings of human hair really work? Through their comprehensive research, the authors present a holistic picture of this society from what previously had only been disparate and intriguing parts. By the end of the book, the reader will understand the importance of combat to Viking society, the nature of that combat, and the code of these "men of terror."
About the Author
---
WILLIAM R. SHORT is manager and lead researcher of Hurstwic, a New England-based organization devoted to Viking culture. He received a degree from MIT and has been awarded dozens of patents. He is the author of Viking Weapons and Combat Techniques (Westholme 2009).
REYNIR A. ÓSKARSON, a native of Iceland, is a martial arts instructor and has led much of the combat research at Hurstwic. His study of glíma, the Viking-age empty-hand combat that evolved into Iceland's national sport, has been recognized for its importance by Glímusamband Íslands, the wrestling association of Iceland. 
Praise For…
---
"As an archaeologist specializing in the Viking age, this excellent book gave me new perspectives on many things and opened my eyes to new interpretations. It's an essential book to all people researching the Viking age, and to all people interested in that time period."—Margrét Hrönn Hallmundsdóttir, archaeologist, Náttúrustofa Vestfjarða 
(Westfjords Iceland Nature Research Centre)

"Neither a rehash of later medieval fight manuals or of fanciful stage combat, this new book provides a fresh and informed look at actual Viking-Age combat drawn from the Sagas and other contemporary writings, from surviving examples of arms and armour, and from active scientifically rigorous experimentation based upon that information conducted by skilled martial artists specifically focusing on Viking culture."—Lee A. Jones, contributor, Swords of the Viking Age

"The authors' research into the empty-hand combat of the Vikings has created new, deep, and insightful connections between the ancient combat and the modern sport of Iceland, glíma. Through a multi-layered investigation of all the available sources, the authors have created a comprehensive picture of the empty-hand combat of the Vikings. Their research has been so extensive, that I, as president of the Glíma association, have embraced it."—Svana Hrönn Jóhannsdóttir, chairman, Iceland Wrestling Association (Glímusamband Íslands)

"I see many similarities between today's Special Operations warriors and these warriors of the past. Comradery, mindset, training and skill with various weapons, high speed modes of infiltration and contact with other peoples and cultures are just a few of these similarities. As I studied and researched with Hurstwic, I realized that this unique and diverse group was able to break barriers and cast-off preconceived beliefs and look for the unbiased truth."—Robin D. Cooper, US Army Special Forces, retired
Thank you for shopping local!