Tatiana Romanov, Daughter of the Last Tsar: Diaries and Letters, 1913–1918 (Hardcover)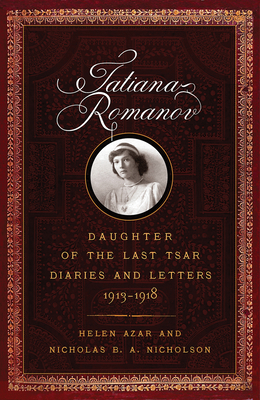 $30.00

Not in the store. We can order it and should have it in store in 3-5 business days.
Description
---
Translated for the First Time in English with Annotations by a Leading Expert, the Romanov Family's Final Years Through the Writings of the Second Oldest Daughter
Grand Duchess Tatiana Nikolaevna of Russia was the second of the four daughters of Tsar Nicholas II and his wife, the Empress Alexandra Feodorovna. Long recognized by historians as the undisputed "beauty" of the family, Tatiana was acknowledged for her poise, her elegance, and her innate dignity within her own family. Helen Azar, translator of the diaries of Olga Romanov, and Nicholas B. A. Nicholson, Russian Imperial historian, have joined together to present a truly comprehensive picture of this extraordinarily gifted, complex, and intelligent woman in her own words. Tatiana Romanov, Daughter of the Last Tsar: Diaries and Letters, 1913–1918, presents translations of material never before published in Russian or in English, as well as materials never published in their entirety in the West.
The brisk, modern prose of Tatiana's diary entries reveals the character of a young woman who was far more than the sheltered imperial beauty as she previously has been portrayed. While many historians and writers describe her as a cold, haughty, and distant aristocrat, this book shows instead a remarkably down-to-earth and humorous young woman, full of life and compassion. A detail-oriented and observant participant in some of the most important historical events of the early twentieth century, she left firsthand descriptions of the tercentenary celebrations of the House of Romanov, the early years of Russia's involvement in World War I, and the road to her family's final days in Siberian exile. Her writings reveal extraordinary details previously unknown or unacknowledged. Lavishly annotated for the benefit of the nonspecialist reader, this book is not only a reevaluation of Tatiana's role as more than just one of four sisters, but also a valuable reference on Russia, the First World War, the Russian Revolution, and the people closest to the Grand Duchess and her family.
About the Author
---
HELEN AZAR is a librarian at the Free Library of Philadelphia. She has translated and published several books based on the writings of the members of the last Russian imperial family, including The Diary of Olga Romanov, also available from Westholme Publishing.
NICHOLAS B. A. NICHOLSON is a noted specialist in Russian fine and decorative arts. He has been an art advisor and researcher for private collectors, museums, and other institutions. An expert on the Russian Imperial Court, he publishes and lectures frequently on imperial topics.
Praise For…
---
"Expertly translated into English with extensive notes, a bibliography, and an index, Tatiana Romanov: Daughter of the Last Tsar Diaries and Letters 1913-1918 presents the personal writings of the Romanov family's second oldest daughter during their final years, prior to their execution by Bolshevik revolutionaries. Tatiana's vivid descriptions and firsthand testimonies are an invaluable primary source of Russian history, and offer a strong contrast to how other historical works have traditionally portrayed her. Highly recommended, especially for public and college library collections. It should be noted for personal reading lists that Tatiana Romanov is also available in a Kindle edition."—Midwest Book Review
Thank you for shopping local!