Remembering Who We Are: A Treasury of Conservative Commencement Addresses (Hardcover)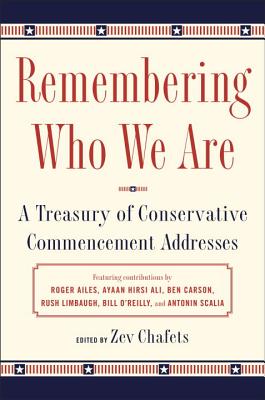 $24.95

Backordered at our distributor but we can check availability from the publisher.
Description
---
The perfect gift for graduates - thirty commencement addresses about liberty, patriotism, tradition, and other conservative themes that are rarely heard on campus. The college graduation speech has become another casualty of our age of political correctness. Historically, universities are supposed to be strongholds of tolerance, where any idea can be discussed--and tested rigorously to see if it has merit. Students should benefit from free expression and diversity of opinions, about current events and eternal questions alike. But today, certain positions are considered too controversial for the fragile ears of liberal students, and for administrators who usually surrender to their demands. It's no longer unusual when a U.S. Senator like Ted Cruz, a pioneering neurosurgeon like Ben Carson, a Supreme Court Justice like Antonin Scalia, or a human rights advocate like Ayaan Hirsi Ali faces protests, disrespectful shouting, or petitions to have his or her invitation revoked. Fortunately, Remembering Who We Are collects the commencement wisdom of a wide range of thinkers who are willing to challenge the liberal consensus on campus. Editor Zev Chafets has brought together a diverse group of speakers from many walks of life, from playwright David Mamet to Ambassador Ryan Crocker, from Governor Bobby Jindal to humorist PJ O'Rourke. For example, you'll find in these pages: - "Do Your Best to Be Your Best" by Supreme Court Justice Clarence Thomas
- "Gridlock, An American Achievement" by columnist George F. Will
- "We Have Something Wonderful" by novelist Marilynne Robinson
- "The Art of the Entrepreneur" by business leader Mort Zuckerman
- "Restore and Remake Our Country" by historian Victor Davis Hanson Too many students now enter the real world after being taught that patriotism is misguided, that religious faith is for the foolish, and that free enterprise is unfair. The eloquent speeches in this collection will help them grasp the truth - that America is flawed but fundamentally good; that faith can have intellectual depth; that capitalism is the world's greatest force for fighting poverty; and much more.
About the Author
---
Zev Chafets is the author of fourteen books of fiction, media criticism, and social and political commentary. He has been a frequent contributor to the New York Times Magazine and a former columnist for the New York Daily News.
Thank you for shopping local!