School for Love (Paperback)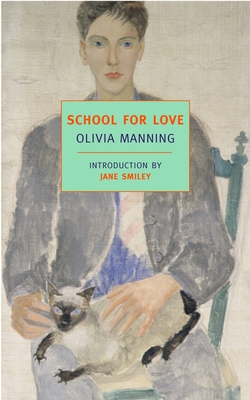 $16.95

Not in store, not in stock at our distributor. Once you place the order, we can give you a better time frame.
Description
---
Jerusalem in 1945 is a city in flux: refugees from the war in Europe fill its streets and cafés, the British colonial mandate is coming to an end, and tensions are on the rise between the Arab and Jewish populations. Felix Latimer, a recently orphaned teenager, arrives in Jerusalem from Baghdad, biding time until he can secure passage to England. Adrift and deeply lonely, Felix has no choice but to room in a boardinghouse run by Miss Bohun, a relative he has never met. Miss Bohun is a holy terror, a cheerless miser who proclaims the ideals of a fundamentalist group known as the Ever-Readies—joy, charity, and love—even as she makes life a misery for her boarders. Then Mrs. Ellis, a fascinating young widow, moves into the house and disrupts its dreary routine for good.
Olivia Manning's great subject is the lives of ordinary people caught up in history. Here, as in her panoramic depiction of World War II, The Balkan Trilogy, she offers a rich and psychologically nuanced story of life on the precipice, and she tells it with equal parts compassion, skepticism, and humor.
About the Author
---
Olivia Manning (1908–1980) was born in Portsmouth, England, and spent much of her childhood in Northern Ireland. Her father, Oliver, was a penniless British sailor who rose to become a naval commander, and her mother, Olivia, had a prosperous Anglo-Irish background. Manning trained as a painter at the Portsmouth School of Art, then moved to London and turned to writing. She published her first novel under her own name in 1938 (she had published several potboilers in a local paper under the name Jacob Morrow while a teenager). The next year she married R.D. "Reggie" Smith, and the couple moved to Romania, where Smith was employed by the British Council. In World War II , the couple fled before the Nazi advance, first to Greece and then to
Jerusalem, where they lived until the end of the war. Manning wrote several novels during the 1950s, but her first real success as a novelist was The Great Fortune (1960), the first of six books
concerning Guy and Harriet Pringle, whose wartime experiences and troubled marriage echoed that of the diffident Manning and her gregarious husband. In the 1980s these novels were collected in two volumes, The Balkan Trilogy (forthcoming from NYRB Classics) and The Levant Trilogy, known collectively as The Fortunes of War. In addition to her novels, Manning wrote essays and criticism, history, a screenplay, and a book about Burmese and Siamese cats. She was made Commander of the Order of the British Empire in 1976, and died four years later.

Jane Smiley is the author of Ten Days in the Hills, Thirteen Ways of Looking at the Novel, A Thousand Acres, and many other books. She lives in California.
Praise For…
---
"This portrait of Middle Eastern politics is especially timely; highly recommended." --Library Journal

"How, in just a few pages, does a writer earn our trust, and her characters our allegiance? Olivia Manning's work has been out of sight for decades, but her newly reissued School for Love is about to charm and startle a whole new generation of readers." --O, The Oprah Magazine

"Olivia Manning was an outstanding novelist." --The Times (London)

"A triumph of portraiture, compassionate, witty and assured"–Time and Tide

"There is something good in almost everything Olivia Manning wrote" –The Spectator

"Olivia manning has taken her place in the first rank of English novelists." –Los Angeles Times

"The intensity of Miss Manning's brilliantly perceptive writing is controlled by a serene style." –New York Times

"She has been compared with Graham Greene and Anthony Powell. Anthony Burgess, who thinks the two trilogies may prove to be 'the finest fictional record of the war produced by a British writer,' finds in her a kinship with Tolstoy." –The Los Angeles Times
 
"I've just finished a series of Olivia Manning novels. She's best known for two trilogies: Balkan Trilogy and Levant Trilogy. The six novels are continuous and contain the same set of characters. They are based on Manning's experiences in Eastern Europe and Egypt during the Second World War. Each novel is a wonderful picture of the peculiar British expatriate culture and what was happening during the war. She's one of those brilliant women who write very well about domestic relationships. All the books are slim, and it's easy to gallop through them." –Sarah Waters
 
"She produced elegant, incisive, psychologically penetrating novels which conveyed a real sense of contemporary history." –The Financial Times

"A triumph of portraiture, compassionate, witty and assured"–Time and Tide

"Distinctly out of the ordinary... School for Love shows remarkable qualities of force and originality" –Times Literary Supplement

"A remarkable book."–C.P. Snow

"The most considerable of our women novelists." –Anthony Burgess

"A writer of genius...brilliant and successful to the point of giving the impression, on a first reading, that it is without a blemish" –William Gerhardie, Times Literary Supplement