The World I Live In (Paperback)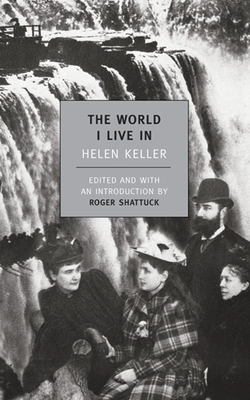 $16.95

Should be on our shelves now -- but wait for confirmation from us before coming to pick up. We'll respond to your order shortly.
Description
---
Out of print for nearly a century, The World I Live In is Helen Keller's most personal and intellectually adventurous work—one that transforms our appreciation of her extraordinary achievements. Here this preternaturally gifted deaf and blind young woman closely describes her sensations and the workings of her imagination, while making the pro-vocative argument that the whole spectrum of the senses lies open to her through the medium of language. Standing in the line of the works of Emerson and Thoreau, The World I Live In is a profoundly suggestive exercise in self-invention, and a true, rediscovered classic of American literature.

This new edition of The World I Live In also includes Helen Keller's early essay "Optimism," as well as her first published work, "My Story," written when she was twelve.
About the Author
---
Helen Keller was born in Tuscumbia, Alabama. At nineteen months, she suffered from a mysterious illness, perhaps scarlet fever, that left her deaf and blind. When Helen was five, Anne Sullivan was engaged as her teacher. Their relationship and the legendary strides made as a result of it, particularly Helen's acquisition of language, are the subject of The Story of My Life. A devoted member of the Socialist Party and a tireless advocate for the blind, Helen spent her adult life fundraising and lecturing all over the world. She was awarded the Presidential Medal of Freedom in 1964.

Roger Shattuck (1923–2005) was an American writer and scholar of French culture. He taught at Harvard, the University of Texas at Austin, the University of Virginia, and Boston University, where he was named University Professor. His books include Forbidden Knowledge: From Prometheus to Pornography.
Praise For…
---
"Roger Shattuck's striking new edition of The World I Live In, a sparkling work too long obscured, renews Helen Keller for all generations—for the steadfast admirers of her art, and particularly for readers not yet acquainted with the sightless genius who taught the world the majesty of her insight. The World I Live In brings us intimately close, in her own valiant words, to the mind of a woman for whom language was life."
— Cynthia Ozick

"While Helen Keller is better known for The Story of My Life, her later book, The World I Live In, is a warmer, more intimate and more beautiful work, one in which we encounter Helen Keller's remarkable imagination, her originality, and her power as a literary artist. She comes alive here, vividly and idiosyncratically, more than in any other of her writings."
— Oliver Sacks

"An astounding account, enhanced further by Roger Shattuck's excellent introduction in which he explores the implications of her experience."
— The Observer

"An affirmation of the fact that real miracles are the product of human endeavour and inspiration"
— Times Educational Supplement (London)