Fidel (Paperback)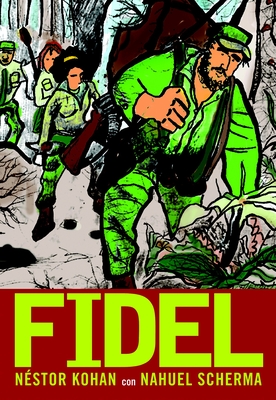 $13.95

Backordered at our distributor but we can check availability from the publisher.
Description
---
En los Estados Unidos, a noventa millas de las costas cubanas, el tema de Fidel Castro enciende a la gente: algunos dicen que es un dictador, otros dicen que es un libertador. En Fidel, Néstor Kohan y Nahuel Scherma presentan a una de las figuras sobresalientes del siglo veinte desde la perspectiva latinoamericana: como el líder que, durante más de cincuenta años, hizo frente al poder militar más grande del mundo, y se mantuvo de pie.
Aquí, en la prosa mordaz de Kohan y las ilustraciones apasionadas de Scherma, aparece el hombre quien, inspirado por décadas de pensamiento marxista latinoamericano, luchó desde las montañas de Sierra Maestra para liberar a su país—el hombre que caminó al borde de la línea fina entre las amenazas militares de los Estados Unidos y la coerción política de la Unión Soviética—el hombre que se convirtió en un líder de la revolución en contra de los gobiernos colonialistas desde Angola a Vietnam a América Latina—el hombre que luchó, sobre todo, para transformar la conciencia de su pueblo, diseminar alfabetismo, cultura, y salud para todos en la isla. Este es Fidel—el hombre que se convirtió en el símbolo de la revolución en el Nuevo Mundo.
About the Author
---
NÉSTOR KOHAN, born in Buenos Aires in 1967, is the author of a number of Spanish-language books on Marxism, Che Guevara, and social movements in Latin America.
NAHUEL SCHERMA is an Argentinian filmmaker and documentarian. Fidel is his first book of illustrations.
Thank you for shopping local!