Fidel: An Illustrated Biography of Fidel Castro (Paperback)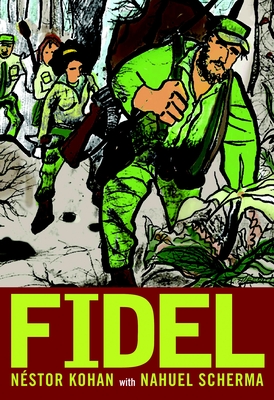 $14.95

Backordered at our distributor but we can check availability from the publisher.
Description
---
In the United States, ninety miles from Cuban shores, tempers flare on the subject of Fidel Castro: some say he is a liberator, some say a dictator. In Fidel, Nestor Kohan and Nahuel Scherma present one of the towering figures of the twentieth-century as he is seen by Latin Americans: as the leader who, for over fifty years, has stood up to the greatest military power in the world, and remained standing.
Here, in Kohan's incisive prose and Scherma's passionate illustrations, is the man who, inspired by decades of Latin American Marxist thinking, fought from the mountains of the Sierra Maestra to free his country—the man who walked the razor's edge between military threats by the United States and political coercion by the Soviet Union—the man who became a leader in the revolution against colonial governments from Angola to Vietnam to Latin America—the man who fought, above all, to transform the conscience of his people, spreading literacy, culture, and free medical care to everyone on the island. Here is Fidel—the man who became the symbol of the revolution in the New World.
About the Author
---
NÉSTOR KOHAN, born in Buenos Aires in 1967, is the author of a number of Spanish-language books on Marxism, Che Guevara, and social movements in Latin America.
NAHUEL SCHERMA is an Argentinian filmmaker and documentarian. Fidel is his first book of illustrations.
Thank you for shopping local!