¡Al bebé le encanta la ingeniería aeroespacial! / Baby Loves Aerospace Engineering! (Baby Loves Science) (Board book)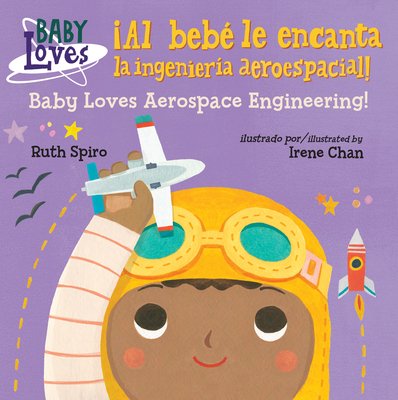 Description
---
Disponible en edición bilingüe inglés-español, esta exitosa serie ofrece importantes e interesantes temas científicos para hacer pensar a los más pequeños.

Con la exactitud de un experto y la sencillez para que lo entienda un niño, este libro explica los principios básicos del vuelo, desde el de las aves y los aviones hasta el de los cohetes, y los relaciona con el mundo del bebé. Contiene atractivas ilustraciones que se complementan con un lenguaje apropiado para que el bebé se maraville. Y no solo el bebé... ¡padres y cuidadores también pueden aprender mucho!

Now available in Spanish bilingual editions, this best-selling series offers big, brainy science for the littlest listeners.

Accurate enough to satisfy an expert, yet simple enough for Baby, this book explores the basics of flight--from birds to planes and rockets--and ties it all to Baby's world. Beautiful, visually stimulating illustrations complement age-appropriate language to encourage a baby's sense of wonder. Parents and caregivers may learn a thing or two as well!
About the Author
---
Ruth Spiro is an award-winning children's book author and freelance writer whose articles, essays, and stories have appeared in magazines and anthologies. Her debut picture book, Lester Fizz, Bubble-Gum Artist (Dutton), won awards from Writer's Digest and Willamette Writers and was a Bank Street College of Education Best Book of the Year.

Irene Chan enjoys making beautiful things. She is an art director, designer, artist, amateur photographer, and illustrator.
Praise For…
---
This colorful new board book uses a simple yet engaging story about a young girl and a bird to explore the wonders of flight, from a bird's flapping wings, to a plane's engines, to a rocket's launch into orbit. In age-appropriate language, Spiro explains how each type of flight works -- and how young children can see those principles at work around them every day. Simple enough to appeal to the littlest listeners, but accurate enough to satisfy an expert, this charming new book is a great way to foster a love of science and a curiosity about the world! Illustrator Irene Chan's bright and stimulating pictures are a perfect complement to this fun story, provide lots of visual interest for pre-readers. It's a unique way to get kids thinking about the "whys" all around them from an early age -- and, as an added bonus for parents, it's a far more interesting read than the average baby board book. Highly recommended for age 0 to 3.
—A Mighty Girl

Baby Loves Aerospace Engineering is an adorable introduction to the world of aerospace engineering. Your child will delight in bright and bold images as simple text explain the basic fundamentals of flight, from birds to planes to rockets. Ruth Spiro and Irene Chan's explanations and images will satisfy an expert and captivate your child in this one of a kind STEM board book.Practice this Comprehension Strategy-Retelling: Baby Loves Aerospace Engineering is a wonderful book to practice retelling with your child. After you read, let your child take a turn and read the book to you. Offer help if they need it but otherwise let them lead the way! This is a great strategy to build confidence in their 'reading' and strengthen their memory and inference skills. 
—Raising A Reader