Estela (Hardcover)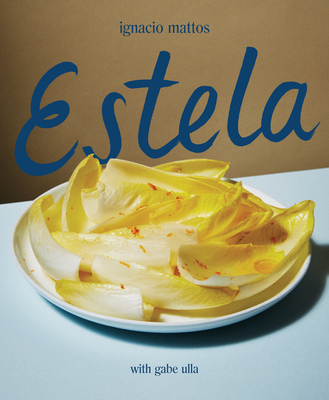 Description
---
Named one of the Best Cookbooks of Fall 2018 by The New York Times Book Review, Epicurious, Grub Street, The Kitchn, and more

"The rare restaurant-y cookbook whose recipes actually turn out as well as the seemingly unattainable photos."
—The New York Times Book Review
 
One flight up, in a bustling neighborhood bistro overlooking the chaos of one of downtown New York's busiest streets, Ignacio Mattos serves food so uncannily delicious it consistently earns him accolades like "Chef of the Year," and his restaurant Estela a spot among the World's 50 Best.

Everyone wants a taste of Estela, from loyal local customers to out-of-town foodies, visiting chefs to visiting presidents. The food is bold, bright, layered, playful, and surprising. Innovative without being precious. Comfort food, really. Food that bursts to life in your mouth—food that hits you right there.
 
Estela, the long-awaited cookbook, shows how to think like Ignacio Mattos, who as an immigrant sees ingredients with fresh eyes. Here is how to look at something as ordinary as a button mushroom and make it extraordinary (shaved thin over ricotta dumplings), or as familiar as burrata and transform it (with a pool of juiced herby greens and charred bread). How to use vinegars, citruses, fish sauce, and pickling broth to give each bite a pop of flavor. How to compose a plate in layers, so that the deeper you dig, the more that is revealed, while each forkful carries an electric marriage of flavors and textures.
 
Estela presents over 133 recipes, including classics that will never leave the menu, like Lamb Ribs with Chermoula and Honey, Mussels Escabeche on Toast, and the hide-and- seek joy of Endive Salad with Walnuts and Ubriaco Rosso. Small plates meant for sharing with friends and family, like Cherry Tomatoes with Figs and Onion. Incredible pan-seared steaks. And basics for the pantry that will elevate whatever you feel like making.
 
Estela is the restaurant, but Estela is far more than a restaurant cookbook. It's an inviting and creative expression of Mattos's fresh and influential style.
About the Author
---
Ignacio Mattos grew up in Uruguay, worked with Francis Mallmann, built his skills at Zuni Café and Chez Panisse, and was the chef at Il Buco in New York for five years before striking out on his own. In addition to Estela, he owns Café Altro Paradiso and Flora Bar and Flora Coffee at the Met Breuer, all in New York City. Find him on Instagram @estelanyc and @ignaciomattos.

Gabe Ulla is a New York–based writer who has collaborated with a number of noted chefs and contributed to publications including WSJ Magazine, Saveur, and Town & Country. 
Praise For…
---
Named one of the Best Cookbooks of Fall 2018 by The New York TimesBook Review, Epicurious, Grub Street, The Kitchn, and New Worlder
"The rare restaurant-y cookbook whose recipes actually turn out as well as the seemingly unattainable photos."
—The New York Times Book Review

"Singularly simple. Mattos partners up a few core ingredients and presents them in a way that allows their flavors and textures to come together as powerfully as an epiphany. . . . Anyone with an appetite will surely revel in the wild, wonderful ride of cooking through this book."
​—Fine Cooking
"This book—praise be—contains recipes for many of [Estela's] signature dishes. . . . The flavour combinations, though simple, can startle. If your cooking is in a rut this will definitely shake it up."
—The Telegraph (UK),Diana Henry's 20 Best Cookbooks to Buy This Autumn

"Mattos's deceptively simple dishes are also surprisingly straightforward to make, which means you'll have a very good chance at impressing all of your friends without breaking much of a sweat the next time you invite them over for dinner."
—Grub Street

"The restaurant's famed innovative yet simple cuisine, including bright and savory fruit salads and other vegetable-forward dishes, along with comforting mains."
—Epicurious
"Ignacio Mattos cooks with an uncompromising palate, a keen artist's eye, and a playful, loving heart. Filled with secrets big and small,
Estela
will teach you how to understand and harness flavor like one of the world's most talented chefs."
—Samin Nosrat, author of Salt, Fat, Acid, Heat
"Ignacio takes you on different roads—from comforting to surprising to simple to gutsy, many times all at once. I love this book."
—Francis Mallmann, chef and author of Mallmann on Fire
"Ignacio follows his own path, cooking with joy and confidence, approaching food from all perspectives, making bold statements yet remaining humble. Estela is serving some of the purest, most beautiful food in New York City."
—Alice Waters, owner of Chez Panisse and founder of the Edible Schoolyard Project
"A visionary sort of simplicity. Estela is the elegant expression of a seeker on a striking path; a story of elemental, intuitive, and nourishing cooking."
—Chad Robertson, co-owner of Tartine Manufactory and author of Tartine Bread
"Ignacio Mattos is a generous chef: He has given us three wonderful restaurants, inspired countless people, and now, with this beautiful book full of inspired recipes, shared his passion and knowledge of cooking with us all."
—Ruth Rogers, chef/owner of the River Café
"The flavors are supernatural, otherworldly, yet somehow very down to earth—you want to devour them immediately. Ignacio cooks from his soul."
—David Tanis, chef, author, and New York Times columnist
Thank you for shopping local!