Conducting Opera: Where Theater Meets Music (Hardcover)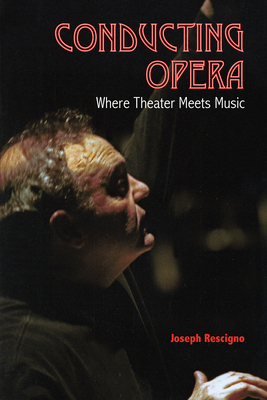 $29.95

Backordered at our distributor but we can check availability from the publisher.
Description
---
Conducting Opera discusses operas in the standard repertory from the perspective of a conductor with a lifetime of experience performing them. It focuses on Joseph Rescigno's approach to preparing and performing these masterworks in order to realize what opera can uniquely achieve: a fusion of music and drama resulting in a whole that is greater than the sum of its parts.
Opening with a chapter discussing his performance philosophy, Rescigno then covers Mozart's most-performed operas, standards of the bel canto school including Rossini's Il barbiere di Siviglia, five of Verdi's works including La traviata, a selection of Wagner's compositions followed by French Romantic operas such as Bizet's Carmen, Puccini's major works, and finally four operas by Richard Strauss. A useful appendix contains a convenient guide to the scores available online.
Conducting Opera includes practical advice about propelling a story forward and bringing out the drama that the music is meant to supply, as well as how to support singers in their most difficult moments. Rescigno identifies particularly problematic passages and supplies suggestions about how to navigate them. In addition, he provides advice on staying true to the several styles under discussion.
About the Author
---
JOSEPH RESCIGNO is a seasoned conductor with a career that has taken him to more than fifty companies. He has served as guest conductor at opera houses around the world. He served as artistic advisor and principal conductor of the Florentine Opera Company in Milwaukee for 38 seasons and has been music director of La Musica Lirica in Novafeltria, Italy, since 2005. He has also recorded extensively, including two world premieres. He lives in New York City.
Praise For…
---
"This is the book I always wanted to write but Maestro Rescigno beat me to it."—Arthur Fagen, Music Director, Atlanta Opera; Professor of Orchestral Conducting, Jacobs School of Music, Indiana University

"This unique and remarkable book is not simply for aspiring conductors seeking to learn how to approach a new score, but should also be essential reading for any young singer longing to discover how to go about absorbing a new role in a way that will be personal, yet stylistically and interpretively appropriate. The ideas discussed here, though, can give everyone, not just musicians, a way of analyzing and understanding opera that is both profound and insightful."—Jonathan Pell, Retired Artistic Director, The Dallas Opera

"Cogent, intelligent, and illuminating for anyone curious about the art of producing great opera! All will enjoy Maestro's thoughtful analysis of many of opera lovers' favorite scenes including the Act II finale of Le nozze di Figaro, the opening moments of Der Rosenkavalier, and the Nile Scene and Aida's 'O patria mia.'"—James W. Wright, Former General Director, Vancouver Opera (retired) and Opera Carolina

"A very informative read about the preparation of an opera for production by a highly skilled and experienced conductor. Every young, aspiring opera conductor should read it."—Leon Major, Artistic Director, The Maryland Opera Studio, University of Maryland

"Maestro Rescigno has combined a lifetime of practical experience with deep musical intelligence to create an indispensable guide to the art and craft of operatic conducting. Tempo and pacing, vocal embellishment, instrumental balance, and the pros and cons of tradition are explored in the context of individual composers and their works, with sensitivity to the realities of producing opera today."—Linda Fairtile, Co-Director of American Institute of Verdi Studies, New York University
"Rescigno's observations are informative for fans who merely listen to operas as well as those who try to perform them. . . . For pointed, experienced and plainspoken advice about opera, this is one of the most sagacious books to have been published in recent years, worthy of the Rescigno family tradition."--
Opera Now
"His knowledge of where problems might crop up, and what strategies can be invoked to deal with them, is comprehensive, but above all practical. . . . [T]his is a valuable book, intended for a particular group of interpreters while offering wider insights to any musician who happens to be interested in how operatic performances can be made to work."--
Opera
"Writing with clarity, style, and a touch of the polemic, Rescigno's primary focus is on the standard repertoire, and there's insights galore to be had. . . . [
Conducting Opera
] is full of masterful explanations of just how composers build tension, character, and mood. These explanations are so successful that although they contain much technical detail, they still so effectively evoke the scenes they describe that it is as if you're seeing them before your eyes, no mean feat. . . . This book is for anyone who loves opera."--
Limelight
"There is plenty of technical analysis clear-ly written, peering into the mind of an experi-enced opera conductor. Many of Rescigno's comments about various passages are subjec-tive—conductors are interpreters, after all—but his ideas are often compelling. The book should appeal to any young opera conductor and to a devoted opera lover."--
American Record Guide
"He devotes entire chapters to Mozart, Verdi, Puccini, and Richard Strauss, as well as to French Romantic opera and
bel canto
style . . . . The chapter on Richard Strauss is fascinating. At some points the reader feels as though he is sitting directly behind Maestro as he conducts."--
Fanfare magazine
"Rescigno's vast experience and knowledge are on impressive display throughout; he manages thorough consideration of some twenty-five operas and makes authoritative reference to numerous others."--
Opera News
Thank you for shopping local!