Get Up: A 12-Step Guide to Recovery for Misfits, Freaks, and Weirdos (Paperback)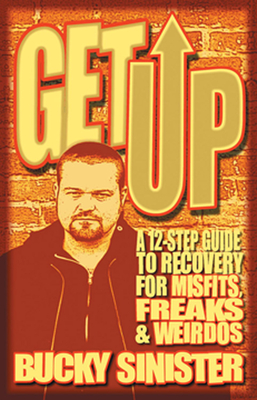 $14.95

Not in the store. We can order it and should have it in store in 3-5 business days.
Description
---
As an atheist with a background in fundamentalism, Bucky Sinister was skeptical of 12step groups when the time came for him to get sober. He was afraid of losing his artistic abilities and had big problems with the higher power concept. In spite of his hesitations, he stuck with the program and it rewarded him greatly. In Get Up, he shares the knowledge he gained on his journey, from being afraid of AA philosophies to embracing them, motivating others to join him in their own efforts to get clean. Sinister, a spoken word artist, poet, and performer, wellknown on the West Coast for his grabbing, truthful, funny performances, puts out his own story, no frills, no excuses, and no holds barred. He offers a toughlove approach to recovery for all those, like him, who are turned off by traditional "recovery" books. Sinister got sober in AA and has stayed sober in AA, and now he leads the very group he joined on his path to recovery. In Get Up, he shares the stories and the steps that come from the "selfidenti?ed scum bags who just might save your life." He talks straight to readers about how to make it work if they can't buy into the program right away. For example, "Higher Power" can be a whole lot of things -- Thor and metaphor among them. He helps readers to accept the group in spite of their differences, rather than walking away. Get Up is the book that Sinister would have bought for himself, with the advice he wanted to hear when he ?rst ventured into recovery.
About the Author
---
Bucky Sinister, is a spoken word artist who performs about 40 times a years at comedy clubs and theaters, primarily on the West Coast, but also around the country. He has published nine chapbooks and three fulllength collections of poetry, the most recent being All Blacked Out & Nowhere to Go. His first fulllength CD, What Happens in Narnia, Stays in Narnia was released in 2007.
Praise For…
---
"Step 13: Read Get Up, do what Bucky says, and find your inner ATeam character. And if you're a "normie", buy this book for your friend who thinks they are too cool to get sober." --Jen Kirkman, standup comedian, actor, and writer
— Reviews

"...a smart, snide, blasphemous self-help book written in a countercultural voice." --Rachel Swan, East Bay Express
— Reviews

"This book is rad." --Michelle Tea, author of Rent Girl and Valencia
— Reviews

"...refreshingly unpreachy…Get Up will strike a nerve in the recovery movement, which has heretofore had to convince certain people that it wasn't as lame as it seemed" --Katy St. Clair, SF Weekly
— Reviews

"Get Up is not your mother's coffee table recovery book. Bucky peels away the layers of fluff and sticks it right in your face. His use of comedy and colorful language will conjure up some laughoutloud moments…This release is perfect for the patient or counselor looking for a lighthearted, entertaining read. It combines recovery firsthand accounts, useful suggestions and scenarios and offers the reader an uplifting feeling without becoming overpowered by religious weights or flowery prose that often read like a real snooze on a page." --Jenna Bensoussan, Counselor Magazine
— Reviews

"Step 13: Read Get Up, do what Bucky says, and find your inner A-Team character. And if you're a "normie", buy this book for your friend who thinks they are too cool to get sober." --Jen Kirkman, stand-up comedian, actor, and writer
— Reviews

"This book is rad." --Michelle Tea, author of Rent Girl and Valencia
— Reviews

"[Sinister's] iconoclastic approach to addiction recovery will make a valuable addition to the growing works in this field. Highly recommended for university libraries supporting the helping professions and larger public libraries" --Library Journal Starred Review
— Reviews

"… a brilliant piece of literary performance with poetic and savagely funny insights. The book is a wild mixture of autobiography, philosophy, social criticism, pop culture and nuttiness: the consummate self-help book for those too cool for self-help books."--Publishers Weekly
— Reviews

"Our generation, Generation X, is a generation that doesn't like to be marketed to. We don't like to join groups and we're very suspicious of trends. In a lot of ways Get Up is a 12-step book for people that remember Kurt Cobain on the cover of Rolling Stone wearing a t-shirt that says, 'Corporate Magazines Still Suck.' People who think Dolittle is the best album ever made…The book's very funny." --Stephen Elliott, Huffington Post
— Reviews

"Every single person should own Bucky Sinister's 12 step book. Addict or not. It is an incredibly funny and interesting guide on how to successfully unpack one's mind when it's overpacked. Simply put, this book should replace every magazine in every plastic surgeon's office and every bible in every motel." --Amber Tamblyn, Emmy- and Golden Globe-nominated actress and poet
— Reviews

"Move over Dr. Phil and Dr. Drew and every other faux-folksy TV platitude-puss. Mr. Sinister has the kind of wisdom - and writing skills - that only come from experience." --G. Martinez Cabrera, San Francisco Bay Guardian
— Reviews