Naturally Curious: A Photographic Field Guide and Month-By-Month Journey Through the Fields, Woods, and Marshes of New England (Paperback)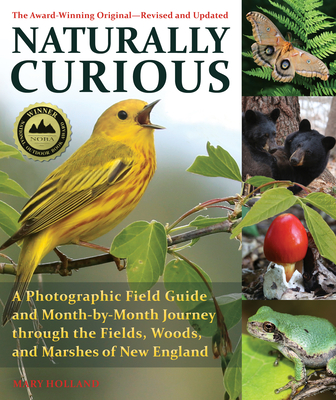 $39.95

Not in the store. We can order it and should have it in store in 3-5 business days.
Description
---
The award-winning bestseller, revised and updated with over 100 new photos.
Naturalist and environmental educator Mary Holland's visually astounding book Naturally Curious promises a walk in the woods (or a field or wetland) will never be the same. With boundless enthusiasm and a lifetime's-worth of natural history knowledge, Holland escorts you through the New England seasons, month by month--in sun, rain, and snow; along roadsides and riverbanks; above burrows and under treetop nesting sites. By deftly melding the practical field guide we all need with the kind of book we all want to sit back and read, Holland does New England--and those who live in it, visit it, and love it--an immense service. Adults and children alike are sure to be fascinated by the natural world in this book, in their backyard, and even further afield. Naturally Curious is truly an "into this world" experience.
Take a guided tour through the seasons a month at a time: begin with March and its early stirrings of life "awakening" after a long cold winter, and end in February as survival becomes the sole focus of all plants and creatures, great and small.
Dive into hundreds of fascinating "Nature Notes" along the way: bite-size nuggets of fact-based information about a species' actions in a particular month--whether courting, breeding, singing, burrowing, migrating, or caching food.
In addition, find pertinent lists of the amphibians, reptiles, birds, mammals, insects and arachnids, and plants and fungi you might expect to see or hear from as the weeks go by.
Each month culminates in specially chosen essays, where Holland gets up-close-and-personal with New England plant and animal life and some of their more intriguing peculiarities.
See the many exciting and varied "worlds" of the Northeast explode on the page, in an unmatched visual display of full-color photographs. This is the region and its inhabitants like you've never seen them before
About the Author
---
Mary Holland is a Vermont naturalist, photographer, columnist, and author. She attended the University of Michigan's School of Natural Resources before working as a naturalist at the Museum of the Hudson Highlands in New York, directing the state-wide Environmental Learning for the Future program for the Vermont Institute of Natural Science, working as a resource naturalist for the Massachusetts Audubon Society, designing and presenting hands-on "Knee-High Nature Programs" for libraries and elementary schools throughout Vermont and New Hampshire, and writing and photographing a nature column called "Naturally Curious" for several newspapers and magazines. Her articles and photographs have appeared in the Valley News, Northern Woodlands, "The Outside Story", Upper Valley Life, Here in Hanover, Woodstock Magazine, The Harvard Press, The Vermont Guardian, and The Rutland Herald. The first edition of Naturally Curious won the 2011 National Outdoor Book Award for Best Nature Guide. Her other books include Naturally Curious: Day by Day, and the children's nature guides--The Beavers' Busy Year, Milkweed Visitors, Animal Legs, Animal Eyes, and Animal Mouths. She resides in Hartland, Vermont.