Never Surrender: How to Overcome Life's Greatest Challenges (Paperback)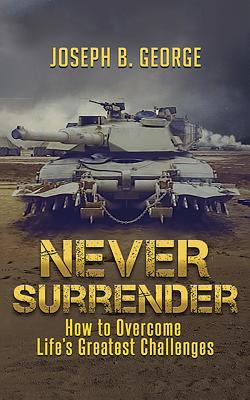 $12.99

Not in the store. We can order it and should have it in store in 3-5 business days.
Description
---
Joseph George is the epitome of what it means to be brave. As a former Army tank crewman and Gulf War veteran (1st Infantry Division), he has come face-to-face with the unimaginable. He and others in the division best-known as the Big Red One lead the attack on an enemy mine field while being attacked by chemical and biological weapons.Remarkably, this suicide mission was only the beginning of the challenges he would face. After being awarded the Valorous Unit Award for his extraordinary heroism and living by the doctrine that tankers never surrender, his faith, military training, and uncommon courage would help him battle difficulties at home.Like many veterans, he found himself in a crisis of conscience. Plagued by alcoholism, the ill-effects of war, and re-acclimating to civilian life, Joseph had to dig deep into his soul, reconnect with his faith, and use his warrior spirit to pull himself out of the well of despair, through the challenges of the Gulf War illness and later a battle with a Stage 4 cancer diagnosis. He faced a battlefield on the home front and triumphed through the grace of God, mental toughness, and medical intervention.Never Surrender: How to Overcome Life's Greatest Challenges is part memoir, part inspirational book. It is Joseph's hope that his story will resonate with anyone who is suffering or experiencing a crisis of faith, disillusionment, or a life-changing illness will find hope, inspiration, and the courage to keep moving forward.
About the Author
---
Joseph fought in the Gulf War as an M-1 Tanker in the legendary 1st Infantry Division, also known as the Big Red One. His mission was to lead the attack on the enemy mine field while being attacked with chemical and biological weapons. It was a suicide mission, and he was awarded the Valorous Unit Award for extraordinary heroism in war. He graduated from North Carolina Agricultural and Technical State University in 2005 with a Bachelor of Social Work Degree. The chair of the Department of Sociology and Social Work, Dr. Sarah V. Kirk, inspired him to write a book about the war and his experiences. Joseph has a passion for reading, writing, football, and golf.