Longshot: The Inside Story of the Race for a COVID-19 Vaccine (Hardcover)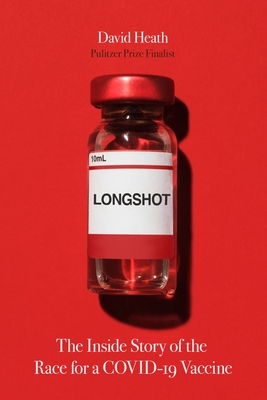 $29.00

Not in the store. We can order it and should have it in store in 3-5 business days.
Description
---
This is the incredible story of the scientists who created a coronavirus vaccine in record time. 
 
In Longshot, investigative journalist David Heath takes readers inside the small group of scientists whose groundbreaking work was once largely dismissed but whose feat will now eclipse the importance of Jonas Salk's polio vaccine in medical history. With never-before-reported details, Heath reveals how these scientists overcame countless obstacles to give the world an unprecedented head start when we needed a COVID-19 vaccine. 
 
The story really begins in the 1990s, with a series of discoveries that were timed perfectly to prepare us for the worst pandemic since 1918. Readers will meet Katalin Karikó, who made it possible to use messenger RNA in vaccines but struggled for years just to hang on to her job. There's also Derrick Rossi, who leveraged Karikó's work to found Moderna but was eventually expelled from his company. And then there's Barney Graham at the National Institutes of Health, who had a career-long obsession with solving the riddle of why two toddlers died in a vaccine trial in 1966,  a tragedy that ultimately led to a critical breakthrough in vaccine science. 
With both foresight and luck, Graham and these other crucial scientists set the course for a coronavirus vaccine years before COVID-19 emerged in Wuhan, China. The author draws on hundreds of hours of interviews with key players to tell the definitive story about how the race to create the vaccine sparked a revolution in medical science.
About the Author
---
David Heath is an award-winning investigative journalist. He has worked at several news organizations, including CNN, USA Today, and the Center for Public Integrity. His work has helped to change policies and laws and has even led to criminal indictments. His articles have exposed illegal insider trading in drug research, questionable medical research, and the political influence used to derail tougher toxic-chemical standards. His work has appeared on PBS Frontline, PBS NewsHour, the CBS Evening News, the Huffington Post, The Atlantic, Time, Newsweek, the Daily Beast, Vice News, Scientific American and Mother Jones. He has won more than two dozen national journalism awards, including the Goldsmith, the Gerald Loeb and George Polk. His work with others has been nominated for a national Emmy and he has been a finalist for the Pulitzer Prize three times. He lives in Bethesda, Maryland.  
Praise For…
---
Longshot 
is more than just a superb recounting of the development of a vaccine for COVID-19. It's also a fascinating dive into the business of high stakes science, a group biography of some extremely competitive research scientists, and in some ways a medical thriller.  David Heath is both a gifted writer and a tenacious reporter – the only combination that could produce a book like this one.
 —
Daniel Okrent, author of the best-seller Last Call and former public editor of the New York Times
"David Heath's book 
Longshot
 provides a powerful and engaging antidote to the nonsense, lies, and confusion about the highly effective and life-saving coronavirus vaccines. Heath's sharp eye tells the drama behind the scenes as experts in infectious diseases quickly figured out what was happening in Wuhan, China, took advantage of advances in medical science to develop the first vaccine in just 338 days, and then started thinking about the next pandemic. A riveting read."—
David Cay Johnston, Pulitzer Prize-winning investigative reporter and bestselling author
"For those who believe—and perhaps fear—that the COVID-19 vaccines were created in a frenzy, David Heath reveals the truth: These lifesaving vaccines were the product of years of laborious research by brilliant scientists who battled greed and bureaucracy even as they were battling emerging viruses. Heath brings a keen investigative eye to a side of the scientific world most of us never see, let alone understand."
—
David Boardman, dean of Klein College of Media and Communication, Temple University, and the former executive editor of the Seattle Times
"Almost no one at the start of the pandemic thought it would be possible to develop a COVID-19 vaccine in less than a year. In
Longshot
, David Heath provides us with a fast-paced, behind the-scenes narrative of one of the great achievements in the history of medicine. It's a story that pulses with scientific genius and persistence, along with shocking episodes of cruelty, stupidity, and greed. Ultimately, it's a tale of extraordinary advances in vaccine science that are saving lives today and putting us in position to better prepare for the infectious diseases of tomorrow." —
Luke Timmerman, founder of Timmerman Report, a biotech industry newsletter
Thank you for shopping local!