Uncommon Grounds: The History of Coffee and How It Transformed Our World (Paperback)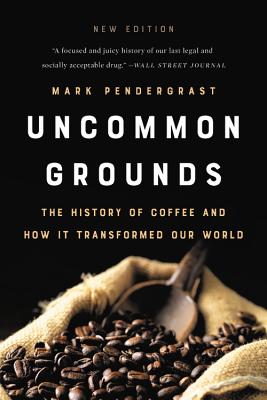 $24.99

Not in the store. We can order it and should have it in store in 3-5 business days.
Description
---
The definitive history of the world's most popular drug

Uncommon Grounds tells the story of coffee from its discovery on a hill in ancient Abyssinia to the advent of Starbucks. Mark Pendergrast reviews the dramatic changes in coffee culture over the past decade, from the disastrous "Coffee Crisis" that caused global prices to plummet to the rise of the Fair Trade movement and the "third-wave" of quality-obsessed coffee connoisseurs. As the scope of coffee culture continues to expand, Uncommon Grounds remains more than ever a brilliantly entertaining guide to the currents of one of the world's favorite beverages.


About the Author
---
Mark Pendergrast is an independent scholar who brews a fantastic cup of coffee. He is the author of many books, including For God, Country and Coca-Cola. He lives in Vermont
Praise For…
---
"With wit and humor,
Pendergrast has served up a rich blend of anecdote, character study, market
analysis, and social history....Everything you ought to know about coffee is
here, even how to make it."—New York Times

"A focused and juicy
history of our last legal and socially acceptable drug."—Wall Street Journal

"Pendergrast's account
satisfies because of its thoroughness....Pendergrast unearths coffee-based
trade wars, health reports, and café cultures, bringing to light amusing
treasures along the way."—Mother Jones

"Ask anyone in the
coffee world and they will cite this book as a favorite...[I]t gives a
comprehensive understanding to the history and complexities of your favorite
drink."—The Kitchn

"Pendergrast...has
produced a splendid tale, setting out all one could hope to know about
coffee."—Scientific American

"Pendergrast's broad
vision, meticulous research, and colloquial delivery combine
aromatically."—Publishers Weekly

"Uncommon Grounds is not only a good read but a vital one."—Washington Monthly

"An exhaustive, admirably
ambitious examination of coffee's global impact, from its roots in 15th-century
Ethiopia to its critical role in shaping the nations of Central and Latin
America....Should be read by anyone curious about what goes into their daily
cup of Java"—Kirkus

"Pendergrast's
sprightly, yet thoroughly scholarly, history of America's favorite hot beverage
packs the pleasurable punch of a double espresso."—Booklist