Elusive: How Peter Higgs Solved the Mystery of Mass (Hardcover)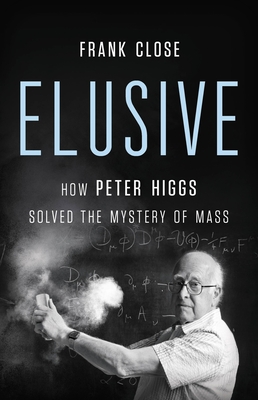 $30.00

Not in the store. We can order it and should have it in store in 3-5 business days.
Description
---
*A New York Times Book Review Editor's Choice Selection*

The first major biography of Peter Higgs, revealing how a short burst of work changed modern physics 
On July 4, 2012, the announcement came that one of the longest-running mysteries in physics had been solved: the Higgs boson, the missing piece in understanding why particles have mass, had finally been discovered. On the rostrum, surrounded by jostling physicists and media, was the particle's retiring namesake—the only person in history to have an existing single particle named for them. Why Peter Higgs? Drawing on years of conversations with Higgs and others, Close illuminates how an unprolific man became one of the world's most famous scientists. Close finds that scientific competition between people, institutions, and states played as much of a role in making Higgs famous as Higgs's work did.  
A revelatory study of both a scientist and his era, Elusive will remake our understanding of modern physics.  
About the Author
---
Frank Close, OBE, FRS is a particle physicist and an emeritus professor of physics at the University of Oxford. He is the author of over a dozen books, including Infinity Puzzle and Half-Life. He lives in Oxford, England. 
Praise For…
---
"A clear, vivid and occasionally even beautiful portrait of a scientific breakthrough: the tale of how a relatively obscure Scotland-based physicist developed a stunning theory, one that would help illuminate the invisible, particulate web that holds our universe together."—
New York Times
"In Elusive, Mr. Higgs's friend and colleague Frank Close offers a sympathetic biography of the "shy, modest" man and famous particle."
—
Wall Street Journal
 "Mr Close is among today's best writers on the history of quantum mechanics and its associated field theories, and his book is more a biography of the boson than of the man…. The account of the decades-long search for the boson is one of the best parts of
Elusive
…. a pacey insider's story of the ups, downs and international politics of building cathedral-sized, cutting-edge scientific machines that cost billions of dollars in public money—and have no immediate benefit beyond curiosity."—
Economist
"An illuminating guide to the man and the science behind the Higgs boson... the tale of the conception and discovery of the Higgs boson, a tiny tremor in an energy field that pervades the whole universe, is one of the most important in modern physics. Without the Higgs there would be no atoms or people or planets or stars or anything except restless particles zipping through space in splendid isolation. Close, a particle physicist who has served as head of communications and public education at Cern, is an excellent guide to the knotty science of that story, as well as what we do know about the mysterious man himself."—
Guardian (UK)
"Thorough and fascinating... Close spoke at length to Higgs and the result is a highly detailed and rich narrative... a piece of scientific history."—
Spectator (UK)
"Frank Close is probably the perfect person to tell the tale of Higgs and his boson. A serious physicist himself, he is also an exceptional author - and, unlike with most authors, his subject actually occasionally speaks to him."—
Times (UK), Books of the Year
"Particular brilliance... This accessible account tells the story of the quest, and of the man who made it possible."—
BBC History Magazine
"a breezy yet informative book that entwines the story of Higgs's life with that of the construction of the grand theoretical edifice known as the standard model of elementary particle physics…Close has a dazzling ability to condense complex ideas into accessible metaphors….
Elusive
 shows how the story of a physicist's life, told right, can reveal much about living as a physicist."—
Robert P. Crease
,
Nature
"
Elusive
 is a timely and in-depth narrative…a scrumptious meal"—
Achintya Rao
,
Physics World
"notable for its moderation and objectivity…[a] vivid account."—
Simon Mitton
,
Science
"The first full biography of Higgs... focuses just as much on Higgs the particle as he does on Higgs the scientist, and the physics concepts he explores can be daunting. But this excellent book is well worth the effort."—
Symmetry, Books of the Year
"A five star book - it reaches parts other books on the Higgs have failed to reach and Frank Close does a brilliant job"—
Popular Science
"Reveals the sheer complexity, detail and dazzling precision that, for the scientist, constitutes 'beauty in nature'. Close maintains a strong narrative line – we are watching and waiting throughout for the Higgs boson to be identified."
 —
Mail on Sunday (UK)
"An expert examination...Close, a science writer, Higgs colleague, and professor of physics at Oxford, illuminates Higgs' personal and professional life."—
Kirkus
"Close tells the intertwined stories of Higgs's life and the discovery of the Higgs boson with the aid of a deep understanding of the physics involved and the benefit of many meetings with Higgs himself. There have been other books on the same theme, but this is far and away the best. Where Close excels is in explaining the fundamental principles of particle physics in language anyone likely to pick up this book will understand. ... Elusive works as a biography of Peter Higgs, as an account of one of the greatest intellectual advances in human history and, best of all, as an answer to anyone who asks why we should bother to carry out experiments like those performed at CERN. Buy it."—
Literary Review (UK)
"Beautifully, engagingly written... I was reassured by the characteristic wisdom and honesty of Close's judgement that, while the discovery of the Higgs particle completes the Standard Model of the atom, 'Internal completeness is a mathematical requirement, whereas describing the world around us is the demand of natural philosophy'. That sentence alone makes Elusive my book of the year."—
Times Literary Supplement (UK), Books of the Year
"A perfect marriage of subject and writer. With verve, insight, and rigor, Frank Close beautifully illuminates the life and times of one of physics' great, unheralded giants.
Elusive
is a triumph of a book, and one worthy of its subject's extraordinary contributions."
 —
Jimmy Soni, bestselling author of The Founders
"
Elusive
is both a deep, exciting intellectual history and an elegantly told portrait of a quiet man whose "one great idea" changed modern physics forever. Close marries the exotic details of contemporary particle physics theory with the very human aspects of how that theory came to be. An enlightening read from one of our very best writers and practitioners of physics."—
David N. Schwartz, author of The Last Man Who Knew Everything
"Rich, compelling, and surprising. Fundamental physics can be equal parts awe-inspiring and head-spinning, and Frank Close masterfully captures those qualities in this deeply satisfying tale of Peter Higgs's convoluted, and very human, journey through life and science."
 —
Caleb Scharf, author of The Ascent of Information