The Forgers: The Forgotten Story of the Holocaust's Most Audacious Rescue Operation (Hardcover)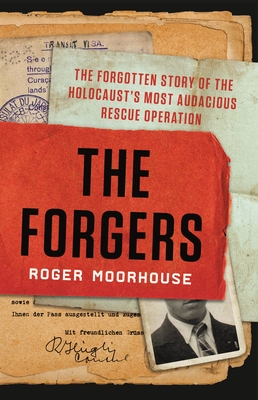 $32.00

Should be on our shelves now -- but wait for confirmation from us before coming to pick up. We'll respond to your order shortly.
Description
---
The secret history of one of the largest—and least-known—rescue operations of World War II  

Between 1940 and 1943, a group of Polish diplomats in Switzerland engaged in a wholly remarkable—and until now, completely unknown—humanitarian operation. In concert with Jewish activists, they masterminded a systematic program of forging passports and identity documents for Latin American countries, which were then smuggled into German-occupied Europe to save the lives of thousands of Jews facing extermination in the Holocaust. 

With the international community failing to act, the operation was one of the largest actions to aid Jews of the entire war. The Forgers tells this extraordinary story for the first time. We follow the desperate bids of Jews to obtain these lifesaving documents as the Nazi death machine draws ever closer. And we witness the quiet heroism of a group of ordinary men who decided to do something rather than nothing and saved thousands of lives. 
About the Author
---
Roger Moorhouse is a visiting professor at the College of Europe in Warsaw. The author of several books on World War II history, including Poland 1939 (winner of the Polish Foreign Ministry History Prize), Berlin at War (shortlisted for the Hessell-Tiltman Prize), and The Devils' Alliance, he lives in the United Kingdom.  
Praise For…
---
"Valuable… Of the many threads that weave through the story, perhaps the most intriguing describes the unlikely bedfellows who masterminded the operation."—Wall Street Journal

"The Forgers is a well-constructed and agreeably concise book with a clear narrative drive and fascinating detail… Moorhouse's most laudable achievement is the light he shines on Lados and his team, who saved at least 2,000 Jews from extermination. Until now, they have not received the recognition they deserve."—The Times (UK)

"Among the many remarkable aspects of The Forgers is the fact that the prime movers were Poles, many of whom were notorious for antisemitism. [Moorhouse]… does well to highlight that some Poles displayed admirable compassion."—The Sunday Times (UK)

"Absorbing… deeply researched and well reported."—The Spectator (UK)

"In this fascinating book Roger Moorhouse shines a light on an extraordinary, audacious and little-known rescue operation."—The Daily Mail (UK)

"The Forgers does a remarkable job of shining a light on this little-known truth."—The Daily Express (UK)

"A crucial addition to Holocaust bibliography"—Jewish Chronicle (UK)

"Immersive… a captivating narrative of heroism and an illuminating account of the international diplomatic response to the Holocaust."—Publishers Weekly (Starred)

"Riveting…The Forgers is a wonderful complement to the history of diplomacy and heroism during the Holocaust--one that's been relatively unknown until now."—Shelf Awareness (Starred)

"It is the rare historian who can present a tale about the Holocaust that most readers have never heard. Yet that is precisely what Moorhouse has done… Fans of Schindler's List and similar stories will appreciate how thoroughly Moorhouse evokes this horrible era… while poli-sci types will be drawn to the intrigue that gave rise to the Lados Group's history-making efforts."—Booklist

"A capable investigation of a little-known aspect of World War II history."—Kirkus

"Once again Roger Moorhouse has produced an original and thrilling narrative which challenges several of the stereotypes about World War II. A tremendous story."—Norman Davies, author of Vanished Kingdoms

"This is a powerful story about a group of brave individuals who found a unique way of saving Jewish lives from the Nazis. Moorhouse's original research is characteristically scholarly, his insights illuminating, and his narrative gripping. An inspiring read and an important addition to the history of the Holocaust."—Jonathan Dimbleby, author of Operation Barbarossa

"The Forgers is an important contribution to the way we understand international responses to the Holocaust. Powerfully told and meticulously researched, Moorhouse's new book outlines the courageous efforts of the Ładoś Group, a circle of Polish diplomats in Switzerland who provided false documents for thousands of Jews during the Second World War in an attempt to save as many as possible from persecution and death. The Forgers is an astonishing book about one of the most ambitious rescue operations of the Holocaust."—Katja Hoyer, author of Beyond the Wall

"The Forgers brings to light one of the largest Holocaust rescue operations in history. Moorhouse expertly tells the harrowing story of the heretofore little-known figure of Aleksander Ładoś, the top Polish diplomat in wartime Switzerland who led the effort to save thousands of European Jews desperately seeking to flee Nazi-occupied Europe by providing forged passports and identity papers for Latin American countries."—Joshua D. Zimmerman, Yeshiva University